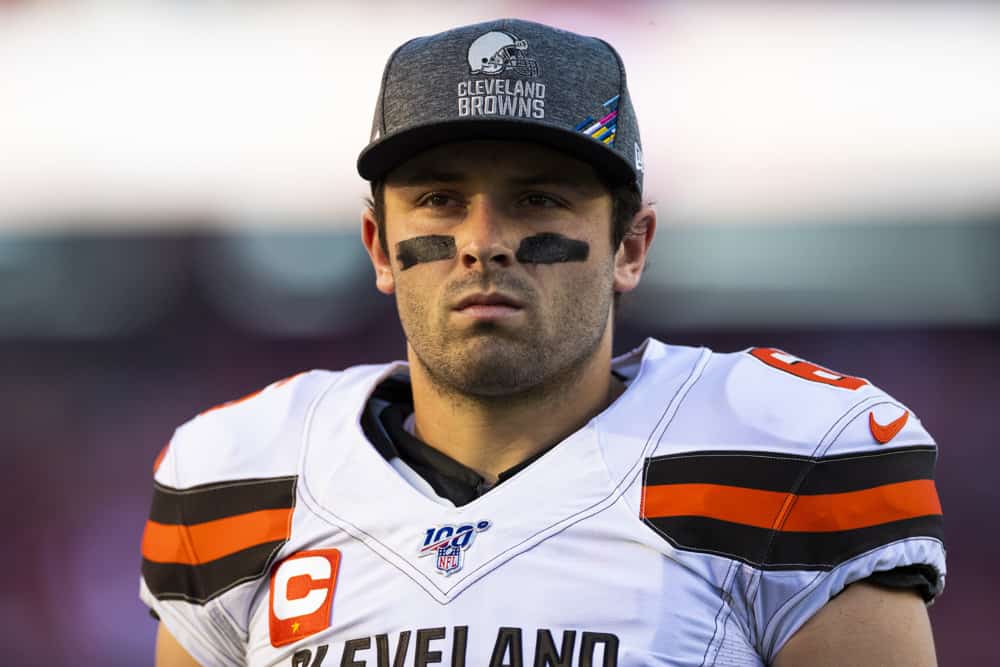 The death of George Floyd while in police custody has sent a ripple effect across not only the United States, but the entire world.
Many people, and organizations, have spoken up about some of the injustices taking place within the U.S.
On Saturday, Browns quarterback Baker Mayfield made his opinions known in the comments section of an Instagram post.
Browns' QB Baker Mayfield responding to a fan on IG: pic.twitter.com/JCgvE4EmlW

— Adam Schefter (@AdamSchefter) June 13, 2020
Not the First Time
NFL fans have long debated on whether players, coaches, and other staff members should take a knee during the national anthem.
Colin Kaepernick became the face of that movement during the tail end of his stint with the San Francisco 49ers.
The response from a lot of NFL fans was not exactly a warm one for Kaepernick.
BREAKING: Colin Kaepernick getting boo'd as he walks off the field in San Diego. pic.twitter.com/rSDS2j4v1z

— Liz Habib (@LizHabib) September 2, 2016
Still, Kaepernick never broke from his position.
Now we see his name in an array of conversations as protests continue to take place across the world.
The main gripe that many had with kneeling during the anthem was that they felt it was disrespectful to the flag, the country, and everyone who has served and fought to protect it.
This was expressed by New Orleans Saints quarterback Drew Brees just weeks ago.
Keep sharing this—because it's absolutely correct, even after Drew Brees' apology. pic.twitter.com/H6ApCxtqzp

— Kevin McMahon (@KevinMcMahonYAF) June 5, 2020
Brees' statement was met with a barrage of public criticism and backlash from fans, media personalities, and other celebrities.
Aaron Rodgers even responded in the form of an Instagram post, stating that the protests were never about the flag. Rather, they were about humanity.
A message from #Packers Aaron Rodgers: "a few years ago we were criticized for locking arms in solidarity before the game. It has never been about an anthem or a flag. Not then. Not now…" pic.twitter.com/alEIdjBWQH

— Lily Zhao (@LilySZhao) June 3, 2020
What This Means for Baker
There's no denying that the county is very divided right now.
Most people are very firm on their stance of protesting during the anthem.
As a result, Mayfield will undoubtedly lose fans after making his belief on the matter public.
However, it doesn't seem like he will be losing to much sleep over that.
"It's about equality and everybody being treated the same because we are all human", Mayfield responded on another social media post. "If I lose fans that's okay. I've always spoken my mind, And that's from the heart".
Baker Mayfield responds to the hate via Instagram. "If I lose fans, that's ok." #Browns pic.twitter.com/GZNAgW6xKd

— Hayden Grove (@H_Grove) June 13, 2020
The "stick to sports" crowd will be less than pleased with this stance from Mayfield.
Read through any comment section on any social media post that's talking about Baker's comments right now.
It is absolute chaos.
But, in Baker's eyes, that doesn't matter.
What does matter to him is sticking up for his fellow human and keeping his beliefs no matter what kind of criticism he faces.
That should come as no surprise to anyone who has followed his career.
A majority, if not all, of the NFL players seem to be on that same side of the fence.
They understand that the root of kneeling during the national anthem has nothing to do with disrespecting the flag.
It's about a larger, social issue going on around the entire world that continues to bring injustice and tragedy.
Until those injustices stop, don't expect the voices of players to stop anytime soon either.
That list of players will almost certainly include Baker Mayfield.