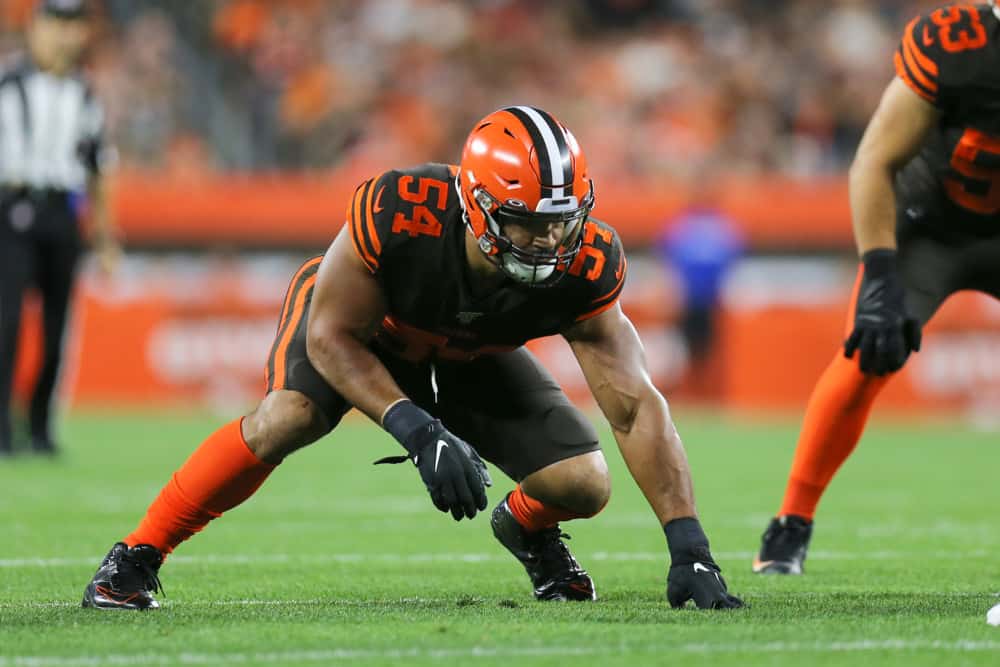 Pro Football Focus has released some very interesting articles recently, and in their underrated player article, Ben Linsey chose Olivier Vernon for the Browns.
The article entitled "Most underrated player on all 32 NFL teams ahead of the 2020 NFL season" details why Vernon is so underrated:
Well, this is interesting.@PFF's most underrated player on the #Browns in 2020 is Vernon.

Will he be on the roster for Week 1 of the #NFL season? pic.twitter.com/Z4AEYb3WBa

— BrownsNation.com (@BrownsNationcom) May 28, 2020

Linsey astutely includes information about Vernon's contract situation.
Although the Cleveland Browns reportedly have no plans to release Vernon, the team's financial situation may change.
The Browns have been in the market for Jadeveon Clowney.
They have also been taking a look at former New Orleans Saints right guard Larry Warford.
In addition, Everson Griffen could be a future Brown.
With the Browns in search of new talent, they are also looking to keep their best current players for the long term.
Cleveland is in talks with Myles Garrett about a "mega-extension this summer."
While the Browns' season is fewer than 100 days away, they are still wheeling and dealing during the offseason.
In addition to Vernon, former Browns cornerback K'Waun Williams also made the list.
PFF listed Williams as the 49ers' most underrated player.
He was undrafted in 2014, but the Browns signed him to a two-year contract for just under $1 million.
While the Browns decided not to keep the injury-riddled Williams after his two seasons with Cleveland, the Browns have a difficult decision with Vernon.
The 29-year-old Vernon, who is entering his second season with the Browns, is hoping to make his second Pro Bowl in 2020.
Is Vernon the Most Underrated Player on the Browns?
Some could make the case that Vernon is the most underrated player on the Browns, as long as the word 'underrated' here is not related to salary.
The 6-2, 262-pound defensive end out of Miami made his first Pro Bowl in 2018.
He also was a Second-Team All-Pro selection in 2016.
Each of those accolades came with the New York Giants, where he continued to make a name for himself.
His NFL career began with the Miami Dolphins, and his career-high sack season came in 2013.
Vernon's 11.5 sacks that year with Miami ranked seventh in the NFL.
In 2015, PFF had Vernon as a First-Team All-Pro selection.
His 54.5 career sacks are 22nd among active NFL players.
He also has 75 career tackles for loss, 27th among active players.
Should the Browns Keep Vernon for the 2020 Season?
ESPN's Jake Trotter discusses the contract situation revolving around Vernon:
Fwiw, Olivier Vernon due $15.5 million next season (none guaranteed). Per Dianna, Clowney willing to go closer to that number, as of last week. https://t.co/DJcoqMLZY8

— Jake Trotter (@Jake_Trotter) April 4, 2020
In March, NFL Network's Mike Garafolo reported that the Browns do not plan on releasing Vernon:
The #Browns are not releasing Olivier Vernon. At least not right now. https://t.co/cj1Zoxncd5

— Mike Garafolo (@MikeGarafolo) March 18, 2020
Vernon, who has one career playoff game, has played a career 114 NFL contests.
He brings veteran leadership to the Browns.
With Cleveland projected to be fighting for a playoff spot, Vernon would be an important part of the 2020 Browns.
Only one Browns player had more sacks last year than Vernon, and that player was unsurprisingly Myles Garrett.
In 2019, Chad Thomas had a quietly impressive season, and he can continue to learn from Garrett and Vernon.
Thomas, who had the third-most sacks on the Browns last year, would benefit from having Vernon on the Browns this season.
If Vernon can bring his play on the field and his mentorship to the younger players, then he would be worth keeping for 2020.