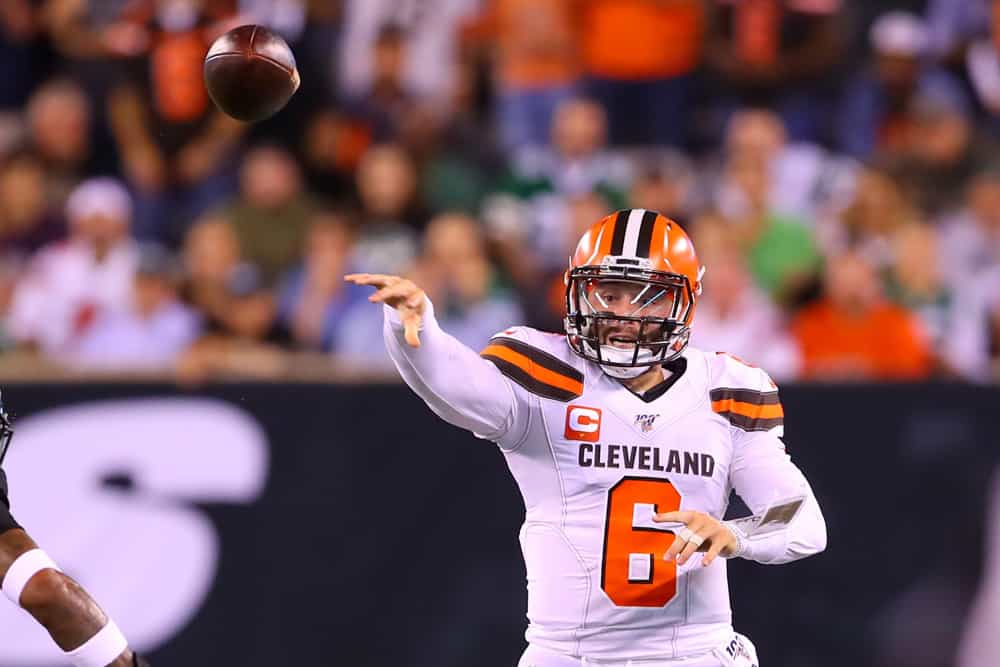 Cleveland Browns quarterback Baker Mayfield is gathering with offensive teammates this week.
This will be the second time some of the offensive players gathered as they met up in Florida in April to work out.
There is also tentative plans to gather in Florida again in July.
All of this activity is outside of the team's Organized Team Activities which have begun at Berea.
Recall that Mayfield hosted a similar event in his hometown of Austin with wide receivers and tight ends last May.
#Browns quarterback Baker Mayfield invited Cleveland wide receivers and tight ends to his hometown of Austin, Texas, where they're doing some team building and working out together this week, a source said.

— Nate Ulrich (@ByNateUlrich) May 14, 2020
What About OTAs?
The offense has been largely been staying away from in-person OTAs.
There could be a host of reasons for this, but one main one is they are supporting the team's center and NFLPA President JC Tretter.
In his role as NFLPA President, Tretter has encouraged all players to boycott in-person OTAs.
NFLPA President JC Tretter told players on a call today the union is pushing for an all-virtual offseason — and would urge players to boycott if teams conduct in-person OTAs this spring, per sources.

Said Tretter: "We've been telling them, it's voluntary and we're not gonna go."

— Tom Pelissero (@TomPelissero) April 9, 2021
Defensive players are at OTAs because they felt a need to work together since there are so many new faces.
Some of the #Browns players at OTAs today:

Myles Garrett
Mack Wilson
Malik Jackson
Greedy Williams
Jeremiah Owusu-Koramoah
Porter Gustin
Andy Janovich
Johnny Stanton
Andrew Billings
Anthony Walker
Ronnie Harrison
Jacob Phillips
Greg Newsome II
Anthony Schwartz
Grant Delpit

— Camryn Justice (@camijustice) June 1, 2021
Myles Garrett told Mary Kay Cabot that Tretter has "no hard feelings" about the decision of the defensive players to attend in-person OTAs.
Mandatory Minicamp Is Up Next
Despite good attendance at OTAs, fans have been unhappy that their favorite offensive players have not been at Berea yet this spring and summer.
Good attendance for the #Browns in their first week of OTAs. Baker Mayfield and the offensive skill players will be in next week or for minicamp June 15-17 pic.twitter.com/Lem3BYTdtz

— Mary Kay Cabot (@MaryKayCabot) June 2, 2021
That will change next week.
Browns mandatory minicamp is scheduled to run from June 15-17, and Baker Mayfield and company are expected to attend.
Whatever It Takes To Win
There has been a lot of back-and-forth about OTAs in general this offseason.
Tretter's comments as well as players' experiences with the virtual 2020 offseason are contributing to it.
It is likely that no one cares how the players go about their business to prepare so long as they are fit and ready in September.
As long as everyone stays healthy this offseason and preseason, all indications are that the Browns should be able to build upon and expand the success they experienced in 2020.