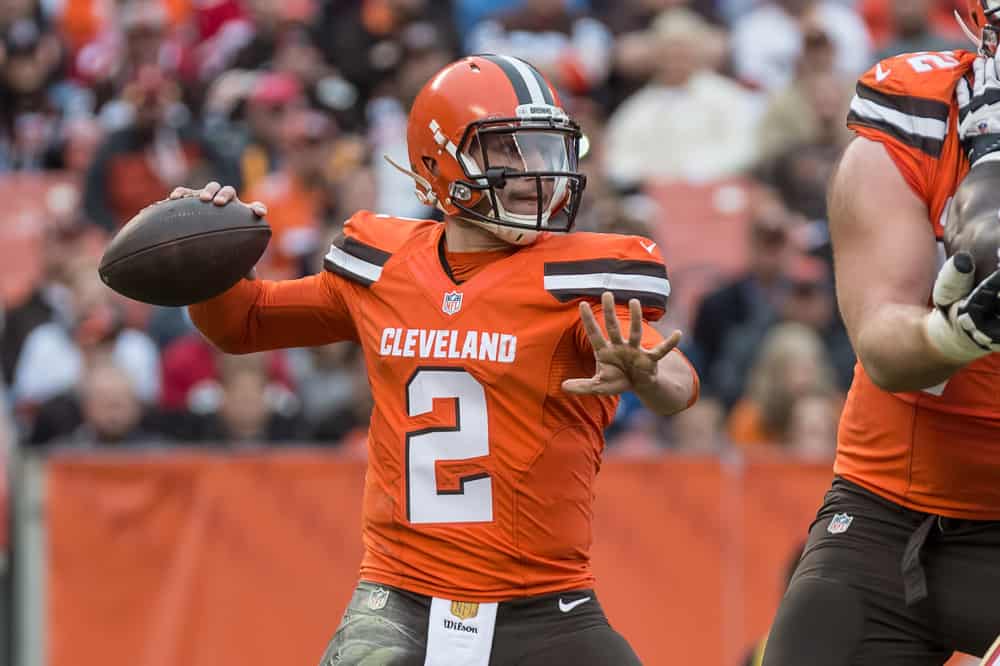 Surely, Cleveland Browns fans do not want to remember the Johnny Manziel days.
The organization selected the Texas A&M product in the first round during the 2014 NFL Draft.
His NFL career was short lived as he played a total of 14 games over the course of two seasons.
Manziel threw seven touchdowns and seven interceptions throughout his two years in Cleveland before being cut in March of 2016.
Despite a short NFL career, it sounds like Manziel made a decent living by selling his autographs.
Money Manziel
The former Heisman award winner began selling his signature in 2013.
Manziel recently had an interview with Barstool Sports and talked about the money he made with his signature.
He made $3,000 dollars the first time he signed merchandise, but claims he never sold anything until after he won the Heisman trophy.
"We're doing it all sneaky, we don't want to get caught, we're trying to learn from everybody else who's got caught," Manziel said. "And I may or may not have gone back to this guy's condo and signed probably 10,000 pieces. He gave me three grand."
View this post on Instagram

At first glance, Manziel might've been getting ripped off by signing that much merchandise for only three grand.
Certainly other people felt that he was and offered him a better deal for even more money.
A man saw Manziel signing the 10,000 pieces and offered him to pay Manziel $30,000 to sign autographs for him instead.
Manziel took the man's phone number and later decided to take him up on his offer.
"So, this guy's pretty much, 'All right, go to this room at the Fontainebleau [hotel]. All this stuff will be in there laid out. When you're done, just send me a picture of all of it. I'll give you the code to the safe, the money will be in there,'" Manziel explained.
He continued by saying that he went back to South Beach for roughly four months to sign autographs.
It's a real shame Manziel didn't put this much work into his actual football career.
This confession comes eight years after the NCAA found no evidence of wrongdoing on Manziel's part.
Despite that, Manziel was suspended for the first half of the 2013 season due to violating rules by selling his likeness for commercial purposes.
He declared for the 2014 NFL Draft and Cleveland selected him 22nd overall.
Life After The NFL
Manziel had a very short lived stint in the CFL before getting banned from that league.
He did not follow the rules set by the team and was cut by Montreal after one season.
No other organizations in the CFL are allowed to sign Manziel, so he was forced to play elsewhere.
The former Heisman award winner completed 64.2 percent of his passes with 1,290 yards, five touchdowns and seven interceptions in eight games.
First CFL touchdown for Johnny Manziel! pic.twitter.com/O2DHfjtO6z

— Athlete Swag (@AthleteSwag) September 30, 2018
Sadly, Manziel would not give up his football dream and signed with the Memphis Express of the Alliance of American Football.
He played in two games for the Express, completing 5 of 8 attempts for 61 yards and one interception.
Johnny Manziel's first DIME in the AAF 🔥 (via @aafexpress) pic.twitter.com/bGGYcY3FNo

— Overtime (@overtime) March 25, 2019
Luckily, Manziel did not play in the XFL due to the fact he was "blackballed" by WWE chairman Vince McMahon.
The former first-round pick has announced that he has joined a Fan Controlled Football league in December.
This rollercoaster journey for Manziel never seems to end and fans shouldn't be surprised if Manziel sells out and makes a movie about his life.
At least the NFL burnout made money selling his merchandise because it doesn't sound like he'll ever make it back to the NFL.