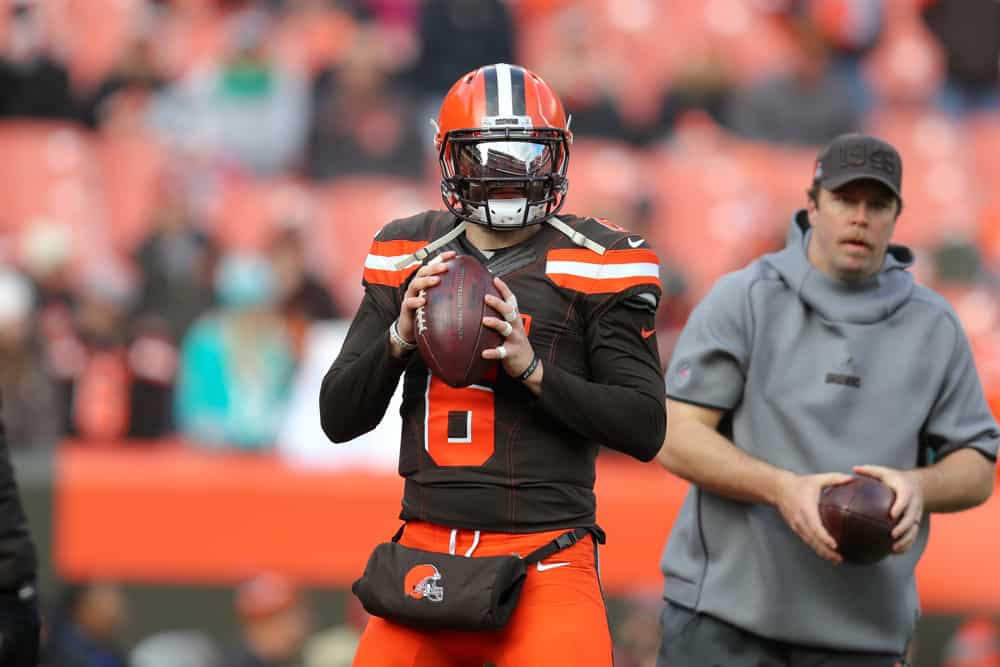 To say that 2020 is such a different year than 2019 is an understatement.
Cleveland Browns QB Baker Mayfield may be one of the select few that has experienced positive changes.
Last offseason, we witnessed Baker at an Indians game in glorious fashion.
$3.37 million: Value for @MillerLite, so far, in social, television, online news & digital, from @bakermayfield shotgunning the beer at the Indians game yesterday, according to @ApexMarketing pic.twitter.com/cXrWMFSIyS

— Darren Rovell (@darrenrovell) August 4, 2019
The 2020 Baker Mayfield is showing us a new and much-improved look.
Baker apparently heard that Twitter wanted him to show up to camp in great shape. pic.twitter.com/OO0JsQESco

— Zac Jackson (@AkronJackson) July 21, 2020
well alright then let's start the season folks pic.twitter.com/wCdt14GT8u

— Jordan Zirm (@clevezirm) July 22, 2020
Background
January 2020
For better or worse, Baker was "fat-shamed" while vacationing during the Super Bowl with his New York Giants buddies including Saquon Barkley and Sterling Shepard.
And by fat-shaming we mean that he didn't have the 6-pack abs his fellow players had.
Barkley spoke out in defense of his friend saying that he didn't need to be shredded since his arm was most important.
March 2020
The physical transformation was underway;  he spent quarantine working out in his garage.
Killing these garage workouts. 🔥💪🏼 @bakermayfield pic.twitter.com/ot7HQNP6RA

— Emily (Wilkinson) Mayfield (@emilywmayfield6) March 27, 2020
May 2020
Baker hosted TEs and WRs for workouts in Austin, Texas.
He assumed a leadership role in physical fitness and team building.
His media contacts are much more focused also.
In a Zoom press conference, he talked about getting back to basics which meant being quiet and getting the work done.
What's The Difference Between 2019 and 2020?
Maturity
Let's keep reminding ourselves that Baker Mayfield is only 25 years old so an extra year of maturity is a big deal.
On this big stage, he has struggled but appears to be getting his mindset ready.
He has been quietly working hard and grinding it out in the gym.
Performance
His lackluster 2019 season also had something to do with his transformation.
Mayfield threw 22 TDs and 21 INTs.
He finished next-to-last in passer rating (78.8) and completion percentage (59.4).
New Coaching Staff
You would be hard-pressed to find anyone in the Browns organization who had something positive to say about last year's Head Coach Freddie Kitchens.
Whether it was personality conflicts or football acumen, a lot of the blame for last year is pinned on Kitchens.
In stark contrast, there is plenty of excitement with the advent of the Andrew Berry and Kevin Stefanski era.
While it is the 3rd new offense Mayfield will learn and implement in 3 seasons, multiple TEs, a blocking FB, and other offensive weapons should give him the tools he needs to succeed.
Offensive Coordinator Alex Van Pelt has also been working with Mayfield on his footwork implementing a similar pattern as Andy Dalton and other QBs.
Players
By all accounts, Berry and Stefanski have made excellent personnel decisions.
Drafting Jedrick Wills in the 1st round was a solid start to protecting Baker who was sacked 40 times in 2019.
Signing Austin Hooper gives him a stud TE target.
These are just two of the players brought in to help Baker win in 2020.
Contract
Mayfield is entering his 3rd year so the Browns will have decisions to make in 2021 about his future.
Will they pick up his 5th-year option?
Is he the future of the franchise?
What's clear is that Baker Mayfield's physical transformation is just part of the picture.
His demeanor and media presence are different.
It seems he knows that this is the best team, management, and coaching personnel the Browns have assembled in years.
So it's now or never.