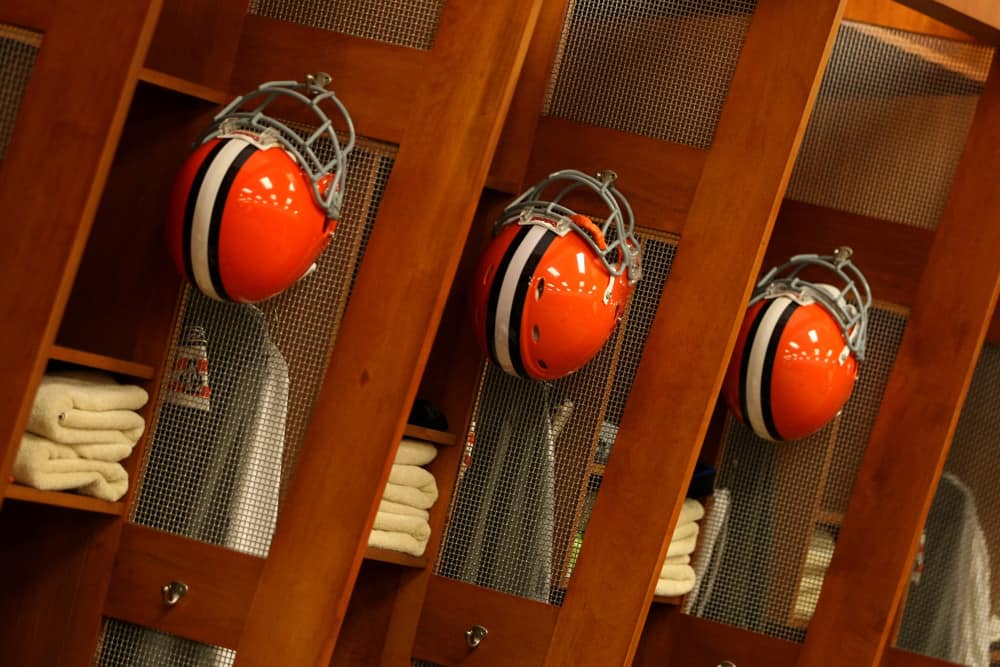 There is no doubt that the Cleveland Browns have put together one of the most dangerous offensive units in the entire league.
That offense is lead by Pro Bowl talent like Odell Beckham, Jarvis Landry, and newly acquired Austin Hooper.
The Browns have no shortage of stars on both sides of the ball, but that also has a downside.
The star players will receive more of the blame when things don't go your way.
Also, there are some players that don't get fair recognition and get overlooked because of the star players.
There are a few underappreciated players in Cleveland that deserve more praise than they currently get with the Browns.
3. Terrance Mitchell
Defensive back Terrance Mitchell was a seventh-round pick by the Dallas Cowboys in 2014.
Since joining the league, Mitchell has found himself on four different organizations.
He has never been a full-time starter in the NFL, but he has been a reliable contributor.
Mitchell has put together two fairly decent seasons in Cleveland despite not starting every game.
Browns fans might not realize it, but Mitchell has been making an impact on defense.
Our 🏈!

Terrance Mitchell forces it out and Jermaine Whitehead jumps on it 💪 pic.twitter.com/fRmem6xHKS

— Cleveland Browns (@Browns) August 9, 2019
Since signing with Cleveland in 2018, Mitchell has recorded 51 tackles, two fumbles forced, and two interceptions.
He won't be asked to start with Greedy Williams and Denzel Ward both fully healthy in 2020.
However, Mitchell has shown he can still contribute to the Browns defense even when he doesn't start.
He has been lost in the shuffle because of all the hype surrounding Williams and Ward.
Mitchell is an excellent option in terms of depth and has done well as a starter in the league before.
2. Larry Ogunjobi
Browns defensive tackle Larry Ogunjobi could very well be the most underrated defensive tackle in the league.
He was drafted by the Browns in 2017 and has done nothing but perform since joining the team.
Over the last two seasons, Ogunjobi has 102 tackles, 11 sacks, and one fumble forced through 31 games.
He has been durable and only missed one game during the last two campaigns.
It's honestly surprising that Ogunjobi doesn't get more hype around the league.
Part of the reason is likely because the Browns have Myles Garrett and Olivier Vernon next to him on the front-four.
Unlike Mitchell, Ogunjobi does get some recognition, but not as much as he deserves.
He has played at a Pro Bowl caliber level each of the last two seasons.
The Browns gave Garrett a massive extension this offseason.
Details on the extension for the #Browns and Myles Garrett: In his rather large 5-year, $125M extension, there are $100M in total guarantees and $50M fully guaranteed at signing. He's now under contract 2026. https://t.co/873RKFYdbk

— Ian Rapoport (@RapSheet) July 14, 2020
Hopefully, Ogunjobi is in line for a payday as well.
He won't get anywhere near Garrett's money, but he is well-deserving of a higher salary.
The Browns need to find a way to keep Ogunjobi around before it's too late.
1. Joel Bitonio
He was drafted in the second round by Cleveland and has started 79 of 96 possible games since joining the team.
Bitonio has been a rock for the Browns while starting 16 games for each of the last three seasons.
Last season, Bitonio looked like the only reliable option on the offensive line.
Since then, the organization drafted Jedrick Wills and signed right tackle Jack Conklin.
Finally, Bitonio has some help on the o-line, but he really deserves credit for what he has done for Cleveland throughout his career.