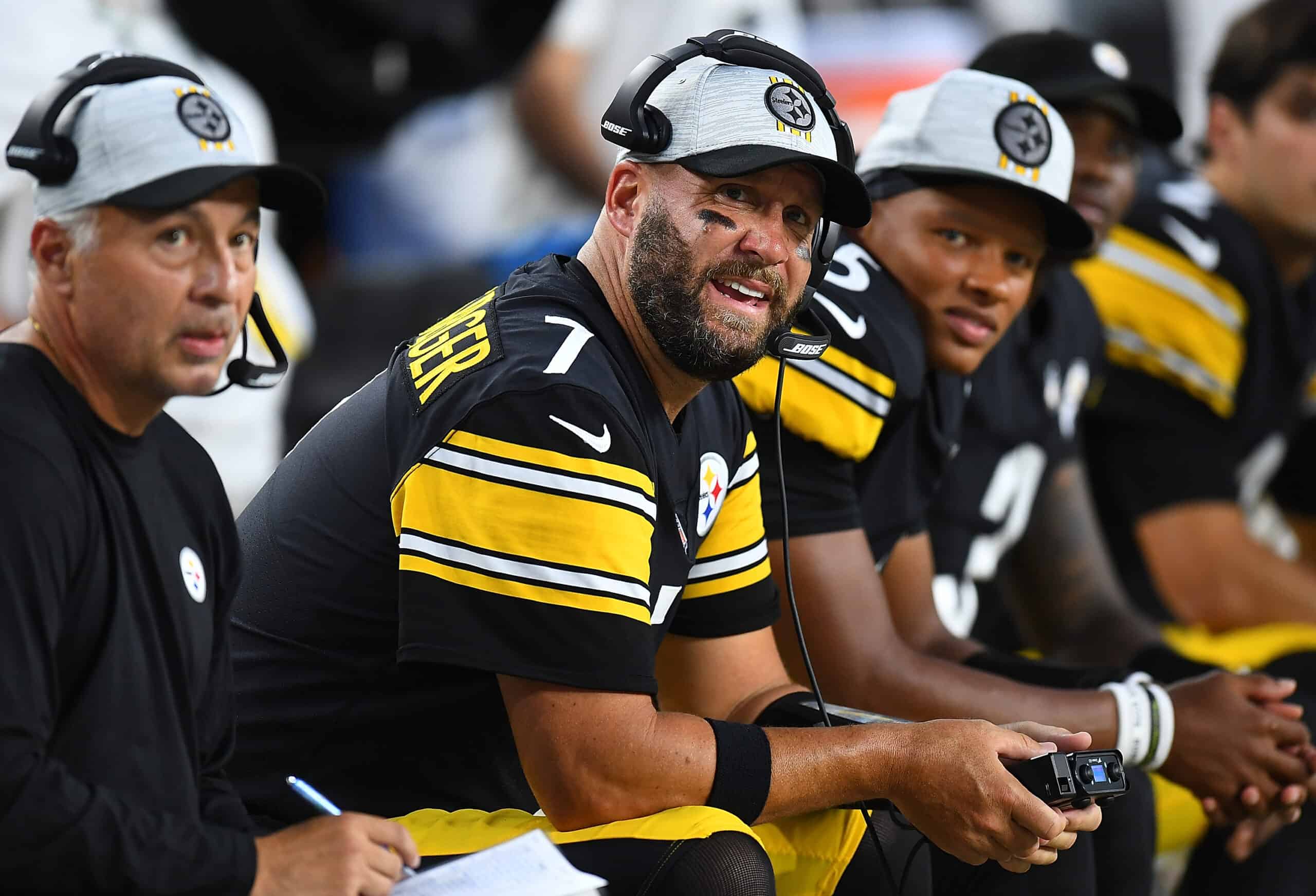 Death, taxes, and Ben Roethlisberger winning in Cleveland used to be the status quo.
With the veteran quarterback's career coming to an end and an emerging Browns team, "Big Ben's" dominant days are behind him.
Still, that doesn't stop Roethlisberger from firing off a sly crack every now and again.
In a Wednesday morning press conference, Roethlisberger spoke to the media about his team's rivalry with the Browns.
He ended by joking about how he's glad he isn't the most winning quarterback at First Energy Stadium anymore.
Ben Roethlisberger on the Steelers-Browns rivalry continuing to evolve now that it's not quite so one-sided.

"We're always going to be rivals and it's always going to be great games.

"I'm glad that I'm not the most winning quarterback in their stadium history anymore." pic.twitter.com/BZDhOQVB1B

— Brooke Pryor (@bepryor) October 27, 2021
Background on Ben
Heading into last season, Roethlisberger held the most wins of any quarterback at First Energy Stadium.
Yes, that includes Browns quarterbacks as well.
Ben has 11, which Baker Mayfield tied last November with a 10-7 win over the Houston Texans.
Of course, that same season, Mayfield would go on to pass Roethlisberger.
It's a meaningless stat, yet, it's one that Steelers fans often used to poke fun at Cleveland.
Roethlisberger has played well against Cleveland since entering the league.
He has 41 touchdowns and over 6500 passing yards against the Browns over his career.
Some theorize that Ben feels he was snubbed by the Browns in the NFL Draft in 2004.
Cleveland took Kellen Winslow Jr. out of Miami (Florida) with the fifth pick while Big Ben fell to Pittsburgh at the 11 spot.
That's part of what made beating him in the Wild Card game last season so meaningful.
Sure, Cleveland had gotten him a couple times in the regular season.
To do so in the postseason, however, once seemed like a distant dream. It became reality in January.
End of an Era
This season has the potential to be Roethlisberger's last go-round.
It will indicate the end of a long-time rivalry between himself and Cleveland.
It's created a deep hatred from Browns fans for Roethlisberger, with the aforementioned record in Cleveland being a huge part of that.
It's why this video the Browns made in 2020 ended the way it did.
The Cleveland Browns transformed themselves into Dunder Mifflin in this parody of 'The Office' pic.twitter.com/4RQPUq21e1

— NowThis (@nowthisnews) March 25, 2020
Last Dance?
If this is Roethlisberger's last season in football, he'll want to get back at Cleveland for last January.
He hasn't played well this year by any stretch.
Still, who's to say he doesn't have one more good outing against the Browns left in the tank?
Cleveland has the kind of defense to fluster Ben.
Quick, effective pass rushers in Myles Garrett and Jadeveon Clowney should be able to find success against a lousy Steelers offensive line.
And at his age, Ben doesn't have the mobility to shake guys like that off anymore.
As long as the linebackers and secondary hold up behind the defensive front, it'll be checkdown-central for Ben on Sunday.
That plays into Cleveland's hands defensively.
Some terrible lapses in the secondary have hurt this team in recent weeks.
Proper communication will be key for the Browns to shut down Pittsburgh's offense and get a win in what could be Roethlisberger's final game in Cleveland.