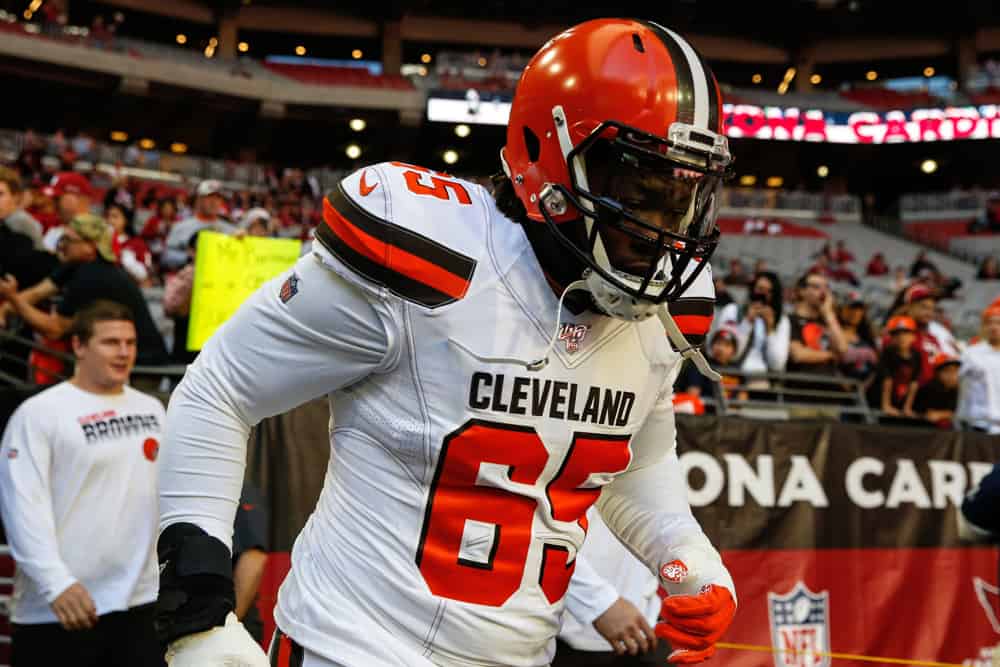 The Cleveland Browns decided to let former third-round pick defensive tackle Larry Ogunjobi walk into free agency.
A move that might come back to haunt Cleveland as Ogunjobi has reportedly agreed to terms with another team already.
It is being reported that Ogunjobi has finalized a one-year deal with the Cincinnati Bengals.
The #Bengals are signing former #Browns DL Larry Ogunjobi, source said, on a 1-year deal. More help on D for Cincy, as he stays in the division.

— Ian Rapoport (@RapSheet) March 18, 2021
The 26-year-old spent the first four years of his career with the Browns.
However, his below average 2020 campaign could've been part of the reason Cleveland decided to part ways this offseason.
Regardless, it sounds like the Browns are going to be seeing Ogunjobi twice a year.
A Smart Move By Cleveland?
Time will tell if the Browns made the right decision by letting Ogunjobi walk.
Last season, Ogunjobi finished with career-lows in defensive grade and pass rushing grade.
Despite that, he has put up consistent enough numbers for the Bengals to take a chance on him.
Another factor could've been that Ogunjobi and Bengals tackle Geno Atkins are good friends.
I don't know if it had any impact as his status with the Bengals seems up in the air there, but Larry Ogunjobi is extremely close with Geno Atkins.

— Pete Smith (@_PeteSmith_) March 18, 2021
In 2018 as a full-time starter, Ogunjobi recorded 52 tackles, 10 tackles for loss, and 5.5 sacks in 16 games.
He followed that up with 50 tackles, 10 tackles for loss, and 5.5 sacks in 2019.
Ogunjobi has been a relatively healthy and consistent player throughout his professional career.
However, the Browns weren't convinced enough to warrant offering Ogunjobi a long term extension.
There is nothing about Ogunjobi's game that screams superstar defensive tackle.
He is a fairly average tackle and the Browns weren't ready to hand out a long term deal to Ogunjobi.
It's unlikely that this move comes back to bite the Browns, but it'll be interesting to see how Cleveland decides to fill the void on defense.
Life Without Ogunjobi
The Browns felt comfortable letting Ogunjobi walk because of the amount of depth they have at the tackle position.
Over the last two seasons, Sheldon Richardson has outplayed Ogunjobi on the d-line.
Cleveland also has Andrew Billings who sat out during 2020 as a precaution because of COVID-19.
Before sitting out, Billings was a fairly decent option for the Bengals in 2018 and 2019.
It appears the Browns feel like that combination is good enough for right now.
It's also worth noting that the Browns also have third-round pick Jordan Elliott.
Interior DL life isn't easy or glamorous. Little things lead to big things. Watch Jordan Elliot win at the POA with a quick swim move and his backfield penetration disrupts the zone scheme cut. Little things lead to big things for DTs. #Browns pic.twitter.com/6ayTTzUXYH

— OBR Film Breakdown (@TheOBRFilmBDN) December 7, 2020
The organization used the No. 88 overall selection last year on Elliott.
He saw limited time with the Browns last season, but showed promising signs.
Through 16 games, Elliott recorded 15 tackles, but his excellent work as a run-stopper doesn't always show up on the stat sheet.
The Browns clearly feel confident enough in their current options that they were willing to let Ogunjobi walk.
In fact, he walked right into the arms of a division rival, but it's tough to blame Cleveland.
They have plenty of young players with better upside who need to be paid in the next few years.
The front office wasn't willing to give Ogunjobi a long term deal, which is understandable.
It's unclear at the moment how much the Bengals gave Ogunjobi for the 2021 season.
Honestly, it's quite shocking that he wasn't able to land a multi-year deal elsewhere.
Regardless, it sounds like Cleveland should be able to survive without Ogunjobi in 2021.