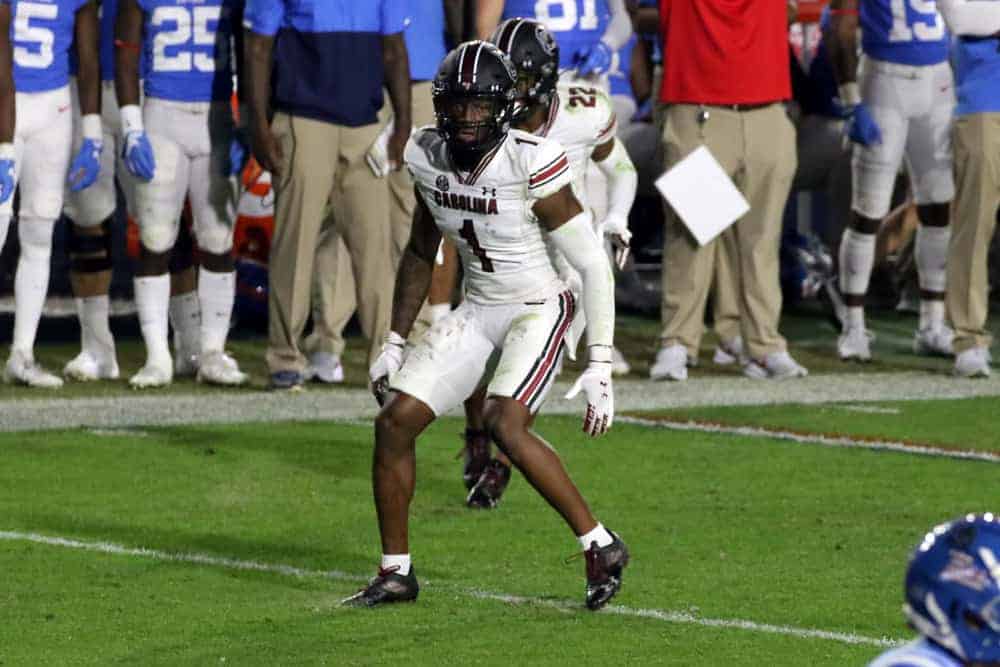 In 2020, the Cleveland Browns returned to the postseason for the first time since 2002.
The team also won their first-round playoff game and succumbed to Kansas City in the Divisional round.
After the season ended, Cleveland fans were left to ponder the "what-ifs."
What if the Browns had stayed healthier last season?
What if the Browns had a more consistent defense in 2020?
What if the team had a deeper cornerback group in 2020?
That last question still haunts the team this offseason.
As a whole, the defense ranked 21st in the league, giving up an average of 26.2 points per game last year.
In January, Pro Football Focus released their team cornerback grades for 2020.
The Browns cornerback group came in at number 26 in the league.
Not only did the team rank last in safety coverage (something I will address in my next article) but Cleveland's corners weren't much better.
The corners the Browns were able to put on the field in 2020 all earned a sub 50.0 coverage grade from PFF.
As PFF notes, those secondary members were mostly responsible for the slot.
A bright spot in the defensive backfield, Denzel Ward, hopes to be on the field more in 2021.
Ward missed time due to both injury and Covid protocols.
PFF ranked him 13th in outside coverage and he most likely would have been ranked higher were he able to stay in the lineup consistently.
Now all Cleveland has to do is find someone to cover the other half of the field.
If they can do that, opposing quarterbacks will hang on to the ball longer and allow the front seven to make plays.
Without further ado, here are five corners the Browns should consider selecting in the 2021 Draft.
Please note that this list is not meant as a ranking system, just a list of players to consider.
The 2021 NFL Draft cornerback class is a lot deeper than you all know.

2021 NFL Draft Database: https://t.co/3A3Fid8VvT#TDDR #NFLDraft #Football #Scouting #Corners pic.twitter.com/5SiPaea3ak

— Zack Patraw (@NFL_Zack) August 11, 2020
Patrick Surtain II, junior, Alabama
If there is one word to describe Patrick Surtain Jr., it is "winner."
Surtain played high school ball at American Heritage High School in Florida and was part of a group that won three state titles.
By the time he was graduating high school, Surtain Jr. was rated the number one cornerback prospect in the country as well as a five-star recruit.
After wading through over 30 college offers, Surtain Jr. picked Alabama.
When he arrived in Tuscaloosa, head coach Nick Saban made Surtain Jr. a starter.
During his freshman year of 2018, Surtain Jr. made 37 total tackles, forced one fumble, broke up seven passes, and intercepted one.
In 2019, Surtain Jr. had 42 total tackles, three forced fumbles, eight passes defended, and two picks.
This past season, Surtain Jr. and the Tide rolled to a 13-0 record and won the national title game over Ohio State 52-24.
He was named the Defensive MVP of the game.
For his part, Surtain Jr. helped stop the ball carrier 32 times, had one fumble recovery, 10 passes broken up, and one interception returned 25 yards for a touchdown during the year.
He was then named a unanimous All-American, First-team All-SEC, and SEC Defensive Player of the Year.
Watching Surtain Jr. play the past three years, there is no doubt he is an elite level talent.
He is 6'2", 202 pounds and his length frequently befuddled opponents.
Surtain Jr. is able to stick with receivers on the boundaries or in the slot.
He can out-hustle and out-muscle receivers for the ball.
Surtain Jr. has a propensity to meet the ball at just the right moment to deflect a sure catch (as evidenced by his 25 passes broken up in three years).
When in coverage, Surtain Jr. has fluid hips and can change direction quickly.
His backpedal and response in coverage are fantastic.
He is not easily fooled by opposing quarterbacks and will handle tall receivers with little issue.
What I noticed about Surtain Jr. is his ability to edge his man toward the sideline.
That narrows the space the receiver has to maneuver as the sideline acts as another defender.
Surtain Jr. has a good 'jam' at the snap and forces his man off-route.
I really like his hops.
There were a number of times where Surtain Jr. turned into Superman to knock away a ball.
With three years of collegiate playing experience, he is disciplined in his assignments and has great football instincts.
Where some corners will shy away from contact, Surtain Jr. has no problem laying the wood to the ball carrier in run defense.
NFL scouts have noticed that Surtain Jr. is not great at transitioning to inside coverage after initially committing to an outside release.
They also note how he does not have elite deep speed.  While watching highlights of Surtain Jr. from the past two years, I noticed a tendency for him to get 'handsy' while in coverage.
There were a number of times where I was sure he would get called for defensive pass interference.
However, he was given a pass by the zebras.
That will have to be corrected in the pros so he doesn't hurt his team.
Despite the negatives, Surtain is willing to learn and improve.
His father, Patrick Surtain, was a three time Pro Bowler for the Chiefs and Dolphins.
That type of pedigree and talent will translate well to the pros.
Analysts believe Surtain Jr. is a top ten draft pick.
He most likely will be gone by the time the Browns pick at 26.

Caleb Farley, rising junior, Virginia Tech
Farley has a neat back story.
While attending Maiden High School in North Carolina, Farley played quarterback.
As a senior, he passed for 1,776 yards, and 21 touchdowns and rushed for 2,574 yards and 37 touchdowns.
His total yardage as a prep athlete was 10,425 and he added 124 combined scores.
After choosing Virginia Tech, Farley was originally slated to play receiver.
However, he sustained a non-contact ACL tear and never played a down in 2017.
In 2018, Farley returned to action, but was switched to the secondary.
That proved to be a wise decision.
In 2018, the 6'2", 207 pound Farley had 36 total tackles, one sack, seven passes broken up, and two interceptions.
Farley might have had more numbers to tack onto his already impressive '18 stats, but he suffered back spasms and missed the final two games of the season.
2019 was an even better year for Farley.
He collected 20 total tackles, and broke up a dozen passes while adding four picks, one of which he returned for a score.
Farley was named First-team All-ACC after the season.
He was poised to have an unbelievable 2020.
Instead, Farley opted out of the season due to Covid concerns.
Caleb Farley with a pick six for Virginia Tech pic.twitter.com/T5RO9mzf0F

— NCAAF Nation (@NCAAFNation247) November 16, 2019
While watching him on film, I couldn't help but feel bad…for the offense.
More often than not, I wondered why opposing quarterbacks threw his way at all.
Farley has very good instincts for a corner.
His length and ability to maneuver quickly out of his backpedal are special.
Farley can stop on a dime, plant his foot, and be at the ball in a flash.
To get a sense of who Farley is as an athlete, two plays in particular stood out to me.
First, in a game against Boston College, Farley was in coverage and was playing his man tight.
The ball came his way, but Farley never took his eyes off his man.
Just as the ball arrived, Farley saw the receiver's hands come up to make the catch.
That was when Farley deftly placed his hand between the receiver's hands and broke up the pass.
Again, he did this while never once looking back for the ball.
The second play was against Florida State.
Farley was lined up in coverage on the boundary.
At the snap, instead of backpedalling, Farley rushed the quarterback and made the sack.
A corner making a sack after starting from the slot is impressive.
Getting one from the edge of the field (while the quarterback was still in the pocket) is ridiculous.
Virginia Tech ballhawk safety Caleb Farley has decided to skip the entire 2020 season. He's projected to be a 1st round pick pic.twitter.com/bkq3ZCI4XZ

— Lee Harvey (@MusikFan4Life) July 29, 2020
Farley has all the tools to play at the next level.
He is good in run support and his coverage skills are top shelf.
Farley has the fluid hips one needs in a corner.
Having only two seasons of corner experience does not show with Farley.
He rarely bites on fakes in coverage, instead allowing his man to make a mistake before Farley capitalizes.
Pro scouts do worry about his injury history, coupled with the fact that Farley did not play in 2020.
Scouts also mention Farley's "high" backpedal.
They would like to see him get lower in his stance so he can backpedal even quicker and come out of his break quicker.
Farley will also be called on to be more active in run support.
Scouts note he is good in this aspect, but could be better.
It is highly likely that Farley will be the second corner off the board in the draft.
It is also possible that he is available at the 26th pick.

Greg Newsome II, junior, Northwestern
Newsome has steadily climbed the ladder of elite cornerback prospects for the upcoming draft.
After attending and playing for Glenbard North High School in Illinois, Newsome transferred to IMG Academy in Florida for his senior year.
While at IMG, he snagged two picks and broke up 15 passes.
He had interest from Power 5 schools primarily based in the midwest.
The knock on him at the time was that he was too light (167 pounds).
Eventually, Newsome went back to Illinois to suit up for head coach Pat Fitzgerald and Northwestern.
Not long after arriving in Evanston, Newsome had grown another inch (now listed at 6'1") and added 15 pounds.
He saw playing time in 2018 and had 23 total tackles and four passes defended.
In 2019, Newsome started eight games and amassed 36 total tackles, a fumble recovery, and 11 passes broken up.
This past season, Northwestern played an eight game season due to the pandemic.
Newsome played well when the team returned to action in late October.
He added 12 total tackles, nine passes defended, and an interception to his career totals in 2020.
Newsome was named an All-American by The Athletic after the season.
He was also named First-team All-Big Ten.
When watching Newsome's highlights from the past three years, it is clear he was one of the best players on the field.
Although he is not as 'long' as other corners, Newsome has the hops to outpoint receivers for the ball.
He has good, fluid hips that allow him to start and stop quickly and move in and out of his backpedal.
Newsome is adept at covering receivers in zone as well as man.
He can easily disrupt receivers in the short zone and flat and he will attach himself to receivers well on deep routes.
Newsome's timing is strong, though he can be a tad early and draw pass interference calls.
Newsome does well when tracking a receiver.
He tracks and makes good angles to the receiver and arrives with authority.
Against the run, Newsome can hold his own.
He has a tendency to tackle high, but he wraps up well and drives through the ball carrier.
Newsome's instincts are pretty good for someone with only 18 college starts.
He should only get better in the NFL.
On the negative side, scouts note that he has only 21 total games of college football experience.
His pass interference numbers are a red flag as well.
In three years, Newsome had 15 career penalties including seven pass interference penalties in his last 14 games.
Newsome's size is a problem in the run game.
While a willing tackler, he does not have the heft or power (yet) to work through blocks.
It will be interesting to see how Newsome's NFL team helps him put on weight without it affecting his game.
Also, scouts note that they wish there were more instances of Newsome covering receivers deep.
They are unsure of his abilities to consistently play deep due to his limited game experience.
There is no doubt Newsome has talent to spare.
He should thrive in the pros, though his game may take a few years to reach its full potential.
The Browns recently met virtually with Newsome and ESPN draft guru Mel Kiper Jr. has said he thinks Newsome would be a good fit with Cleveland.
It is possible that Newsome could fall to the second round.
The Browns have the 59th pick in that round and may get a steal with the selection should Newsome still be available.

Asante Samuel Jr., junior, Florida State
Florida State has not had much to celebrate lately.
In the past three years, the team has only won 14 games total.
However, during that same time, the Seminoles have had one of the best up-and-comers in college football.
Asante Samuel Jr. arrived on campus in 2018 and has not looked back.
Samuel Jr. had his pick of colleges as a senior at St. Thomas Aquinas High School in Florida.
The four-star recruit chose Florida State and immediately brought name recognition to the program.
Samuel Jr.'s father, Asante Samuel Sr., played 11 years in the NFL, won two Super Bowls, and was a four-time Pro Bowler.
During his time at Florida State, Samuel Jr. showed the nation that he has the skills to match his father.
In 2018, Samuel Jr. saw action in a number of games and racked up 15 total tackles and nine passes defended.
In 2019, he played lights out, making 48 combined tackles, 14 passes broken up, and one interception.
Samuel Jr. was named a Third-team All-ACC after the season.
This past year, Samuel Jr. had 30 total tackles, one forced fumble, two fumble recoveries, six passes broken up, and three picks.
In spite of the Seminoles only winning three games, Samuel Jr. was selected as a First-team All-ACC.
Is Asante Samuel Jr. the best corner in the upcoming #2021NFLDraft? Caleb Farley at #Hokies seems to be the consensus top CB in the class. Who do you think has a brighter NFL future? #Noles #FSU #ACC pic.twitter.com/HYYJzWs121

— Saturday Gameday (@SaturdayGameday) January 24, 2021
There is a lot to like about Samuel Jr.
He is a high impact player that brings passion to his defensive unit.
Although he is only 5'10" and 184 pounds, Samuel Jr. plays bigger, disrupting the rhythm of opposing quarterbacks and receivers.
He stays fairly low and square in his stance, backpedals with quick feet, and forcefully maneuvers out of his break.
His plant foot sets a good starting point for his drive toward the ball.
As with all elite corners, Samuel Jr. has strong, fluid hips that allow him to change direction quickly.
He is not afraid to attack receivers who tower over him.
Samuel Jr. can 'climb the ladder' to outpoint receivers who have a height advantage on him.
Samuel Jr. has great speed and he needs it playing the boundary.
That is where he played primarily during his time in Tallahassee and he was superb at the spot.
Samuel Jr. plays hard and fast, diagnoses plays well, and brings the hammer.
South Florida Takeover: Former St. Thomas Aquinas (@STA_Football) Asante Samuel Jr. has 2 INT's for Florida State today.

Samuel Jr. was a four-star prospect in the 2018 class.

🎥: @accnetwork pic.twitter.com/CrudiLKlp9

— Michael Yero (@MichaelYero) September 13, 2020
Playing on the boundary meant that Samuel Jr. was in man-to-man coverage for most of his college career.
He can also come up and challenge the running game.
There are many highlights that show Samuel Jr. dropping a runner in the backfield with well-timed tackles.
Overall, his balance allows him to disrupt all aspects of the opponent's offense.
Scouts note that Samuel Jr. could be better locating the ball downfield to break up or intercept more passes.
He also has scant amount of experience in zone coverage.
At the next level, Samuel Jr. will have to get better in run support in regards to wrapping up and driving through the runner.
He will challenge larger running backs and tight ends, but he tends to dive at their feet to make tackles.
Expect to see Samuel Jr. come off the board during Day 1 and no later than the second round.

Jaycee Horn, junior, South Carolina
In what is starting to become a theme, Horn is the son of a former NFL player.
Joe Horn was a receiver for 12 years in the league, playing for the Chiefs, Saints, and Falcons.
His son, Jaycee, played football for Alpharetta High School in Georgia and made 44 tackles and five picks as a senior.
Horn originally committed to play for the University of Tennessee, but changed his mind and chose South Carolina instead.
It didn't take long for coaches to put Horn in as a starter.
During his freshman season of 2018, Horn started 10 games and made 45 total tackles, two sacks, and defended eight passes.
In 2019, he collected 40 total tackles, one sack, two forced fumbles, and broke up nine passes.
This past season, Horn had 16 total tackles, six passes defended, and two picks.
As the Gamecocks wallowed through a season where they would only win two games, head coach Will Muschamp was fired with three games left.
As a result, Horn decided to opt out of the remainder of the season and focus on preparing for the NFL Draft.
As his stats show, Horn has the range to play everywhere on the field.
At 6'1", 205 pounds, he has the height and speed to cover outside receivers and the heft to play in run support.
Horn stays low in his stance and keeps his weight properly balanced through his core.
He backpedals efficiently and comes out of his break quickly.
What I like about Horn when watching film is that he isn't afraid to line up inches from his man pre-snap.
He has the confidence to stay with the receiver and is not afraid to let him know it.
In pass protection, Horn sticks like glue to his assignment.
He has good timing and will disrupt the catch.
Horn has the hops to outpoint passes and battle the receiver for possession.
At the snap, Horn immediately challenges the receiver and makes his man fight to get into his route.
This is very effective in disrupting the timing between quarterback and receiver.
Horn is like a chess piece.
He can be moved from man to zone, slot to boundary.
Horn is good at watching where the play is developing and challenging his opponent.
In run support, Horn is slippery and can blitz when least expected.
He has the ability to wrap up when tackling and drive through the ball carrier.
There are a few things Horn will have to improve upon when he reaches the pros.
What I noticed on film is that he can challenge his man a little too long down field.
That will result in interference calls in the NFL.
Also, while he can tackle, he has a tendency to miss tackles as well.
Horn will need work on diagnosing, squaring up, and tackling through the ball carrier in run support.
Scouts also note that he could be better shadowing or 'mirroring' routes.
Horn can also lag slightly in transition which affects his ability to keep up with his man.
Despite the negatives, pro personnel believe Horn will only get better.
With proper coaching, he should become a quality starter in the NFL.
Look for Horn to be a Day 2 prospect.