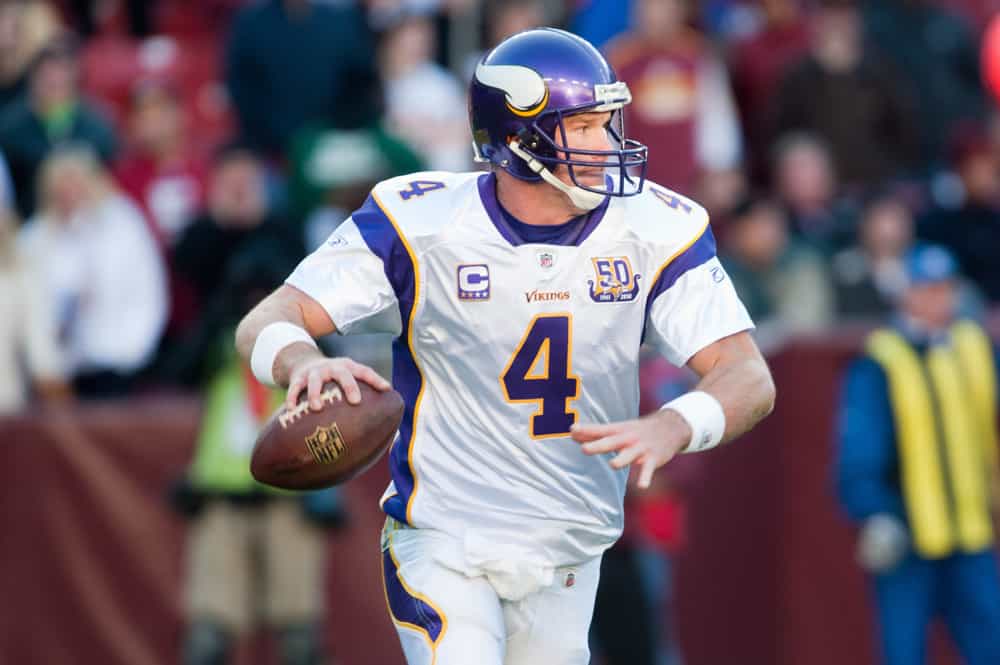 Brett Favre had a lot to say at radio row.
In an exclusive interview on Friday with cleveland.com at the Sirius XM set in Miami, Favre talked about new Cleveland Browns head coach Kevin Stefanski's potential and Baker Mayfield's rebound.
Brett Favre "Absolutely Knew" Stefanski Had It
Favre played for the Vikings the same time Stefanski was an assistant quarterbacks coach in 2009-2010.
In 2009, Favre threw for 4,202 passing yards, 33 touchdowns, and seven interceptions.
He followed that with 2,509 passing yards, 11 touchdowns, and 19 interceptions in his final season.
In two seasons with Stefanski, Favre "absolutely knew" that Stefanski would be a head coach one day.
"There are just some guys that you know before long they're going to move up the ladder,'' Favre told cleveland.com Friday in an exclusive interview at the Sirius XM set at radio row at the Super Bowl. "They're doing what they can to jockey for position. I absolutely knew that he was one of them."
Stefanski coached Favre when he was 27 years old, while Favre was 40.
Despite the age difference, Favre felt that Stefanski was "bright."
"He was really young but I really liked him,'' said Favre. "Of course, I was much older than him. Not that that really matters either way. I can't speak to what he's like at this point, but I do know that he's a very bright mind and he's very likable and he loves what he's doing.''
Baker Mayfield Will Rebound
Favre believes that quarterback Baker Mayfield will rebound from his poor sophomore season.
After winning Offensive Rookie of the Year in 2018, Mayfield threw for more interceptions, had a lower completion rate, and lower quarterback rating.
Baker Mayfield 2nd year stats:

22 TDs / 21 INTs 🔥🔥🔥
59% completion rate 😤😤😤
6-10 record 💯💯💯
3rd in the AFC North 😱😱😱
Sophomore Slump: ✅✅✅ pic.twitter.com/RKDkirTkyG

— Offseason Szn (@RavensFlockCapt) December 29, 2019
Mayfield was second-last in the league in quarterback rating and completion percentage under ex-coach Freddie Kitchens.
Favre's reason for a resurgence in 2020 was simple: Kevin Stefanski.
"First and foremost with Baker, a coach can obviously play a big part, but ultimately you've got to figure it out yourself,'' he said. "And focus on what you can do — and you only — and I think Baker's a tremendous talent, I really do. And I think the Browns in general are loaded talent-wise and they just need to collectively as a group say like 'This is what we've got to do. This is how we're going to do it and that's our focus, not all of the other stuff.'
Mayfield Pokes Fun At Favre
It's clear that Favre was one of Mayfield's idols growing up.
However, it didn't stop Mayfield from famously re-enacting Favre's draft-day from 26 years ago, including the shorts.
"There are those people who are in your corner no matter what, you can't do any wrong, even when you do wrong. And then there are those people that no matter what you do they're going to dislike you and that's not going to change." – Brett Favre #DraftEve #MMO pic.twitter.com/6bCE9SxqI6

— Baker Mayfield (@bakermayfield) April 26, 2018