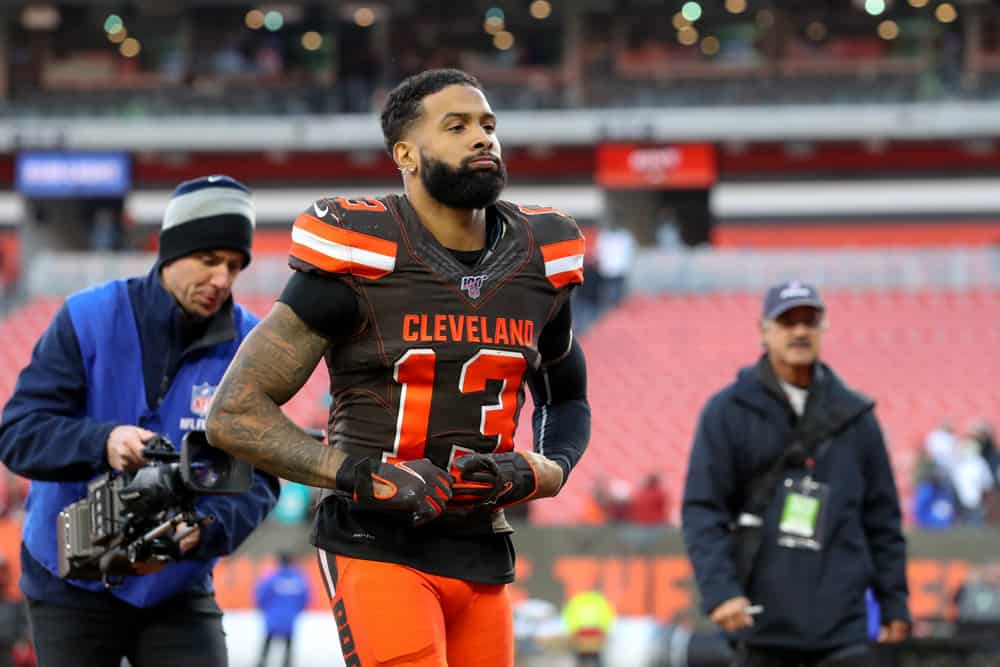 The Cleveland Browns plan to keep wide receiver Odell Beckham Jr. despite what's already been a tumultuous offseason, according to NFL Network reporter Ian Rapoport.
It appears we now know what Beckham and first-year Browns head coach Kevin Stefanski talked last week about when the two men met.
"From what I am told, the Browns very much want to keep Odell Beckham Jr. in the fold," Rapoport said on the NFL Network on Friday night. "They don't want to trade him, they don't plan to trade him. That is where they are right now."
From Super Bowl Live: The #Browns want to move forward with WR Odell Beckham Jr, but how present he is this offseason and for OTAs may go a long way in determining that. pic.twitter.com/RMfekoLrQX

— Ian Rapoport (@RapSheet) January 31, 2020
Beckham, 27, played in all 16 games during the 2019 season despite having a core-muscle injury.
Earlier this month, Beckham had surgery to repair the injury.
Beckham had 74 receptions on 133 targets for 1,035 yards and four touchdowns in 2019.
It marked his fifth 1,000-yard receiving season as Beckham enters his seventh year in the NFL.
Beckham also made headlines after LSU's victory over Clemson in the College Football Playoff title.
After the game, Beckham handed LSU players cash and slapped a security officer in the butt during the locker room celebration.
Police decided not to press charges against Beckham.
Stefanski and new Browns general manager Andrew Berry would like to see Beckham with the team in the offseason, according to Rapoport.
"What the Browns would like to see is some level of engagement for Beckham in this offense as they all try to learn a new offense in the offseason," Rapoport said. "That would likely mean increased presence in OTAs, increased presence in offseason conditioning — some way to show that he wants to be there, is engaged and kind of sets an example for some of the younger teammates.

"If that happens, if he proves he's a team-first guy for this new coaching staff, I would imagine that he sticks around in Cleveland at the least for one more year to try to make it work."
Last offseason, Beckham appeared at one of the Browns' nine OTAs, which are optional for players.
The three-time Pro Bowl receiver also skipped the Browns' three-day minicamp.
Beckham is due an average of $18 million each year through the 2023 season.
However, the Browns have a potential out with him in 2020.
Beckham was vague in December about his future with the team, saying, "I couldn't tell you what's going to happen."
At the time, he also mentioned "how special this could be be" in reference to his combination with fellow receiver Jarvis Landry.