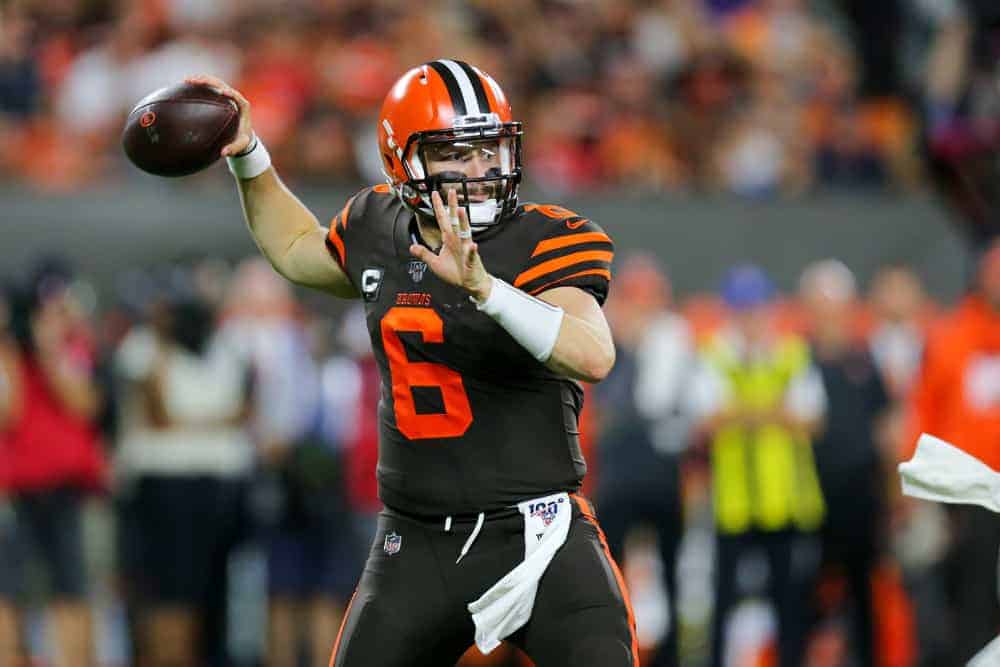 Freddie Kitchens did not become an Ex-Browns coach after losing the second game to Pittsburgh like the six Cleveland coaches who came before him did.
But there was more behind the reason Cleveland hired Kitchens over interim manager Gregg Williams after he led the team to a 5-3 finish last year.
Kitchens is supposed to be the mastermind who got the most out of the rookie version of Baker Mayfield.
His head coaching tenure will be graded by how he develops his young passer Baker Mayfield.
So, how is that going?
Do the Haslams and GM John Dorsey see progress?
Baker Mayfield got off to a rough start this season.
The situation was magnified by the high expectations of fans and many pundits, too.
Cleveland was a fashionable choice to win the AFC North because of the anticipated growth from Mayfield.
It was never a fair expectation.
Gregg Williams pushed the Browns within half a game of their first .500 season largely behind the emotion of proving they were better than their record under Jackson showed.
Few, if any, players rode that emotion like Mayfield.
One of his biggest intangibles out of college was his attitude and desire to win.
But the fact is he entered just his second NFL season under his third head coach and third offensive coordinator.
The most consistent voice in Mayfield's head last season wasn't Freddie Kitchens.
Some believe it was ex-quarterback's coach Ken Zampese who should get the credit for Mayfield's rookie season production.
But Zampese is gone, too.
Kitchens replaced him with Ryan Lindley and added Todd Monken as the offensive coordinator.
Even though Kitchens remains the play-caller and owns the offense, some early season growing pains were predictable.
But there were alarming signs of regression from Mayfield.
One of the biggest differences between the first-half version of Mayfield's rookie year and the winning second half was his release time.
It fell from 2.78 seconds to 2.51 under offensive coordinator Kitchens.
It seems like a subtle difference, but it decreased the number of throws Mayfield made under pressure behind a suspect offensive line.
Over the first eight games of 2019, Mayfield's release time ballooned to 2.82 seconds behind a line that is not any better than last year.
Mayfield found himself scrambling too often, and too early under pressure.
His first instinct was not to get rid of the ball, but rather to escape the pocket.
A lot of tape shows how often Mayfield shifted right.
The results mimicked the first half of Mayfield's rookie season.
Heading into Week 10, Mayfield had just 6 touchdowns and 12 interceptions.
He completed about 58% of his passes, which was 5.1 percentage points lower than what NextGen Stats anticipated Mayfield should have completed.
Signs Of Improvement
Someone took notice during the Browns' bye week.
Mayfield's release time averaged 2.51 seconds against teams not from Pittsburgh over the past six games.
Ted's Film Room: The reasons for Baker Mayfield's in-season improvement

– Kitchens scheme change
– Areas in which Mayfield look dramatically better
– Went from 21st in time from snap to release to 5th

Link: https://t.co/vLtHpUZcAt pic.twitter.com/RAXTFopDTI

— Ted Nguyen (@FB_FilmAnalysis) November 28, 2019
Even though New England and Denver defeated Cleveland, Mayfield completed 65% of his passes and had a positive (2:1) touchdown/interception ratio.
Those baby steps kicked off a run that has Mayfield back in positive territory for the season with 15 touchdowns and 14 picks.
Ted's Film Room: The reasons for Baker Mayfield's in-season improvement

– Kitchens scheme change
– Areas in Mayfield look dramatically better
– Went from 21st in time from snap to release to 5th

Link: https://t.co/vLtHpUZcAt pic.twitter.com/ZwG6er86iK

— Ted Nguyen (@FB_FilmAnalysis) November 27, 2019
At one point, Mayfield threw 156 straight passes without an interception.
Mayfield hit his stride against Miami, with a 70% completion rate, 9 points better than anticipated by NextGen.
Mayfield threw deeper and more aggressively in that game with impressive results.
But despite the win against Pittsburgh and a close game in the second, Pittsburgh had Mayfield's number in both games.
Cleveland's quarterback barely completed half his passes.
In the victory, Mayfield's release time was 3.16 seconds, improving to 2.78 in the loss.
Those numbers reflect how Mayfield reverted to scrambling from the Steelers' pass rush in the first game.
But it's not all about release time.
Mayfield has two other flaws which could be difficult to crack.
The first issue is Mayfield's selective search parameters when looking downfield.
The second is his well-documented tendency to roll right when under pressure.
Understandably, with two Pro-Bowl caliber wide receivers on the field, Mayfield can be forgiven for looking their way more often than not.
But fans outside of Cleveland would have trouble naming a third wide receiver because Mayfield practically never throws the ball to him.
Mayfield threw in Rashard Higgins' direction three times in Pittsburgh.
At least one of those was a throwaway.
None came close to being completed.
The other 17 passes to wideouts were split between Jarvis Landry and Odell Beckham, Jr.
Against Miami, Mayfield threw 23 passes to wide receivers.
KhaDarel Hodges and Higgins each saw one target, neither of which was completed, while 21 passes went to Landry and Beckham.
The field is easier to defend when your team doesn't have to defend the second receiver out wide.
Especially with the connection issues between Beckham and Mayfield, bringing the third wide receiver into the game plan should make life easier.
Mayfield did a great job of staying in the pocket against Pittsburgh in the Browns' recent loss.
He was more disciplined and comfortable than anyone could expect, especially given the Steelers pass rush.
When the Browns led that game 10-0, Mayfield had completed 9 of 11 passes from the pocket and only rolled right once for another completion.
The game went downhill after that.
But, according to my own tracking, Mayfield stayed in the pocket for 31 of his 39 official pass attempts, which is a massive improvement from earlier this season.
Mayfield only completed 3 of 7 passes when rolling right, but that may be skewed since he only rolled when under pressure.
Pittsburgh exposed another issue related to Mayfield's penchant for his right.
The Steelers were able to force Mayfield to step to his left four times in the second half.
The results included an incompletion, two sacks, and a lost fumble.
Mayfield is doing a better job of not leaving the pocket early, but he still has to work on shifting to his left.
Freddie Kitchens and his staff can be blamed for not getting Mayfield off to a better start, but at least someone noticed the release issue and premature abandonment of the pocket and redirected their young passer.
With three of their next four games against the Bengals (twice) and the Cardinals, fans should get to see Mayfield's adjustments at work.
Baltimore's pass rush will make the fourth game a true test of Mayfield's growth.
His challenge (and Mayfield's) is to see immediate and continued progress from his young passer, even against tougher defenses.