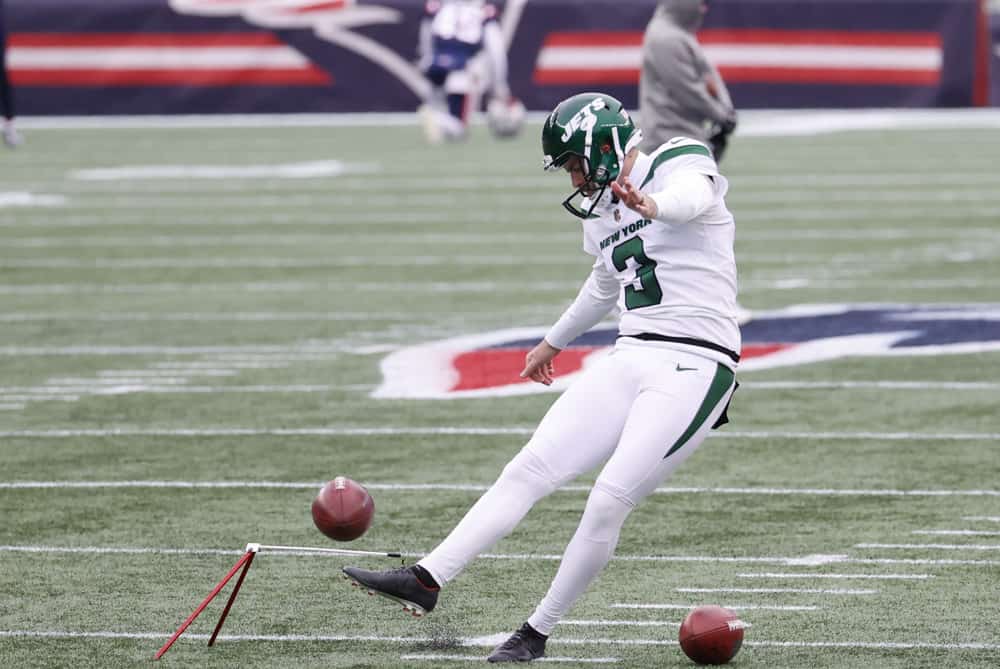 The Cleveland Browns have been very busy in the offseason bolstering the defense.
In addition, key offensive players were drafted.
Somehow lost in the shuffle until today was a focus on the kicking game.
For those of us who thought Cody Parkey was sailing into the season as the Browns starting kicker, it is time to reconsider that theory.
Today, the Browns claimed New York Jets kicker Chase McLaughlin off waivers.
The #Browns have claimed K Chase McLaughlin off waivers from the New York Jets.

— Camryn Justice (@camijustice) May 10, 2021
Who Is Chase McLaughlin?
McLaughlin is a 25 year old who went the University of Illinois.
He was an UDFA in 2019 and has bounced around to many teams in a short time.
Those teams include:
Buffalo Bills (2019) – practice squad
Minnesota Vikings (2019) – practice squad
Los Angeles Chargers (2019) – 3 games
San Francisco 49ers (2019) – 5 games
Indianapolis Colts (2019) – 5 games
Minnesota Vikings (2020) – practice squad
Jacksonville Jaguars (2020) – 3 games
New York Jets (2020) – 1 game
McLaughlin is accurate when he plays.
He is 22 for 28 in field goals for his career.
The 6 missed field goals were from 40+ yards.
McLaughlin has converted 4 out of 5 from 50+ yards; his longest successful field goal is 52 yards.
He is also 31 for 32 in extra point conversions.
What Does This Mean For Cody Parkey?
Kicker Chase McLaughlin, awarded to the #Browns via waivers from the #Jets, will help and press incumbent Cody Parkey in training camp https://t.co/KBHraiAg8i

— Mary Kay Cabot (@MaryKayCabot) May 10, 2021
Parkey definitely had his ups and downs last season but seemed to get it together for the playoffs.
Remember that Cody Parkey was not the Browns starting kicker last year at this time.
Austin Seibert started the 2020 season as the Browns kicker but was waived after a missed field goal and extra point in the Browns' Week 1 loss to the Ravens.
Parkey in 2020 was 19 for 22 in field goals; none were greater than 50 yards.
His longest field goal was 46 yards.
He was 43 for 47 in extra point conversions.
Parkey is signed to a 1-year contract worth $1.2 million for the 2021 season.
Look for a heated competition for the starting kicking job when Cleveland Browns training camp rolls out around later in the summer.