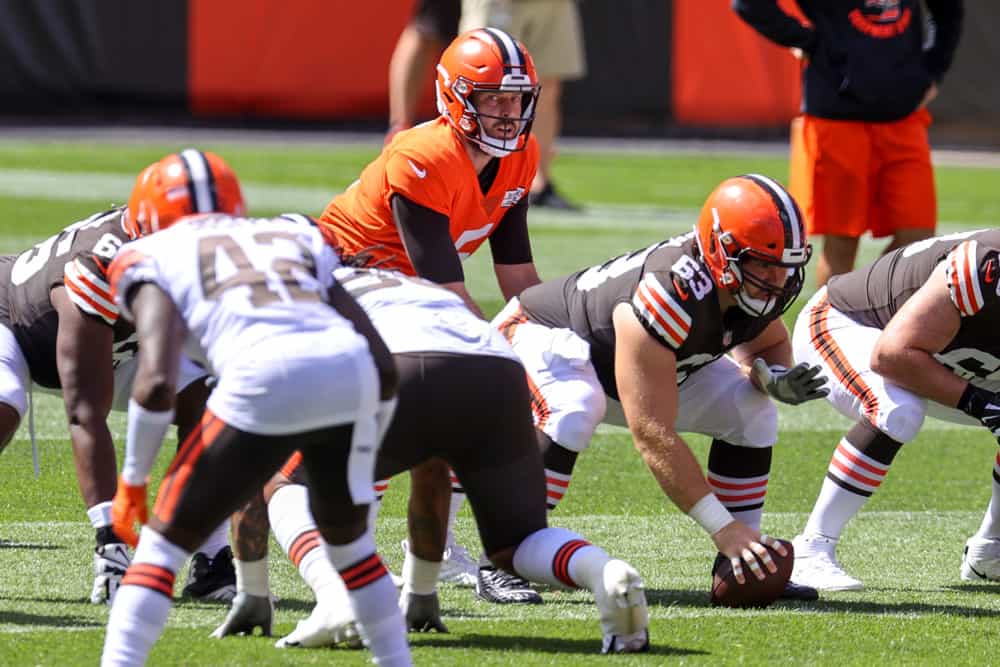 It's hard to find anybody who isn't excited about the 2021 Cleveland Browns.
Sure, there are plenty of Baltimore Ravens fans who wonder what the big deal is.
And those Steelers fans still believe in Big Ben.
Post-Draft NFL Power Rankings via @PriscoCBS!

Thoughts 🤔 pic.twitter.com/jgHvz8xJUV

— CBS Sports HQ (@CBSSportsHQ) May 6, 2021
But NFL analysts are starting to admit the Browns could win the AFC North.
Andrew Berry created a buzz with his excellent free agency haul and another top-rated NFL Draft.
Cleveland comes off a playoff season with fewer issues than they are used to dealing with.
Berry shored up all of the Browns' weak spots, even turning some into strengths.
But which position group will make the biggest jump from 2020 to 2021?
1. The Secondary Got a (Near) Total Makeover 
There is a misconception out there that Andrew Berry kind of ignored the defense during his first offseason.
The reality is Cleveland added 7 defensive free agents and 3 draft picks to work in Joe Woods' new scheme.
But injuries took their toll and Woods was forced to compromise his vision with who was left.
This year, the defense got the big headlines, as Berry went heavy on that side of the ball.
Browns put exclamation point on "defensive lean" offseason with 2021 draft class

📰 » https://t.co/3oVgycz8pe pic.twitter.com/jyzOqHRC44

— Cleveland Browns (@Browns) May 3, 2021
None of the four defensive backs added last season are still on the team.
They are generally replaced by younger and closer-to-prime players, especially in the secondary.
John Johnson III and Troy Hill were the top-ranked free agent safety and slot corner.
They will step into starting roles, possibly with the Browns' first-round draft pick, cornerback Gregory Newsome.
The @Browns major area of concern this off-season was building out their defense

The first offensive player that was added to the roster through FA & the draft was WR Anthony Schwartz (91st overall)

There could be 7 to 9 new defensive starters in Cleveland in 2021

— Mike Tannenbaum (@RealTannenbaum) May 3, 2021
Newsome would spell Greedy Williams opposite Denzel Ward, even though Williams' rehab reports are positive.
Grant Delpit is also back from injury and joins Johnson, Ronnie Harrison, and a troupe of promising young safeties.
Berry also drafted a pair of linebackers who could just as easily join the safety room.
All together, this group is faster, more versatile, covers and tackles better than its 2020 counterparts.
2. The Defensive Line Room Got Crowded
Fans worried about their interior defensive line when Larry Ogunjobi, Adrian Clayborn, and Sheldon Richardson departed.
Cleveland penciled in Andrew Billings and free agent Malik Jackson to start, with Jordan Elliott backing them up.
The signing of journeyman backup Sheldon Day did nothing to allay concerns.
But Andrew Berry snagged a pair of good young players on draft day.
Good luck against this 😳 pic.twitter.com/eELWBQckGq

— B/R Gridiron (@brgridiron) May 5, 2021
Fourth rounder Tommy Togiai and UDFA Marvin Wilson could be a tandem for many years in Cleveland.
And they'll get to learn how to play in the NFL behind the starters and another solid veteran, Damion Square.
Meanwhile, Jadeveon Clowney and Takkarist McKinley replace Olivier Vernon opposite Myles Garrett.
Porter Gustin and Joe Jackson could return to the 2021 rotation after a solid campaign last year.
And if Curtis Weaver comes back from his foot injury anywhere close to expectations, the group is even stronger.
Woods can field a solid rotation that will stay strong later into games, the most obvious concern from last year.
3. Linebackers Complete the Defensive Makeover 
Jeremiah Owusu-Koramoah makes the linebacker room better by himself… if he plays linebacker.
All he did in college was run stride-for-stride with wide receivers, including Davonta Smith, and shut down tight ends.
He has great vision and can hit a gap with speed and power to stop a runner or chase a quarterback.
Joe Woods wants his linebackers to be speedy and versatile, which explains JOK and 6th-rounder Tony Fields.
When the Browns drafted Jeremiah Owusu-Koramoah Kevin Stefanski delightedly said "explosive, explosive, explosive."

When an offensive coach is that excited about drafting a defender, it shows how special they think JOK will be. pic.twitter.com/sNOiFW8ulr

— Nick Karns (@karnsies817) May 10, 2021
But the Browns also added Anthony Walker, a tackle machine who is a younger version of BJ Goodson.
Cleveland re-signed veteran Malcolm Smith, while Mack Wilson, Sione Takitaki, and Jordan Phillips also return.
Tony Fields is not as fast as Owusu-Koramoah, but he can play all 3 linebacker spots and safety.
Woods is on record as saying Cleveland will mostly play nickel and dime defensive sets.
.@ThomasDavisSDTM has @WashingtonNFL at the top of the league heading into next year 🔥 pic.twitter.com/pCIysloSaa

— NFL Total Access (@NFLTotalAccess) May 7, 2021
His younger players have the speed to cover a lot of real estate in the middle of a dime.
But Cleveland can also put out a strong trio of Owusu-Koramoah, Walker, and any one of the others.
It is the added speed and collective versatility of the linebacker group that quantifies their improvement.
But the new secondary and expanded defensive line groups will make them look even better.