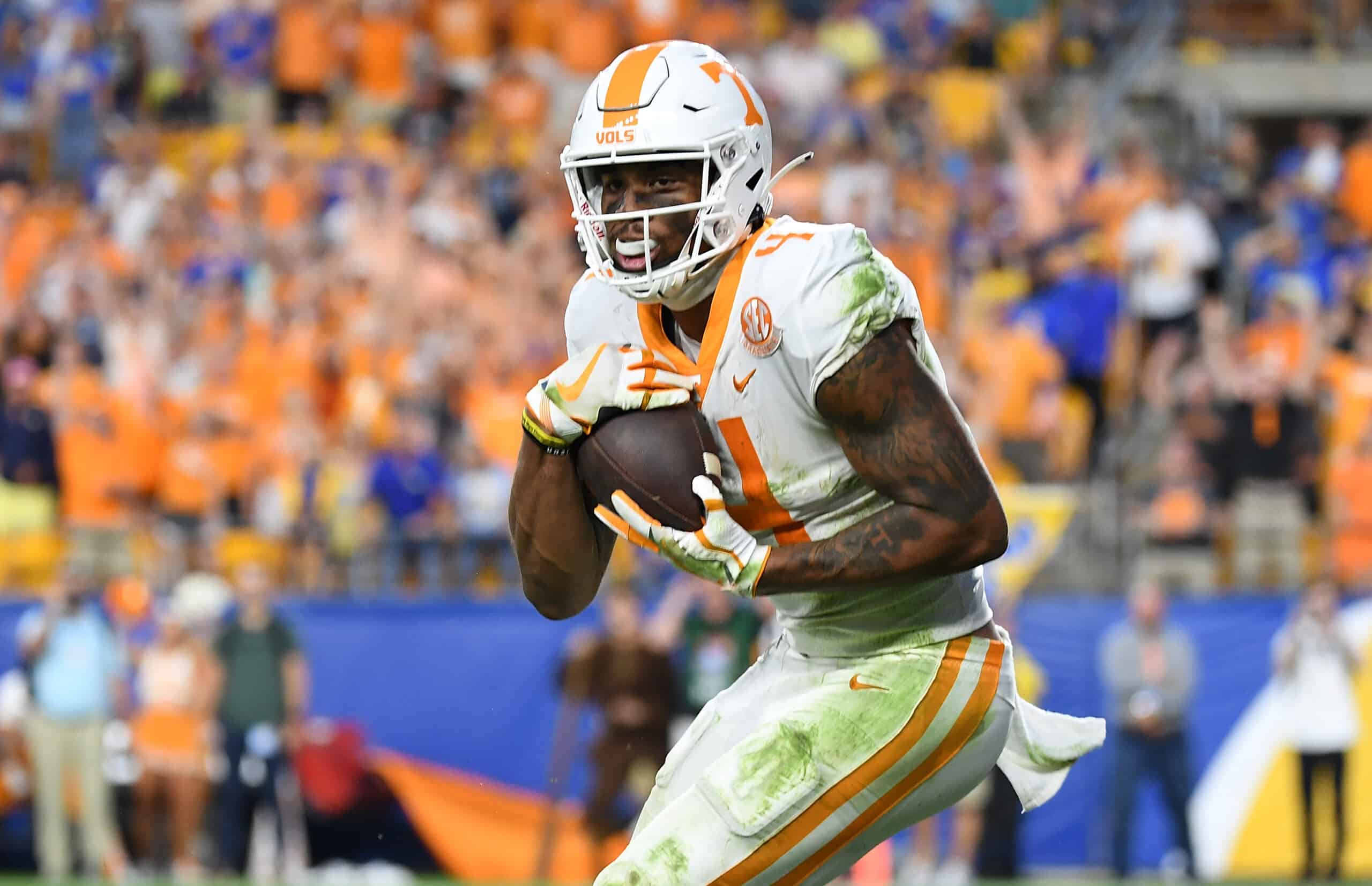 When your team's first draft pick isn't until the third round, it pays to be a little sneaky.
And the Cleveland Browns GM Andrew Berry might have stolen another prime player late.
Cedric Tillman Jr was supposed to be the star of the Tennessee offense in 2022.
He racked up 64 catches for 1,081 yards and 12 touchdowns as a junior in 2021.
𝗣𝗜𝗖𝗞 𝗜𝗦 𝗜𝗡: With pick 74 overall in the 2023 NFL Draft, the #Browns are selecting WR Cedric Tillman pic.twitter.com/cbvOGUa99E

— Dov Kleiman (@NFL_DovKleiman) April 29, 2023
But a nagging ankle injury cost him 7 games and he never was 100% last season.
Teammate Jalin Hyatt stepped into the void for the volunteers, catching 15 touchdown passes.
The NY Giants jumped ahead of the Browns to snatch Hyatt at pick #73.
But with Tillman's ankle healing up, Berry might have landed the better of the two rookies.
Is Tillman another DPJ? 
College Football News describes Tillman as someone who gets downfield quickly but without blazing speed.
They say contested balls tend to end up in Tillman's hands, as explained here:
"The tools are all there to be fantastic when (Tillman's) healthy. He might not be a blazer, but he can get down the field in a hurry. With his size and toughness, he'll battle for the ball and seemingly win every 50/50 battle. When he was right, he produced at a high level against big-time teams."
In other words, Cleveland has to hope Tillman gets and stays healthy.
CFN knocked the receiver for his cutting ability and quickness.
The #Browns are taking Tennessee WR Cedric Tillman at No 74, right after his teammate Jalin Hyatt came off the board. https://t.co/ZvCj37W8IE

— Ari Meirov (@MySportsUpdate) April 29, 2023
But they acknowledge many expected Tillman to be a superstar before his injury.
He brings great size to the receiver room at 6'3″ and 213 pounds with strong hands.
And he presents a red zone target if he can win a spot on the Browns' 2023 roster.
What It Means For The Browns 
Berry and Kevin Stefanski grabbed a wide receiver for Deshaun Watson's first full season.
But that room is pretty crowded with young contenders fighting for 1 or possibly 2 roster spots.
Berry traditionally finds space for his rookies, and that means a tough decision or 2 could be coming.
Unless Tillman or another prospect pushes out a veteran, the wide receiver roster could be set.
Cedric Tillman has been drafted by the Cleveland Browns 😁🔥

Thank you for Everything 🍊🧡pic.twitter.com/mm9ceJ00Ia

— Tennessee DieHards (@DieHardsVols) April 29, 2023
Meanwhile, Cleveland continues to look for more defensive help for Jim Schwartz.
There is room for new talent at all three levels.
The team has one more pick tonight and a bunch of day 3 selections to fill some voids.
And it remains to be seen if the team goes best-available-athlete or fills their holes.