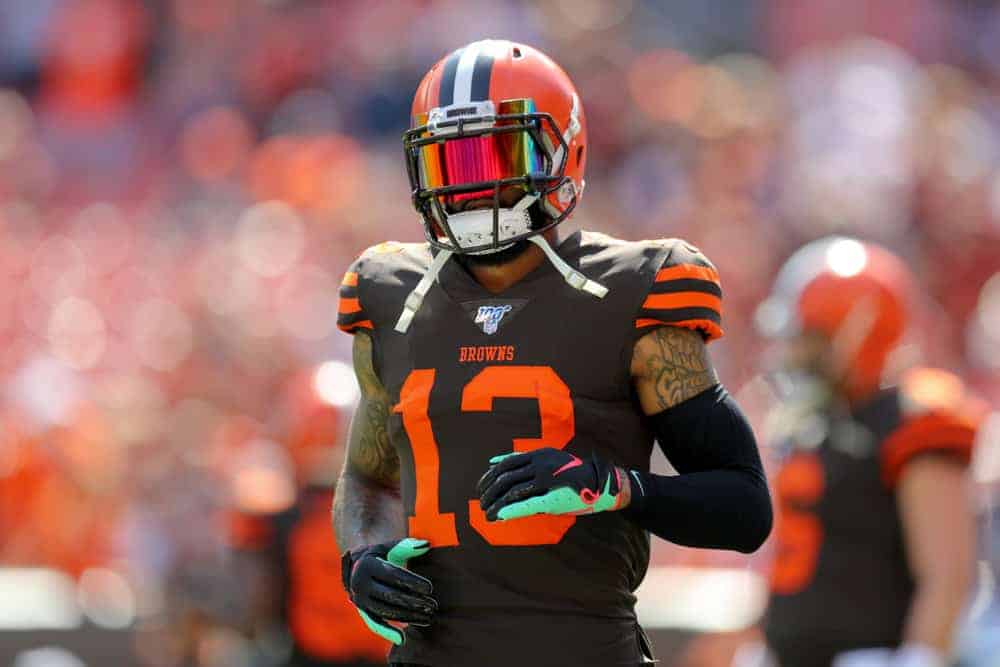 Two weeks ago, Cleveland Browns WR Odell Beckham Jr., suffered a torn ACL that will keep him out for the remainder of the season.
Prior to Odell's injury, the trade deadline was looming and many thought he would be a target for certain teams.
Obviously, after the injury, teams were not going to make the call.
But, now many feel that Odell Beckham Jr has played his last game in Cleveland.
For Browns general manager, Andrew Berry, he just wants to focus on Odell's road to recovery.
Andrew Berry Is Tired Of The "Future" Talk
It seems that ever since Odell arrived in Cleveland, he has been featured in multiple trade rumors.
However, Odell remains with the Cleveland Browns and Andrew Berry is tired of talking about his future with the organization.
Mary Kay Cabot of cleveland.com quotes the general manager stating the following:
"I feel like this is a question I've literally addressed every week since I took the job. So really at this point in time, I really don't see a difference."
The Cleveland Browns are currently sitting at 5-3 and have high hopes of making the playoffs this year.
Another thing to keep in mind is Baker Mayfield, as he has his fifth year option coming up.
Obviously, how Baker performs will determine whether or not the Browns want to move on from him or keep him.
You would think losing Odell would hurt Baker, but, many people feel that it is going to have the opposite effect.
Despite all of that, as for Odell and the future, Berry went on to state the following:
"He played really good football for us before he was injured. He's done a fantastic job with his teammates at practice, he's embraced the organization, he's under contract for multiple years. So our focus with Odell is making sure he recovers from the ACL tear. We want him to be healthy and ready to go next year. But we're pleased with him."
His future in Cleveland certainly sounds optimistic.
Are The Browns Better Off Without Odell Beckham Jr?
Beckham Jr. hasn't seemed like the superstar he actually is ever since arriving in Cleveland.
A lot of that is a direct result of the disfunction this franchise has dealt with over the last couple years.
The losing seasons, the firing and hiring of coaches, etc. all plays a key role in how players develop.
It seems that the Browns have found the right head coach in Kevin Stefanski.
He understands the strengths of this team and yet, Odell is still under achieving as the Browns find themselves having success.
"There's a very real possibility" that Odell has played his final game with the Browns, per @RapSheet

Cleveland could trade the WR next spring or summer pic.twitter.com/HPGkpFYcUB

— Bleacher Report (@BleacherReport) November 1, 2020
Odell does have multiple years remaining on his contract, so another team needs to have the necessary cap space in order to bring him in.
But, if he's on the block, there will be multiple suitors for the star.
Chatter out of Ohio is that the Patriots were one of three teams who called the Browns about an Odell Beckham Jr. trade before he went down. The 49ers and the Saints were the other two.

— Mark Dondero (@MarkDondero) October 27, 2020
If the Browns go on to make a playoff push, then they are more likely than not to get rid of him.
Remember, the Patriots have draft capital, so they could very well be a potential suitor.
Regardless, only time will tell what happens.