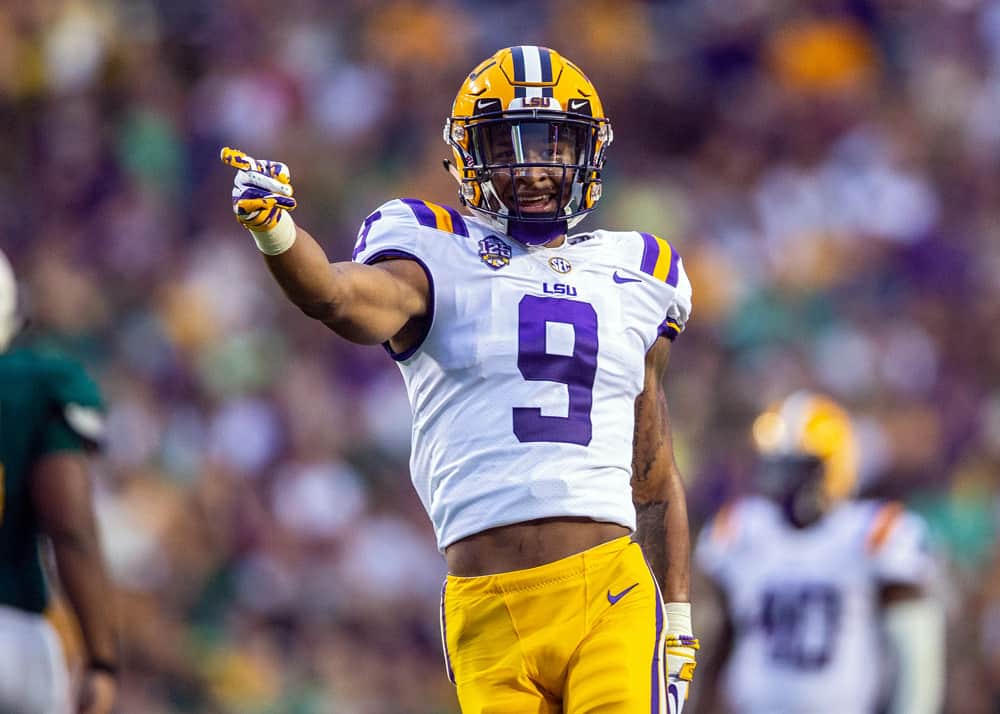 Nate Davis of the USA TODAY released his "Twenty NFL rookies who could make instant impacts in 2020 season."
He ranks safety Grant Delpit at No. 9 on the list, whom the Cleveland Browns selected in the second round of the NFL Draft on April 24, 2020.
The Browns traded their No. 41 pick to the Indianapolis Colts for the No. 44 and No. 160 selections.
Davis describes Delpit, the No. 44 overall pick, as an impressive player:
"A near-surefire first-rounder had he been eligible for the 2019 draft, Delpit won the Thorpe Award as the country's top college defensive back last season despite being hindered by a high ankle sprain and too many missed tackles. Healthy again, he's got the goods to be the playmaker that's been lacking in the middle of Cleveland's defense."
As mentioned in Davis' description, Delpit won the Jim Thorpe Award, an award that has been given out annually since 1986.
Delpit is the third LSU Tiger to win the award, and the second Thrope Award winner to be drafted by the Browns.
The other Thorpe Award Browns draftee was Antonio Langham, the Browns' No. 9 overall selection in 1994.
While Langham played just two seasons in Cleveland, Delpit expects to be a much more impactful for the Browns during his career.
Is Delpit the Real Deal?
In the first edition of the BrownNation mailbag, there was some discussion about Delpit being the "real deal."
According to Davis of USA TODAY and former NFL fullback Jacob Hester, he should be an impact rookie.
The two-time Consensus All-American will have to overcome an injury though.
Delpit has had an ankle injury that he has been dealing with:
Grant Delpit says he's "close to 100%" health-wise as he's recovering from his high ankle sprain.

He's not working out this week at the combine, thinks he'll be 100% for LSU's pro day in April. pic.twitter.com/GXMXlaYbvi

— Amie Just (@Amie_Just) February 28, 2020

A part of the reason that Delpit's college career took a dip in his junior year, and final collegiate season, was his high ankle sprain.
Throughout his 2019 season, he battled through the ankle injury and missed just one contest.
His family members taught him this toughness from when he was a child in New Orleans.
His family was displaced by Hurricane Katrina, and he and his family members rebuilt their life.
During Delpit's time in the Bayou, the Tigers accomplished a great record of 34-7.
In his final year with LSU, Delpit's Tigers won the championship.
There will be high expectations for the second-round draft pick, but his impressive work ethic will be an important part of why he will succeed as a Cleveland Brown.
His NFL.com draft prospect grade of 6.25 projects him as a starter within his first NFL two seasons.
Delpit's College Career
He has fellow Tigers like Odell Beckham Jr., Jarvis Landry, and Greedy Williams on the Browns.
They are greeting Delpit to Cleveland with open arms:
OKKKK la brudda more of us in the locker room we neeed dat!!!! LSU @realgrantdelpit

— Odell Beckham Jr (@obj) April 25, 2020
Oooo Yeaaa!!!!! Bayou Bengal Letssss Geaux https://t.co/Vo5qL2V9Sg

— Jarvis Juice Landry (@God_Son80) April 25, 2020
He had a strong career at LSU, which included several career highs in his sophomore season.
2017 (freshman year): 60 total tackles, 3.5 tackles for a loss, one interception, and eight passes defended
2018 (sophomore year): 74 total tackles, 9.5 tackles for a loss, five sacks, five interceptions (led SEC), nine passes defended (eighth-highest in SEC), one fumble recovery, and one forced fumble
2019 (junior year): 65 total tackles, 4.5 tackles for a loss, two sacks, two interceptions, seven passes defended, one fumble recovery, and one forced fumble
In 2018, his five interceptions ranked 10th in the NCAA.
Even with the drop in numbers, he was the Thrope Award winner in 2019.
With how well Delpit played near the end of his college career, he will prove to be an impact rookie in 2020.