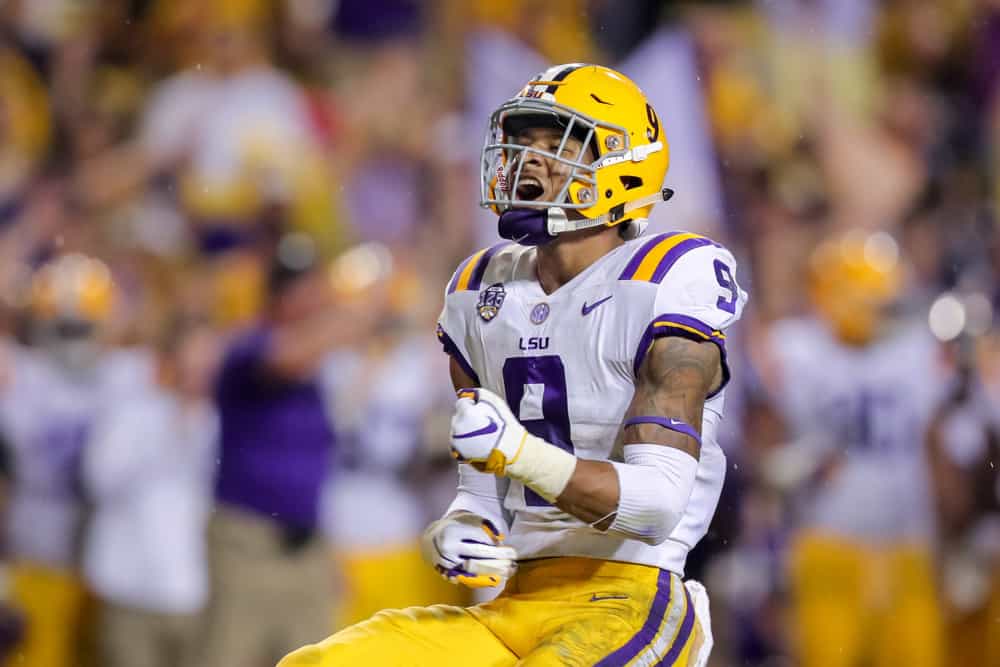 Perhaps former NFL fullback Jacob Hester was drinking the Kool-Aid of his alma mater.
Hester — who now works with Sirius XM's "SEC This Morning" — had nothing but praises for former LSU safety and Cleveland Browns second-round pick Grant Delpit.
"I think that Cleveland got the steal of the draft in Grant Delpit," Hester said during Wednesday's appearance on 92.3 The Fan's "Bull and Fox" show.
Hester said Delpit's value dropped because he played hurt in 2019 and because his role shifted when fellow LSU safety Todd Harris got injured during the third week of the season.
"I don't think you're going to get any more value than Grant Delpit though in the second round, 44th overall," Hester said. "This was a guy that's a first-round talent.

"[In] 2018, if he would have been eligible to come out for the draft, he would have been a top 10 pick in my opinion, and everyone wants to pick on the 2019 tape. I'm close to the program. I'm able to go inside those practices. He just wasn't healthy, and he was playing through it, and credit him."
Hester credited Delpit's contributions towards LSU's championship-winning team during the 2019 season.
"In this day and age in college football, when guys just shut it down sometimes…if they have pro prospects and they have a nagging injury, they just shut it down [and] get ready for the draft," Hester said. "He wanted to be part of this football team. He wanted to go out there [and] play every single week, and he didn't take practices off either guys.

"I mean he was in there practicing and then he would go straight in to the rehab process after a practice and he basically lived in the training room to try to get ready each and every week. And, I respect that. After he sat out a game too, he sat out the Arkansas game, he was the player that we saw in 2018."
Delpit still won the Jim Thorpe Award for the nation's best defensive back in 2019 despite having lower statistical production compared to the season before.
Grant Delpit's statistics
2018 (sophomore year): 74 total tackles, 9.5 tackles for a loss, five sacks, five interceptions, nine pass deflections, one fumble recovery and one forced fumble
2019 (junior year): 65 total tackles, 4.5 tackles for a loss, two sacks, two interceptions, seven passes deflected, one fumble recovery and one forced fumble
Stats courtesy of Sports Reference.
Hester was also complimentary of Jacob Phillips, whom the Browns drafted in the third round.
"He's just a tackling machine. He only missed two tackles all of last season," Hester said. "He's a downhill linebacker. He's the guy that first and second down, inside run, he's going to be a sure tackler.

"He played a lot of football at LSU. He was a guy that was in there with Devin White. [He] learned under a guy like Devin White. There was one game that Jacob missed in his sophomore season, and LSU felt…they felt him not being in position there. So, he was very, very instrumental to LSU in 2018 and 2019. So, I think he's a really good football player. [He is] good value there in the third round."
Delpit and Phillips join several former LSU standouts who now play for the Browns, including Odell Beckham Jr., Jarvis Landry and Greedy Williams.