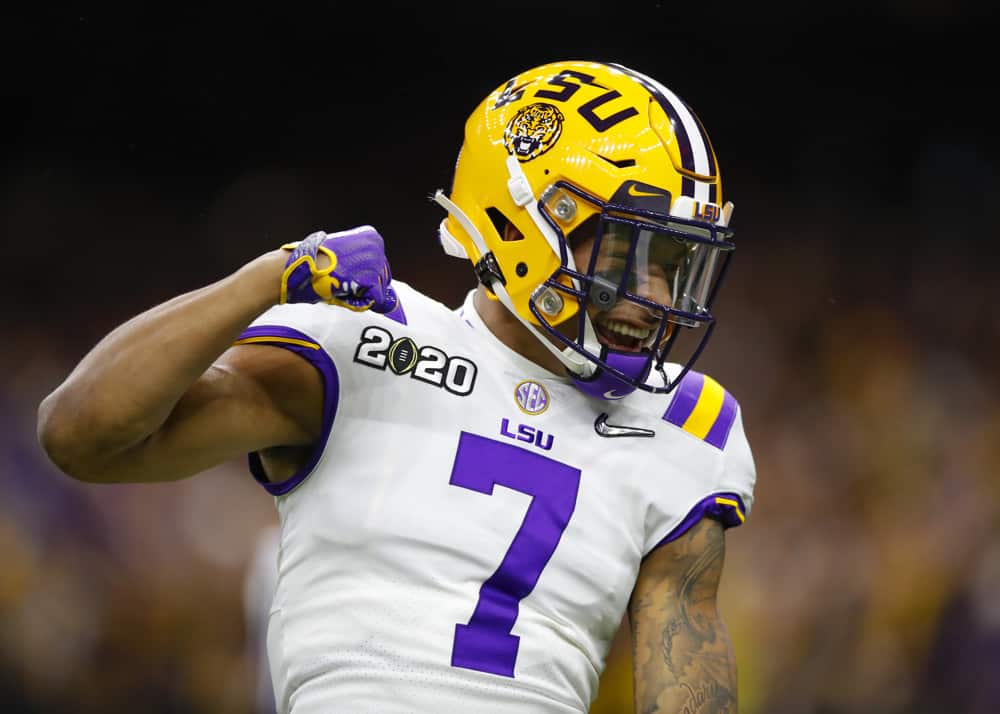 With the 44th overall pick (2nd round 12th pick), the Cleveland Browns selected LSU Safety Grant Delpit.
The Browns started the day with the 41st pick but traded it to the Colts for the 44th pick and the 160th pick.
(Indianapolis used the 41st pick to draft Jonathan Taylor, RB, Wisconsin.)
This is the second straight year Cleveland drafted a LSU DB in the 2nd round.
Greedy Williams was the 2nd round LSU Tiger draft pick in 2019.
Grant Delpit is 6'3″ and 201 pounds.
He is expected to be an immediate starter with the capability of being one of the best in his position by his 3rd year.
Football Skills
Delpit completed his junior season at LSU in 2019.
A 2019 Jim Thorpe winner, he also is a 2-time 1st Team All SEC player (2018 and 2019).
He is a versatile safety, capable of playing in the slot to cover WRs and TEs.
And he can play the half-field as a safety; he can blitz and is a tackling machine.
Delpit suffered a high ankle sprain in 2019.
He tried to overcompensate after coming back from his injury and ended up missing tackles.
Grant Delpit is absolutely going to tackle a Browns reporter this year pic.twitter.com/OFQ6xK5Lq4

— Barstool Sports (@barstoolsports) April 25, 2020
Due to his injury, he was not able to run the 40 yard dash at the NFL Combine, but he does possess speed.
Grant Delpit could've sat out a large chunk of this season and protected his draft stock.

He played through pain. He won a natty. He won the Thorpe.

He's gonna wreck the NFL.

Nothing but respect for my No. 7. pic.twitter.com/XqMlE8IYDc

— Cody Worsham (@CodyWorsham) April 25, 2020
Background
Grant Delpit was born in New Orleans.
His family members were avid Saints fans, and they were season ticket holders when Grant was a child.
After watching Grant run up and down the ramps at a Saints game (a weekly habit for Delpit), someone remarked that he will play at the Super Dome someday.
Grant's family was displaced after Hurricane Katrina in 2005.
As a 6 year old child, Grant thought the family was merely going on a weekend trip to Memphis.
The family watched television coverage of New Orleans while in Memphis and saw the roof of their house.
Everything else was under water.
They moved to Houston, and a year later, they bought a house.
During the upheaval, the family wanted to keep young Grant active and busy so they enrolled him in flag football.
From a young age, he had aspirations of following the footsteps of his childhood heroes by playing safety for LSU like Tyrann Mathieu and for the Saints, like Kenny Vaccaro.
"Baby Jamal"
Delpit is named Baby Jamal after former LSU safety (and current New York Jets safety) Jamal Adams.
His LSU teammates say he possesses Adams' swagger and his ability to "ball out."
Competitive, hungry, and always striving to improve, Delpin proved himself early in spring 2017 drills which he was eligible to attend as an early enrollee.
He even beat out fellow true freshman Jacoby Stevens, the No. 1 high school safety in the nation out of Oakland High in Murfreesboro, Tennessee for the starting position.
The Browns have 2 more picks on the second night of the draft. They are numbers 74 and 97 in the 3rd round.
If you'd have told me 3 months ago the #Browns would end up with Jedrick Wills JR and Grant Delpit while also gaining a pick…

I'd have bet any money you were wrong!! 😆

Great start AB 🔥🔥🔥#Browns #NFLDraft pic.twitter.com/YKFDhSRqHN

— Ryan | BrownsAccess (@clvlnd) April 25, 2020
With defensive players picked in the 1st and 2nd rounds in Jedrick Wills and Grant Delpit, there is a good chance the Browns will flip to offensive draft picks in the 3rd round.