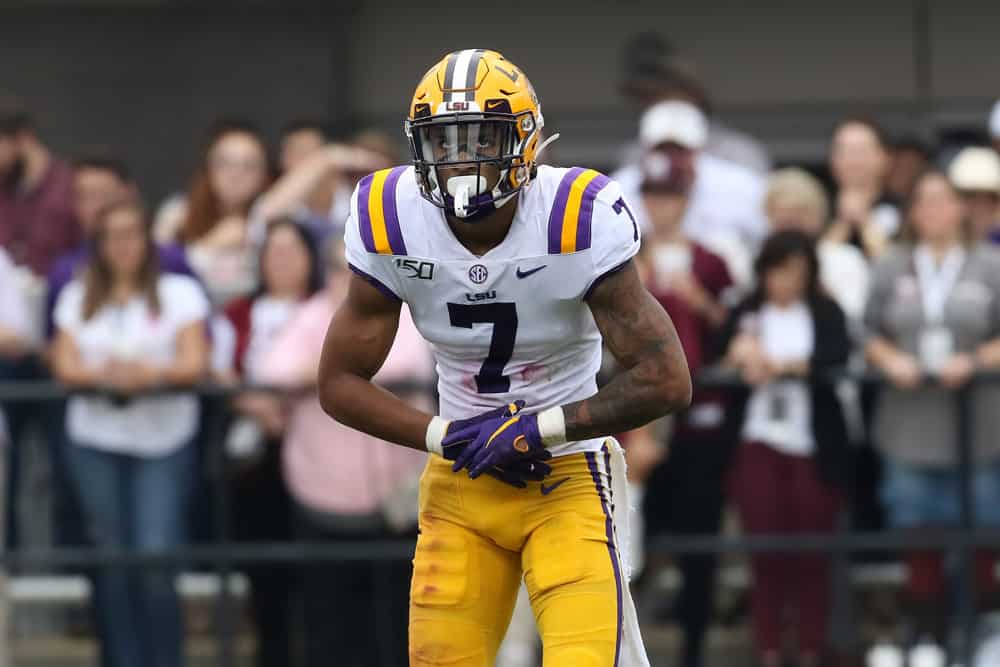 Thanks to your overgrowing support, we can proudly announce the first edition of the Browns Nation mailbag.
As your questions keep piling up, we will gladly answer all your questions.
Here is this week's edition of the Browns Nation Mailbag
I read Grant Delpit was injured last year and that's why he dropped into the second round. Do you think Delpit will be the real deal in the NFL?- Tim M, Tampa, Florida
Personally, I think this was the Browns' best draft pick.
Delpit was projected to go in the first-round for weeks and some scouts believe he can produce at a high level just like Alabama's Xavier McKinney.
Delpit has size, athleticism, and great play.
He was the winner of the 2019 Jim Thorpe Award, which is awarded to the nation's best defensive back.
His 2019 season was not up to his standards due to lower-body injuries; however, he produced like a first-rounder.
Grant Delpit STILL recovering from ankle injury.

He didn't deserve criticism this year, he deserved respect for playing through a tough injury with a 1st Round future at stake

FULL #LSU COMBINE REPORT:
📺https://t.co/O2qWZU3Oq1 pic.twitter.com/0ER1gujAEo

— Matt Moscona (@MattMoscona) February 29, 2020
In 2018, Delpit had a standout season with 74 combined tackles, 9.5 tackles for loss, 5.0 sacks, and nine passes defended.
Even with a lower leg injury, Delpit finished 2019 with 65 combined tackles, 4.5 tackles for loss, 2.0 sacks, and seven passes defended.
Delpit should be completely healthy by the start of 2020.
I would be willing to bet that he is going to make a difference for the Browns in the first couple of years.
What do you think of Donovan Peoples-Jones? He gets a lot of hype, but you would think there was a reason he dropped into the sixth-round. What do you think?- Casey W, Cleveland, Ohio
Peoples-Jones has a lot more hype as a return specialist than he does as a wide receiver.
As a receiver, he never finished with more than 612 yards and had just 34 receptions for 438 yards last season.
One reason for his drop in value might have contributed to an early-season injury, in which Jim Harbaugh described as a "soft-tissue groin injury."
However, as a return specialist, he was one of the best in the Big 10 Conference.
Go ahead and count the number of Buckeyes Donovan Peoples-Jones shed on this punt return. pic.twitter.com/i73w0YHeC9

— Big Ten Network (@BigTenNetwork) November 25, 2017
DPJ led the Big 10 in return yards in 2018 and was All-Big Ten Third-Team in 2018 and 2019.
For now, wide receiver Jarvis Landry has been the team's punt returner.
DPJ could challenge Landry for that spot on the depth chart.
The Browns should be happy to land DPJ in the sixth-round because return specialists just don't get taken high in the draft.
I think the Browns had the best draft of anyone in my opinion. What teams would say maybe had better?-Terry J, Columbia, South Carolina
I think the Browns had an okay draft.
I don't really understand taking Washington center Nick Harris in the fifth round, and I'm not crazy about the Browns taking FAU's Harrison Bryant when the team has Austin Hooper and David Njoku for at least the next two years.
Two teams that stick out the most are the Dallas Cowboys and the Baltimore Ravens.
🚨 2020 NFL Draft | Team Grades

I combined the grades of these guys for GPA:

Chad Reuter
Vinnie Iyer
PFF
Luke Easterling
Andy Benoit
Daryl Slater
Doug Farrar
Dan Kadar
Mark Maske
Ryan Dunleavy
Mel Kiper Jr
Nate Davis
Thor Nystrom

Thanks for your work – much appreciated 🙏🏻 pic.twitter.com/2CJDaYYtBJ

— René Bugner (@RNBWCV) April 26, 2020
This was the best draft ever by Jerry Jones.
Somehow, the Cowboys landed potentially the best receiver in the draft in CeeDee Lamb at No. 17.
Then, the team replaced Byron Jones (left in FA for the Dolphins) with Alabama's Trevon Diggs and center Travis Frederick (retired) with Wisconsin's Tyler Biadasz.
Diggs has first-round talent, but fell in part to the massive amount of receivers, while the Cowboys worked a deal with their rival in the Eagles to move up!
Not to mention, defensive tackle Neville Gallimore is one of the most underrated third-round picks.
.@DustyDvoracek breaks down why @Path2Greatwork is in a great situation with the Dallas Cowboys. It has a lot to do with the presence of @Geraldini93: pic.twitter.com/6N4fMdBGBq

— The Oklahoma Breakdown (@OK_Breakdown) April 28, 2020
As for the Ravens, they crushed the first four rounds of the draft.
Starting off by drafting linebacker Patrick Queen, who was the second-best linebacker in the draft.
Then, the Ravens drafted running back J.K. Dobbins, who rushed for over 2,000 yards last season.
Throw into the mix wide receiver Devin Durvaney, where he recorded 106 receptions for 1,386 yards and nine touchdowns and is a downfield target.
Remember, the Ravens were the best team in the AFC North, and they got better, which is super scary.
I haven't seen a list of undrafted free agent signings yet in full. Are there some intriguing prospects that have any collegiate rewards that could be available?-Ryan C, Galion, Ohio
There are two undrafted free agents that the Browns signed that come to mind.
For starters, there's Princeton's quarterback Kevin Davidson, who set an Ivy League record for seven touchdown passes in a game.
Kevin Davidson sets the Princeton record for touchdown passes in a game with this being his 7️⃣th!

Griffin's 4️⃣th touchdown ties the school record for touchdown receptions in a game

Watch now on @Stadium pic.twitter.com/GESEht7yB0

— Princeton Football (@PrincetonFTBL) September 28, 2019
There's also running back Benny LeMay out of Charlotte.
LeMay was the 2020 East-West Shrine Brown Offensive MVP after recording 16 carries for 80 yards, two touchdowns, and the game-winning 9-yard touchdown with 1:52 left to play.
He left Charlotte as the all-time FBS rushing leader with 3,232 rushing yards.
Bowl season kicks off in an hour. Good chance to check out #Charlotte RB Benny LeMay, one of my favorite day 3 RBs in this draft class.

Patient with a great feel for run angles, averaging 5.7 yards/carry. Reliable on passing downs. pic.twitter.com/5DPDBLBeZx

— Dane Brugler (@dpbrugler) December 20, 2019
Submit your question for the next Browns Nation Mailbag!
Each week one of our writers will answer fan questions about the Cleveland Browns.
Submit them below and check BrownsNation.com for the latest issue.