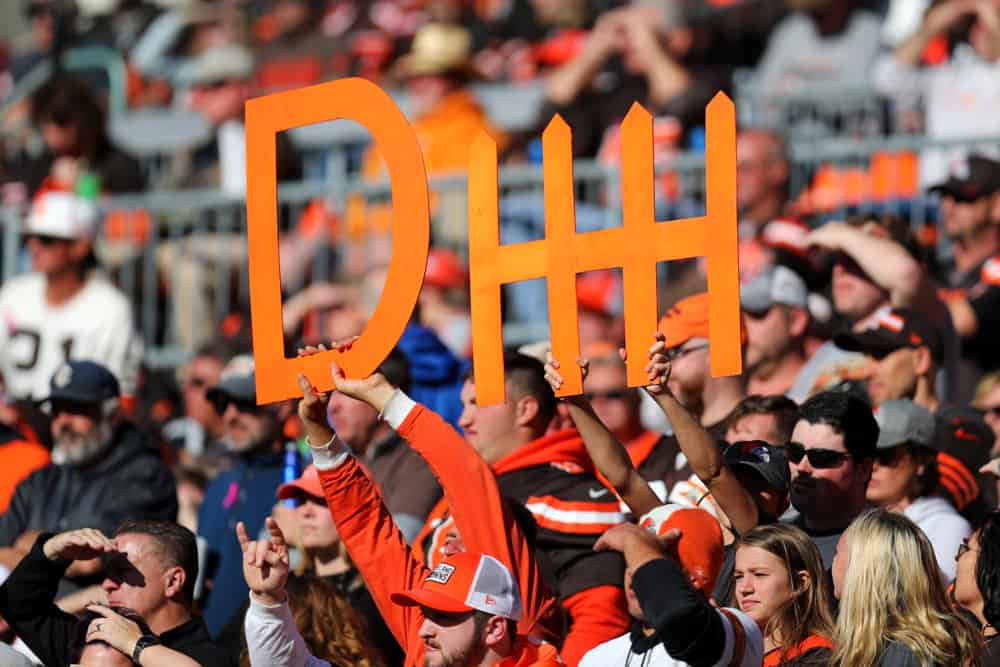 The Cleveland Browns worked throughout the 2021 offseason to improve the defense through free agency and the draft.
Helping Myles Garrett was a principal goal.
Being a more imposing presence in the quarterback's face was another goal.
Jadeveon Clowney was signed to help achieve both of those goals.
Through Week 7, it seems the Garrett and Clowney combination is working.
PFF Rankings – Garrett And Clowney
Both Garrett and Clowney are in the top three of edge rushers with the highest quarterback pressure rates this season.
Garrett leads the league with 19.8%, and Clowney is third with 19.5%.
The Browns are the only team with two in the top seven.
Highest pressure-rates this season (min. 100 pass-rushes):

T-1️⃣ Myles Garrett, EDGE- 19.8%
3️⃣ Jadeveon Clowney, EDGE- 19.5%

The #Browns are the only team with two in the top-7 💪 pic.twitter.com/GF5fmYR0J1

— PFF CLE Browns (@PFF_Browns) October 26, 2021
What It Means
It shows that part of the Browns' defensive strategy is working.
There were naysayers who questioned signing Clowney because of his injury issues.
He has been banged up as a Browns also, but both he and Garrett are making themselves known to opposing teams' quarterbacks.
They are an imposing pair so any sacks, pressures, hits, or even premature throws they can elicit from the quarterback are positives for the Browns.
Where Is The Breakdown?
The problem is elsewhere, in the situations when the quarterback can release the ball.
Either the Browns are letting receivers remain wide open and easy targets, or they are committing penalties that allow the offense to stay on the field.
JOK – A Bright Spot
In addition to Garrett and Clowney, rookie Jeremiah Owusu-Koramoah has been a shining star on defense.
Highest-graded #Browns through six games (min. 150 snaps):

1️⃣ Myles Garrett, EDGE- 90.5
2️⃣ Joel Bitonio, OG- 88.6
3️⃣ Jack Conklin, OT- 82.5
4️⃣ Jeremiah Owusu-Koramoah, LB- 81.1
5️⃣ Jadeveon Clowney, EDGE- 80.6 pic.twitter.com/Y1uK08JoBI

— PFF CLE Browns (@PFF_Browns) October 19, 2021
He is currently on injured reserve with an ankle injury.
Expected timeline for his return is four to six weeks.
The first game he missed was Week 7.
Keeping Garrett and Clowney on track, getting JOK back, and trying to fix some of the other defensive issues must be high priorities as the Browns approach the second half of the season and AFC North divisional games.