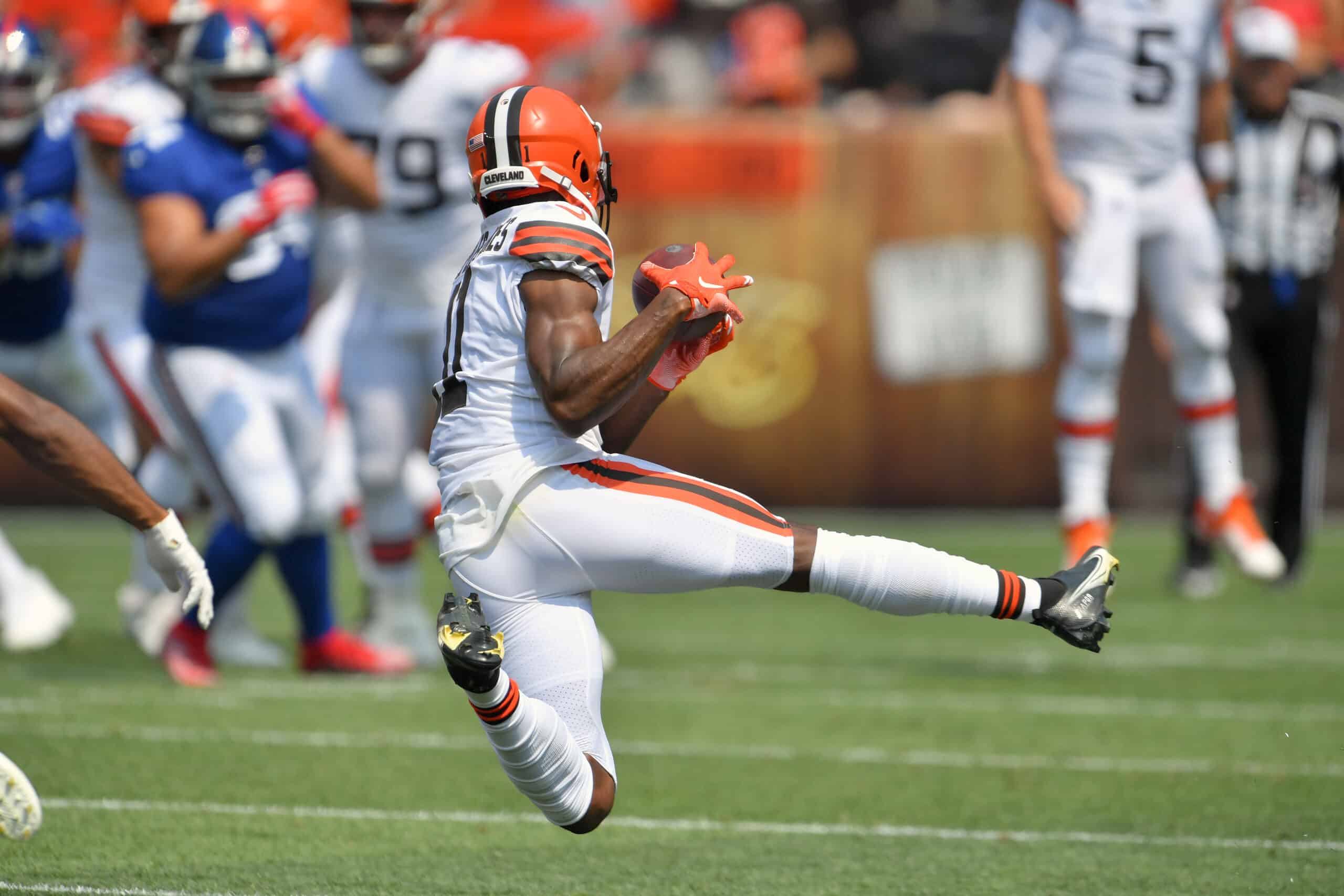 When the Cleveland Browns re-signed Rashard Higgins, it was easy to assume their wide receiver roster was set.
Odell Beckham Jr. and Jarvis Landry, Higgins, Khadarel Hodge, and the upstart Donovan Peoples-Jones were all back.
And JoJo Natson and Ryan Switzer would decide the 6th spot with their kick and punt return competition.
Things might still shake out like that, although an injury already knocked Switzer out of the running.
A Rashard Higgins (@CALLME_WOOD) appreciation tweet. This catch against the Bengals last year 👀🔥🤯 #Browns #BrownsTwitter pic.twitter.com/3Z2NSA6LrF

— Zachary Martin (@CLEZach) April 27, 2021
But Andrew Berry infused some interesting variables to the wide receiver mix via the draft and free agency.
Cleveland has the fastest receiver in the NFL, a Swiss Army knife, and a new fan favorite to consider.
And if social media is any indication, the debate is real among fans as to who should make the cut.
Here is a quick breakdown of the competitors and our best guess after 2 preseason games.
The Strongest Locks: OBJ, DPJ, and Jarvis
Jarvis Landry is among the most popular players on the Cleveland Browns.
NFL fans can make statistical arguments as to his worth, but he is clutch, and a leader on and off the field.
On the other hand, Landry's good friend, Odell Beckham Jr elicits mixed feelings among the Browns fan base.
One of the popular cries is that the Browns' offense was better after Beckham landed on the injured reserve.
OBJ and DPJ vibing at today's #Browns practice. pic.twitter.com/rxU5uMZzET

— Camryn Justice (@camijustice) August 24, 2021
But here is an interesting fact about that: Cleveland scored 5 more points per game with OBJ in the lineup.
To be fair, the first 2 games without Beckham were also the bad weather games.
But the Browns still scored slightly fewer points (28.6-28.1) per game over their final 7 contests versus the first 7.
Donovan People-Jones proved last year was no fluke with a highlight-reel preseason, locking up the third WR slot.
The Higgins Versus Hodge Debate 
Andrew Berry handed Rashard Higgins a $2.3 million fully-guaranteed contract this offseason.
Cleveland knows Higgins could have signed for more money elsewhere, and the guarantee likely buffered that loss.
Higgins returns after a season where he only caught 37 passes, but managed to make the most of them.
His high ratio of touchdowns and first downs gave him the highest DVOA among NFL wide receivers.
4th and goal.

KhaDarel Hodge brings in an impressive catch. 👀

— Pro Football Network (@PFN365) August 22, 2021
But with Odell Beckham back and Peoples-Jones passing him on the depth chart, what is Higgins' role?
Meanwhile, Khadarel Hodge was among the first players re-signed for 2021 for similar, but non-guaranteed money.
Injuries cost Hodge half of his 2020 season, a season in which he started ahead of Higgins on the depth chart.
Hodge also shows a knack for big receptions, but it is his special teams contributions that make him a tough cut.
No Winner In The Return Game 
Ryan Switzer is done for the season with a foot injury.
But that doesn't mean JoJo Natson is a lock to win the return job.
Cleveland rolled out a contingent of youngsters in practice and games to compete for the role.
D'Ernest Johnson and Donovan Peoples-Jones handled the chores after Natson got hurt last year.
HC Kevin Stefanski said before the game that they would not use any "trick" plays here in the preseason… It is good to know that plays like this will be in the game plan each and every week. Here the Browns use JoJo Natson but very soon this will be Anthony Schwartz#Browns pic.twitter.com/iaaSXXdxTD

— Marcus Harvey (@MarcusHarvey_) August 23, 2021
Neither dominated the Monday morning highlight reels with their return prowess.
But neither player cost the team with a mistake, and that might be good enough on a team confident in their offense.
Natson got a considerable amount of time at both wide receiver and returner Sunday versus the Giants.
Cleveland might have done Natson a favor by showing he is healthy enough for another team to pick up.
The Challengers: Schwartz, Davis, and Felton? 
Third-round draft pick Anthony Schwartz was among the fastest sprinters on the international circuit a couple of years ago.
His speed addresses a flaw Berry and Kevin Stefanski saw in the AFC Divisional game versus Kansas City.
The speedster has had trouble with a hamstring, but arguably would never make it through waivers if cut.
Davion Davis was signed as a camp body who would let some veterans skip the first two preseason games.
Heck of a catch by Davion Davis… but this is a dime by Case Keenum #Browns. pic.twitter.com/AfhC1aBwbS

— MoreForYouCleveland (@MoreForYou_CLE) August 17, 2021
But he came out on fire and landed firmly in the hearts of Browns fans.
Still, he did not play Sunday until the third-stringers came in, indicating he has not climbed Stefanski's depth chart.
Running back Demetric Felton showed he is a solid receiver, which could affect the wide receiver decision.
And the running back room isn't the only outside factor that Stefanski might consider.
How the Running Backs and Tight Ends Factor In 
Nobody has run away with the returner job, but Demetric Felton elicits the most reaction from fans in the stands.
His jukes and cuts have been fun to watch, even if his return yardage is less than impressive.
But D'Ernest Johnson re-asserted himself as the third running back in the second preseason game.
Can the Browns afford to keep 4 running backs along with a full complement of wide receivers?
thinking about this cut from Demetric Felton pic.twitter.com/ZYCTmy8p1Y

— Jordan Zirm (@JordanZirm) August 23, 2021
Felton's best skill is arguably his pass catching and route running ability, and that might cost a wide receiver his job.
Meanwhile, the tight end question might have been settled with Connor Davis' season-ending injury.
Cleveland could carry only 4 tight ends (they carried 5 last year), opening a spot for an additional RB or WR.
Although Johnny Stanton's performance as an emergency tight end last week might earn him the fifth TE role.
The Verdict: The WR Debate Will Continue
Assuming all of the wide receivers are healthy after the last preseason game, Cleveland has some tough calls.
Berry and Stefanski will decide if building their future is more prudent than sticking with proven veterans.
The Felton Factor could limit the wide receiver room to five players in the Browns run first, tight end-heavy offense.
It is a good bet Felton showed enough as a returner to bump Natson off the roster and eliminate the 6th wideout.
The safe bet for Stefanski is to roll into 2021 with the same 5 wide receivers he carried last year.
Catching GOOD VIBES only 😏#BrownsCamp | @God_Son80 pic.twitter.com/0g4oKdjmUu

— Cleveland Browns (@Browns) August 24, 2021
But Schwartz was drafted to address a specific flaw in Stefanski's attack.
The rookie's hamstring might help delay the most debated roster decision into the regular season.
Cleveland can carry 6 wide receivers, plus Felton, and then put Schwartz on short-term IR for a spell.
Or they can simply carry 6, plus 4 running backs while Davion Davis waits to be picked up off the practice squad.
How do you think the Browns will handle the wide receiver cuts? Chime in on the comments section below!