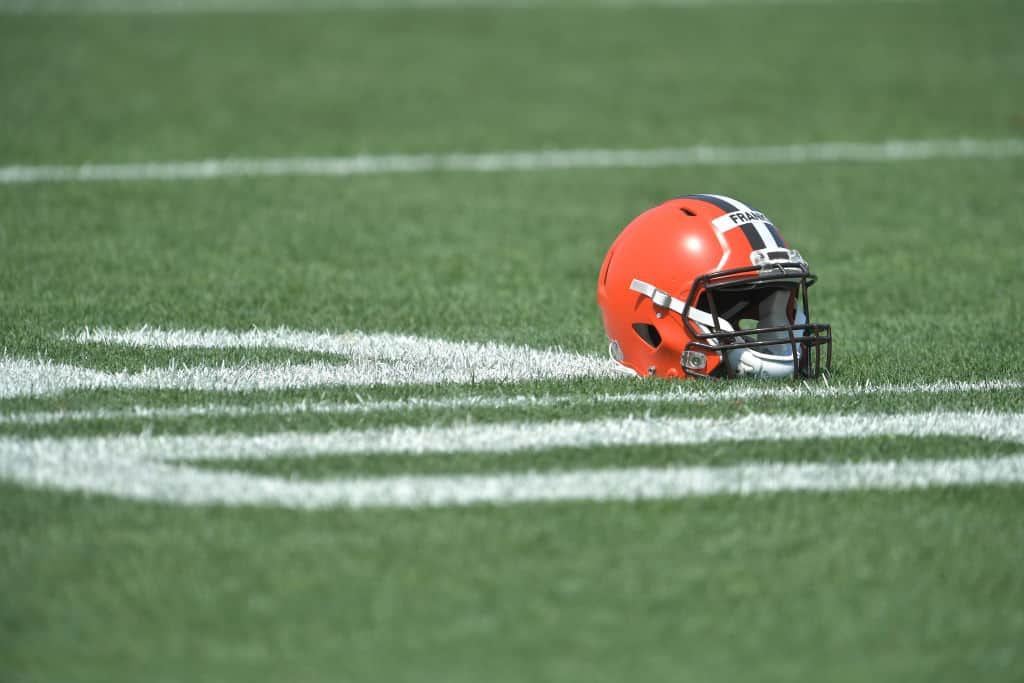 The great white helmet war has taken another turn.
What started in Ohio has now gone nationwide.
After feuding with the Cincinnati Bengals, the Cleveland Browns have another foe donning new white helmets this year.
That'd be the Denver Broncos, who were immediately called out by the Browns' Twitter account.
.@Bengals, can you believe these guys??? https://t.co/ry1M9GXxqL

— Cleveland Browns (@Browns) July 25, 2023
The fight for white helmet supremacy now continues.
How It Started
This internet feud kicked off when the Browns released their new white uniforms.
The reveal came with the tweet: "Best white helmets in Ohio."
Best white helmets in Ohio 🤷 pic.twitter.com/fnVRbVkWf3

— Cleveland Browns (@Browns) July 18, 2023
Naturally, the folks down in Cincinnati had something to say about that.
Oooo what a cool video I just found! pic.twitter.com/YcJg4rK2pi

— Cincinnati Bengals (@Bengals) July 18, 2023
Not to be outdone, Cleveland's social media team fired right back.
just gonna leave this here… https://t.co/QIzNHfhdcb pic.twitter.com/vFpvYQ6kYp

— Cleveland Browns (@Browns) July 18, 2023
Fans then became involved and the whole situation became a fanbase against fanbase ordeal.
#Browns fans, if you hear any Bengals nonsense about the helmets, remember these facts:
✅Every NFL team uses white
✅The Bengals normal helmets are orange, just like the Browns
✅The Bengals have only beaten the Browns twice since 2018 (2-8 against Cleveland)
✅The Bengals suck… pic.twitter.com/IlyeTCNkDB

— The Dawgs – A Cleveland Browns Podcast (@thedawgspodcast) July 18, 2023
Bengals all white > Browns all white. Fact. pic.twitter.com/3NK2bmhe1y

— Barstool Cincinnati (@UCBarstool) July 19, 2023
As Ron Burgundy once said, "boy, that escalated quickly."
A New Challenger
Add a third party to this fight now in the Broncos.
Their fans wasted no time getting involved on social media.
@Browns unveil their alternate helmets! After months of hard designing work they finally have arrived pic.twitter.com/3XBBpPFSXq

— Broncos Hispano (@BroncosHispano) July 25, 2023
Remember the "Josh fight" of 2021 where the goal was to have a bunch of guys named Josh gather in one spot to fight?
Maybe that's what is needed here with the white uniforms.
Perhaps a mini three-team tournament?
All joking aside, it's easy to get on board with more teams following this cool trend.
Adding To The Rivalry
This is just another chapter in the Cleveland-Cincinnati rivalry in the AFC North.
It's tough to say anyone predicted a uniform quarrel would dominate headlines for a week but hey, here we are.
These two teams will waste no time this year getting after one another.
They meet Week 1 as the Browns open their 2023 season at home against those Bengals.
While both wearing white could solve this internet war, it's not very practical for on-field purposes.