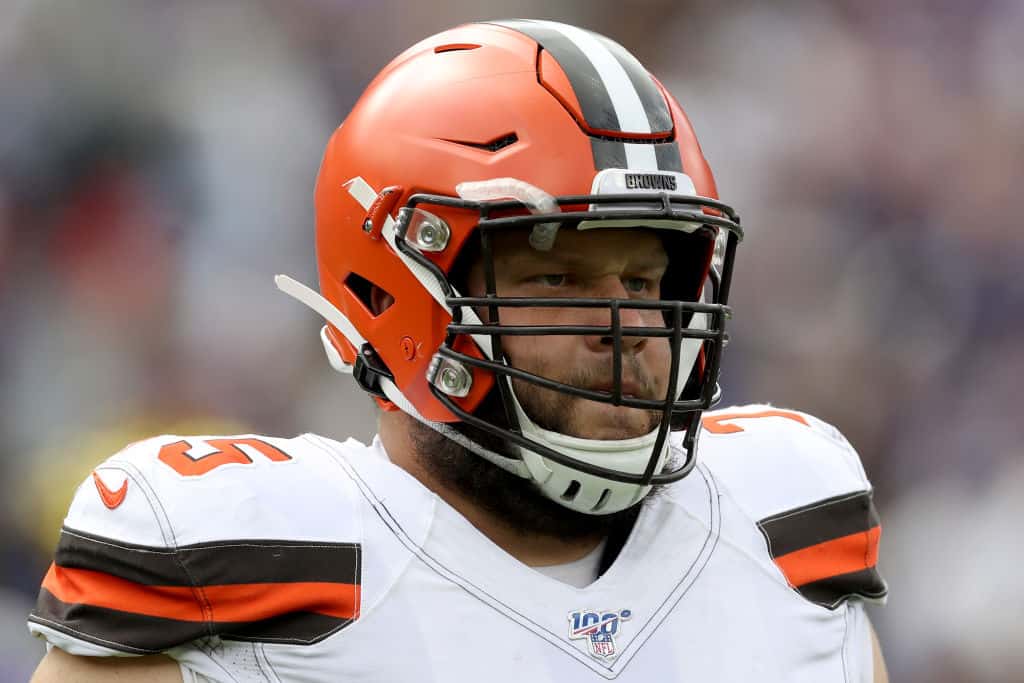 According to Pro Football Focus, the Cleveland Browns still have an elite pair of guards.
PFF's Gordon McGuinness used the analytical site's performance scores and stats to rate the NFL's interior blockers.
And only one team landed a pair of guards inside the top 10 across the league.
Joel Bitonio (3) and Wyatt Teller (10) are coming off Pro Bowl seasons, although Teller was a replacement player.
Bitonio, Teller serving up 🥞🥞 and power! pic.twitter.com/VicUtTToKx

— Cleveland Browns (@Browns) February 3, 2022
The Browns ran for 2,490 yards behind their interior duo in 2022.
That was the most rushing yards accumulated since the 1963 heydays of Jim Brown and Ernie Green.
Teller missed a pair of October games with a calf injury, while Bitonio started all 17 contests.
Keeping the pair on the field would bode well for Kevin Stefanski's new offense.
Bitonio Rides Another High Ranking 
Like a fine wine, PFF's McGuinness says Joel Bitonio gets better with age.
Over the past three seasons, he produced the best PFF scores of his nine-year career.
That is good enough to land him among the top-5 overall guards for all three seasons.
Can we just appreciate #Browns G Joel Bitonio's block on this play? #75 put on a CLINIC yesterday when he was pulling and kicking/logging defenders. He had 2-3 big time blocks like this against NYJ. He takes out two defenders on this play. 💪🏻
pic.twitter.com/MEMCd7Uonh

— Matt Wilson (@CoachWilson66) September 19, 2022
The lifelong Brown was a second-round selection in the 2014 NFL Draft.
Bitonio attended his fifth straight Pro Bowl as the starter.
And he was named to his second consecutive All-Pro team.
Teller "Slips" To Bottom Of Top 10
McGuinness noted that his top performers include a mix of up-and-comers and accomplished players.
But several of those accomplished players come off substandard seasons.
PFF's blurb noted that Teller scored only the 18th-best run-blocking grade despite the team's success.
Wyatt Teller can do spin moves too. #Browns pic.twitter.com/bGT8pl1CPd

— Craig Fountain (@CraigAFountain) May 12, 2022
Whether they believe his calf injury hampered him during the season is not mentioned.
But he held his ground as a top-10 player, indicating PFF's faith in Teller to re-establish himself.
Tretter was among PFF's top-5 overall guards in 2020 and 2021.
What It Means For The Browns 
PFF notes that both of Cleveland's starting guards have crossed the 30-year-old threshold.
Andrew Berry re-signed Drew Forbes and Michael Dunn to back up the starters.
He also signed veteran free agents Wes Martin and Colby Gossett to the roster.
#Browns pick up blitzes so well this year. Watch Hunt, Bitonio, and Tretter work beautifully to handle the LB/S scheme. Textbook work, especially from 27. pic.twitter.com/n9QQVs6DVe

— OBR Film Breakdown (@TheOBRFilmBDN) October 13, 2020
But both of the veterans have far more time on practice squads than on the field.
Cleveland lost Hjalte Froholdt in free agency to Arizona.
And it appears the team is counting on the health of their starting tandem.