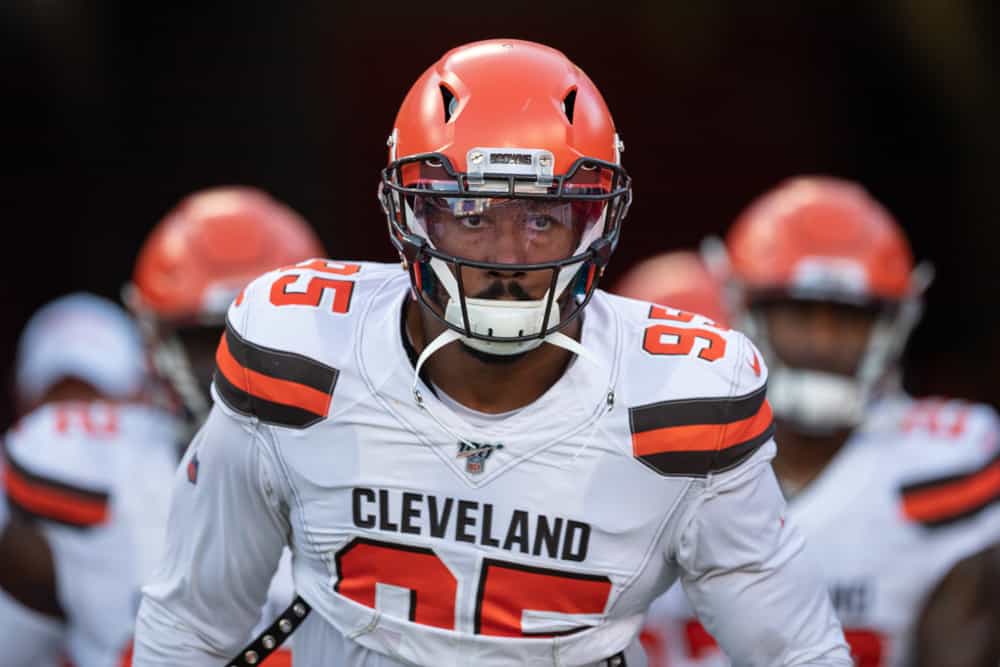 The Cleveland Browns are off to a hot start during the 2020 season.
They pulled off a 49-38 win at Dallas on Sunday, which improved their record to 3-1 on the season.
That is their best start to a season since the 2004 campaign, so it has been a long time.
There are many reasons as to why the Browns are having success this season.
One of the biggest factors for Cleveland's success has been the play of defensive end Myles Garrett.
He earned himself AFC Defensive Player of the Week for his performance in Week 4.
.@MylesLGarrett has won AFC Defensive Player of the Week❗️

RT to congratulate Myles!

📰 » https://t.co/dZsvrPbLhp pic.twitter.com/5dFbNG49cm

— Cleveland Browns (@Browns) October 7, 2020
Garrett's 2020 Season
It's not surprising that the superstar pass rusher is having a great start to the season.
He recorded three tackles, two sacks, and one forced fumble in the victory over Dallas.
Myles Garrett forced 2 turnovers caused by pressure in Week 4 vs DAL, giving him 6 TO-QBP through just four games.

No other player in the NFL has more than 2 TO-QBP this season. Bud Dupree and Shaq Barrett tied for the league-lead a season ago with that same figure (6).#Browns

— Next Gen Stats (@NextGenStats) October 5, 2020

Garrett is a dangerous weapon in the pass rush and can make an impact at any given moment.
Well that didn't take long for Myles Garrettpic.twitter.com/7EfhtnBJnq

— PFF (@PFF) October 4, 2020
The 24-year-old has been nearly impossible to slow down this season.
He has recorded at least one sack and one forced fumble in three consecutive games.
As of right now, Garrett is tied for the league lead in sacks (five), forced fumbles (three) and fumble recoveries (two).
The Browns defense has stepped up this season and is leading the NFL with 10 takeaways through four weeks.
However, they will face a tough challenge against the Indianapolis Colts in Week 5.
Can Garrett Help Stop Indy?
The Browns have been playing well this season, but could have some troubles against the Colts.
Indy has a solid defense and the Browns also lost running back Nick Chubb for multiple weeks.
That means, Cleveland is likely going to need their defense to step up in this one.
Garrett has looked unstoppable, but he was also facing mostly teams that have below-average offensive lines.
The Colts are known for having some of the best protection in the league.
Garrett and the rest of the d-line will need to make an impact if Cleveland wants to win this game.
The Browns can't lean on their pass defense to stop the Colts in Week 5.
Cleveland must get pressure on quarterback Philip Rivers if they want to win this game.
Garrett is the reining Defensive Player of the Week, so we'll see what he can do versus Indy.