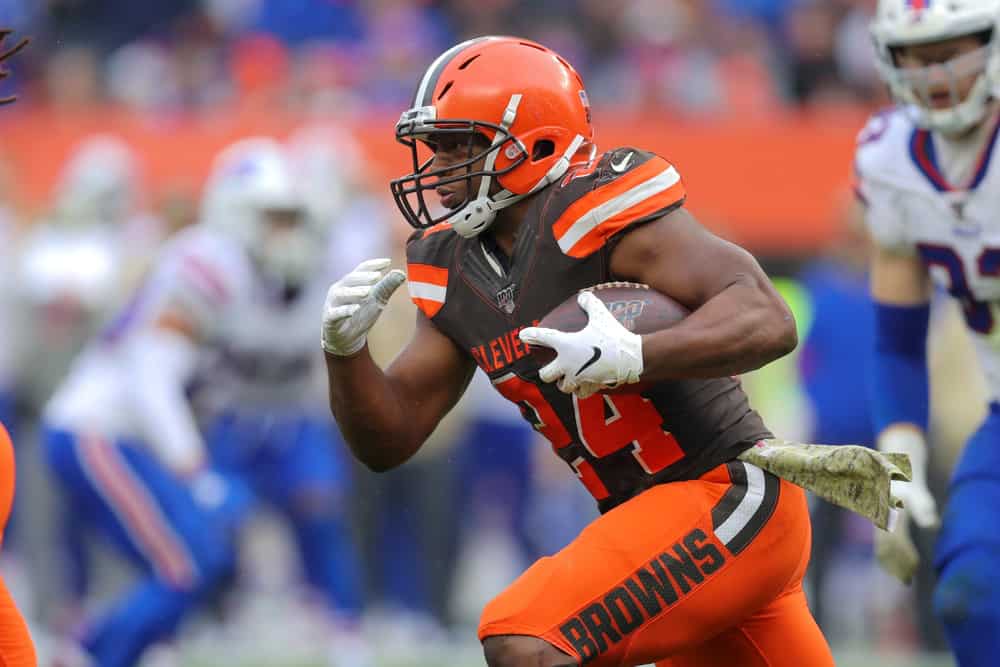 In Sunday's 49-38 victory over the Dallas Cowboys, Cleveland Browns HB Nick Chubb, suffered an MCL injury.
Thus far on the year, Chubb has been a huge part of the Browns offense as they have shifted to a run first team.
On the year, Nick Chubb has rushed the ball 57 times for 335 yards, recording 4 touchdowns with only 1 fumble.
In Sunday's game, Chubb suffered the injury before he could establish his rhythm.
Here is the play in which sources are speculating caused the injury to Nick Chubb.
The Nick Chubb possible injury play.pic.twitter.com/rgE5XwuFoK

— Dov Kleiman (@NFL_DovKleiman) October 4, 2020

One could assume he was going to have a big day as Dallas ending up allowing over 300 rushing yards.
Browns Coach Provides An Update On Nick Chubb
The Browns did place Nick Chubb on the IR with an official MCL injury and his head coach provided some more content on the matter.
Browns' RB Nick Chubb is being placed on IR with an MCL injury, per Kevin Stefanski.

— Adam Schefter (@AdamSchefter) October 5, 2020
Coach Stefanski went on to talk about the work ethic of Chubb and how he expects him to return sooner than what the current timeline is providing.
He said the following:
"Nick Chubb has an MCL injury. We will be putting him on the IR. It will be a several week injury, but we do expect him back this year. Knowing Nick, he is going to work very hard in rehab…but knowing Nick, he will work his butt off to get back."
Typically, an MCL sprain can keep someone sidelined anywhere between 3-5 weeks.
With Chubb being placed on the IR, he will have to miss at least 3 games.
My guess is that Chubb will return in week 10 after the bye week when they take on the Houston Texans.
The Browns Have A Solid Backup HB
The Cleveland Browns have a solidified starter as their backup in Kareem Hunt.
Kareem Hunt is the 1B to Nick Chubb (1A).
Hunt is explosive out of the backfield and is known for being a pass catcher with this offense.
He will now have to take on the responsibility of being a lead back for the first time since his stint with the Kansas City Chiefs.
On the year thus far, Hunt has produced solid numbers for this Browns offense.
On 50 rushes, Hunt has rushed for 275 yards, recording 3 touchdowns while only fumbling one time.
In the victory over the Cowboys, Hunt rushed 11 times for 71 yards and scored 2 touchdowns.
He caught the attention of a Cleveland legend on Twitter.
It's official the 🐐🐐 said it😤😤 https://t.co/43hwMmZgO8

— Kareemhunt3⃣ (@Kareemhunt7) October 4, 2020
The Browns backfield is in good hands with Hunt as HB1 moving forward.
Coach Stefanski also opened up his playbook in Sunday's win using Odell out of the back field.
He also had WR Jarvis Landry throw a touchdown to Odell Beckham Jr. on a trick play.
With Chubb being the focal point and now injured, expect to see more Kareem Hunt and trick plays as the season progresses.
Their first test awaits them this weekend as they take on one of the best defensive groups in the NFL, Indianapolis Colts.