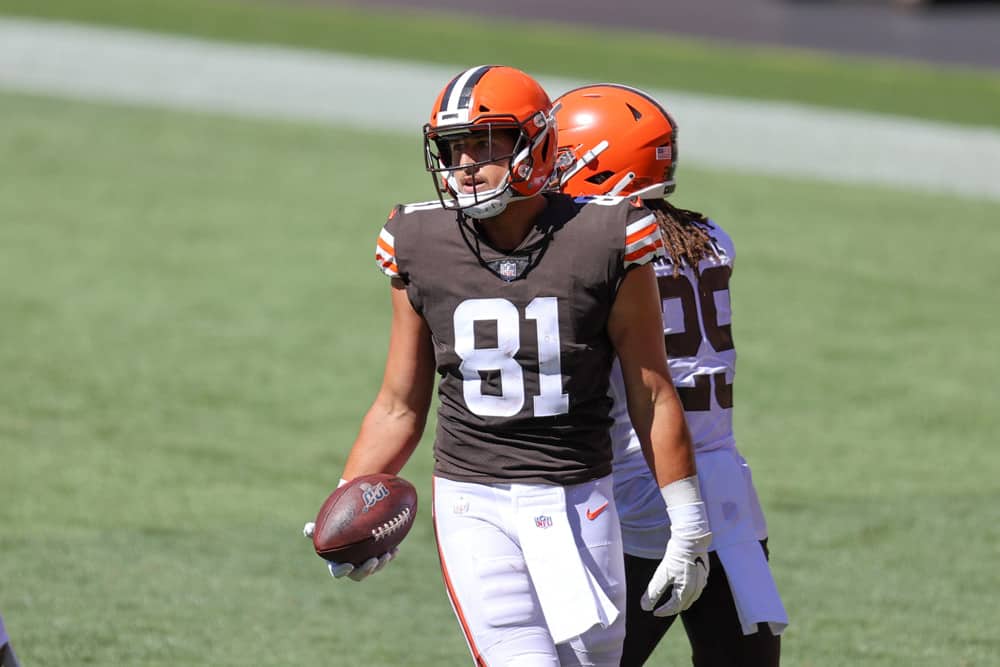 When the Cleveland Browns acquired Austin Hooper in the offseason, fans thought he would be an integral part of the offense.
So far, it hasn't happened.
Hooper did see his targets increase steadily leading into the second game against Cincinnati, but an appendectomy procedure has kept him sidelined since.
Following the bye week, it might be time to get Hooper more involved with the offensive scheme.
Red Zone Threat
Just because a tight end has a large frame does not mean they will become a huge red zone threat by default.
See David Njoku.
But, Hooper has proven that ability before during his days in Atlanta.
Last year with the Falcons, Hooper was targeted 18 times in the red zone, catching 10 passes and 6 touchdowns.
So far this season, Baker Mayfield has thrown it his way just twice when in the red zone with one of those being caught for a touchdown.
Austin Hooper snags the pass from Mayfield as the Browns go up 21-14 😎pic.twitter.com/kzPSKrH9qC

— Browns Nation (@BrownsNationCP) October 4, 2020
Though they didn't utilize him as one very often, Odell Beckham Jr. was another red zone target that is no longer available for Mayfield.
While they continue to wait for Nick Chubb to recover, who will provide plenty of relief in that area, Hooper should be someone Kevin Stefanski looks to use more deep in opponent's territory.
Smart Player
Again, while the impact most expected from Hooper just hasn't happened yet, he's proven he is capable of making smart football plays.
One play against Washington particularly stands out.
On a fourth and seven near midfield, the Browns offense looked to Austin Hooper to pick up the necessary yardage.
Props to Stefanski for having the guts to go for it 7 yards away from a first down. Knew the Browns couldn't afford to punt down seven and it paid off.

Great effort from Austin Hooper to move the chains. pic.twitter.com/NUIxcOYqbc

— Johnny Kinsley (@Brickwallblitz) September 28, 2020
Look at Washington safety Troy Apke beat Hooper to the yard marker and break down for a tackle.
Hooper knows he only has to beat Apke, as Jon Bostic is late coming over to help.
He also knows he doesn't need to put on a move that tries to net big yardage.
He just needs to slip past Apke, and he does so, launching himself forward for the first down yardage.
It was a small, simple thing he did, but with a monumental impact.
Having a guy with the field awareness to know exactly where the sticks are and making the right play to move them is a valuable asset for a coach.
As we've seen, not all players are willing to make those simple plays.
Will He Be Healthy?
It's hard to just rush a player back out there following an appendectomy.
Hooper, however, claims he will be ready to go after the bye week.
#Browns Austin Hooper said "I'm doing great. Definitely, be ready to go coming out of the bye" on @TheTrivShow @wtam1100

— Fred Greetham (@FredGreetham) November 2, 2020
That's great news for the Browns as they continue to deal with injuries on both sides of the ball.
For Hooper, being able to only miss two games isn't bad at all for having his appendix removed.
Now, he has a golden opportunity to really put his mark on this season.
The loss to the Raiders heading into this bye week has likely left a bit of a sour taste in the mouths of the brown and orange.
They'll be looking to bounce back against the Texans after the bye, who allowed Titans tight end Anthony Firsker to rack up 113 receiving yards against them in week six.
I wouldn't expect that monstrous of a day from Hooper, but expect to see his targets increase as the second half of the season moves along.