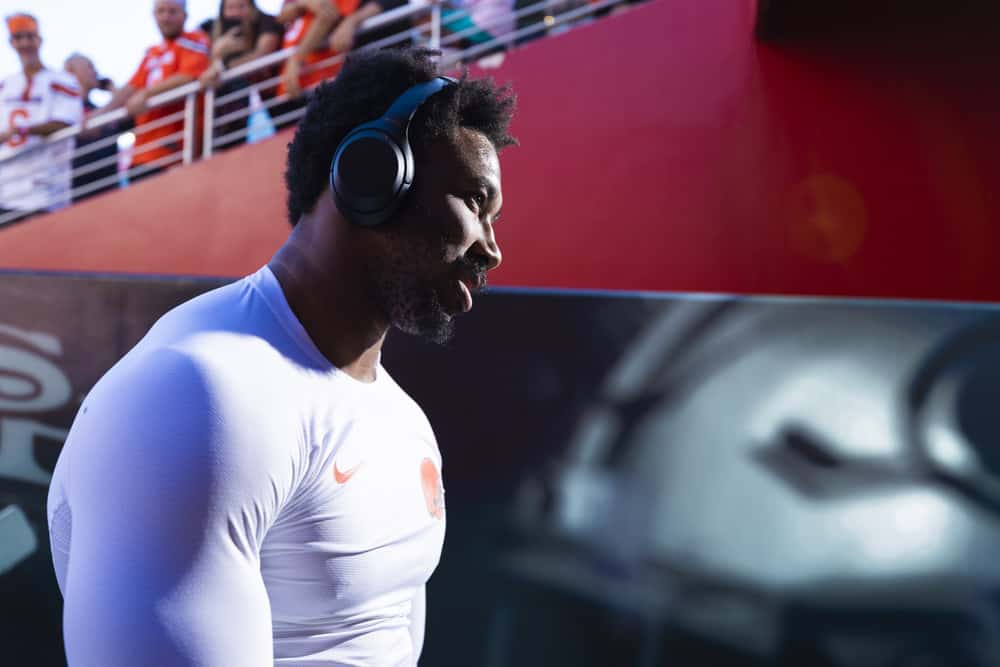 There was a healthy debate among Cleveland sports fans about how dominant of a football player LeBron James would have been had he pursued an athletic career on the gridiron instead of the hardwood.
More than a decade ago, James starred in a State Farm commercial where he hypothetically suited up for the Cleveland Browns.
Wondering "what if" about James' football career banded Browns fans during an 18-year playoff drought.
Now, Browns fans have a new cross-sport debate: How good of a basketball player could Myles Garrett have been?
Garrett posted a 59-second video to Twitter of himself playing basketball in a Jurassic Park cutoff shirt.
The video shows Garrett playing in a pickup game, throwing down several dunks with ease, showing off some crossover moves and hitting a few jump shots.
"You need a big guard @mcuban?" Garrett tweeted to Dallas Mavericks owner Mark Cuban.
Cuban has yet to respond to the tweet as of Wednesday night.
You need a big guard @mcuban? 👀 pic.twitter.com/73c55fEqTp

— Flash Garrett ⚡️ (@MylesLGarrett) February 24, 2021
Garrett ran the 40-yard dash in 4.57 seconds at Texas A&M's pro day in March 2017.
It's impressive considering Garrett is a 6-foot-4, 272-pound defensive end.
At the 2017 NFL Combine, Garrett recorded a 41-inch vertical jump, had a 10-foot-8-inch broad jump and benched 225 pounds 33 times.
MYLES GARRETT IS A BEAST!

That's a 41" vertical. Unreal. #NFLCombine https://t.co/phGgjbQKHW

— NFL (@NFL) March 5, 2017
Having grown up in Texas, it makes sense Garrett would want to play for the Mavericks.
At Martin High School in Arlington, Texas, Garrett was a letterman in football, basketball and track.
Garrett comes from an athletic family.
Garrett's older brother Sean Williams is a professional basketball player who has most recently played overseas.
Williams had stints in the NBA with the New Jersey Nets, the Dallas Mavericks and the Boston Celtics.
Garrett's older sister Brea Garrett was an NCAA champion thrower for the Texas A&M track and field team.
Last offseason, Garrett signed a five-year, $125 million contract extension with the Browns.