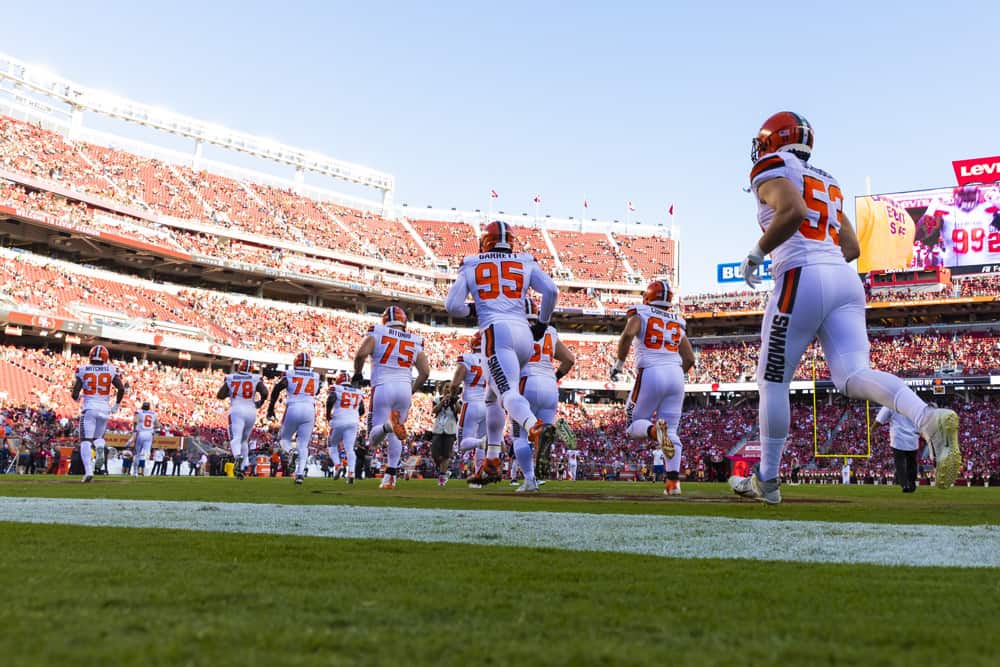 The Cleveland Browns released the team's unofficial depth chart for Week 5 on Tuesday.
The team is set to take on the Los Angeles Chargers on Sunday afternoon at SoFi Stadium.
Here is the depth chart.
#Browns unofficial depth chart Week 5: @ #Chargers pic.twitter.com/yLIGG4B4T1

— Daryl Ruiter (@RuiterWrongFAN) October 5, 2021
Mostly Good News On The Injury Front
It appears as though cornerback Greg Newsome II and right tackle Chris Hubbard continue to be out with injuries as they are the only names appearing in brackets.
What is surprising is that left tackle Jedrick Wills continues to play through his ankle injury because it is definitely hampering his play.
Wide receiver Jarvis Landry is spending his third week on IR.
It is unclear when he could return after Week 5.
The last two weeks scream to me the importance of Jarvis Landry to this offense as well as needing a healthy left tackle.

— Andre Knott (@DreKnott) October 3, 2021
Preparing For The Chargers
The Chargers are a great team, but one weakness is their run defense.
The Dallas Cowboys rushed for 198 yards and scored 2 touchdowns on the Chargers in their 20-17 Week 2 win.
TOUCHDOWN: Cowboys and Pollard open the first drive of the game with a TD! Cowboys 7 vs Chargers 0 ✭ #dallascowboys pic.twitter.com/ExjwUdeot9

— Dallas Cowboys Network (@TheCowboysNet) September 19, 2021
As a result, the Browns need to shore up any issues with the offensive line and be ready to run Nick Chubb and Kareem Hunt all day long.
This could be the week the Browns offense gets back to basics and do what it does the best: grind the ball, eat up the game clock, and run for touchdowns.
Browns Offense In 2021
Much is being written and said about the Browns offense so there may not be more to add.
However, the loss of Jarvis Landry has proven significant.
It also looks like the Browns have discovered the one downfall of the continuity in an offense beyond one season.
That is opposing teams watched a lot of 2020 film; the offensive personnel are mainly the same.
They know what to do to beat the Browns at their own game.
Add Mayfield's shoulder injury and Wills' ankle injury to the growing list of offensive struggles.
Hopefully, Week 5 is the bounce back week for the Browns offense with Chubb and Hunt carrying the load and getting easy yards for a change.