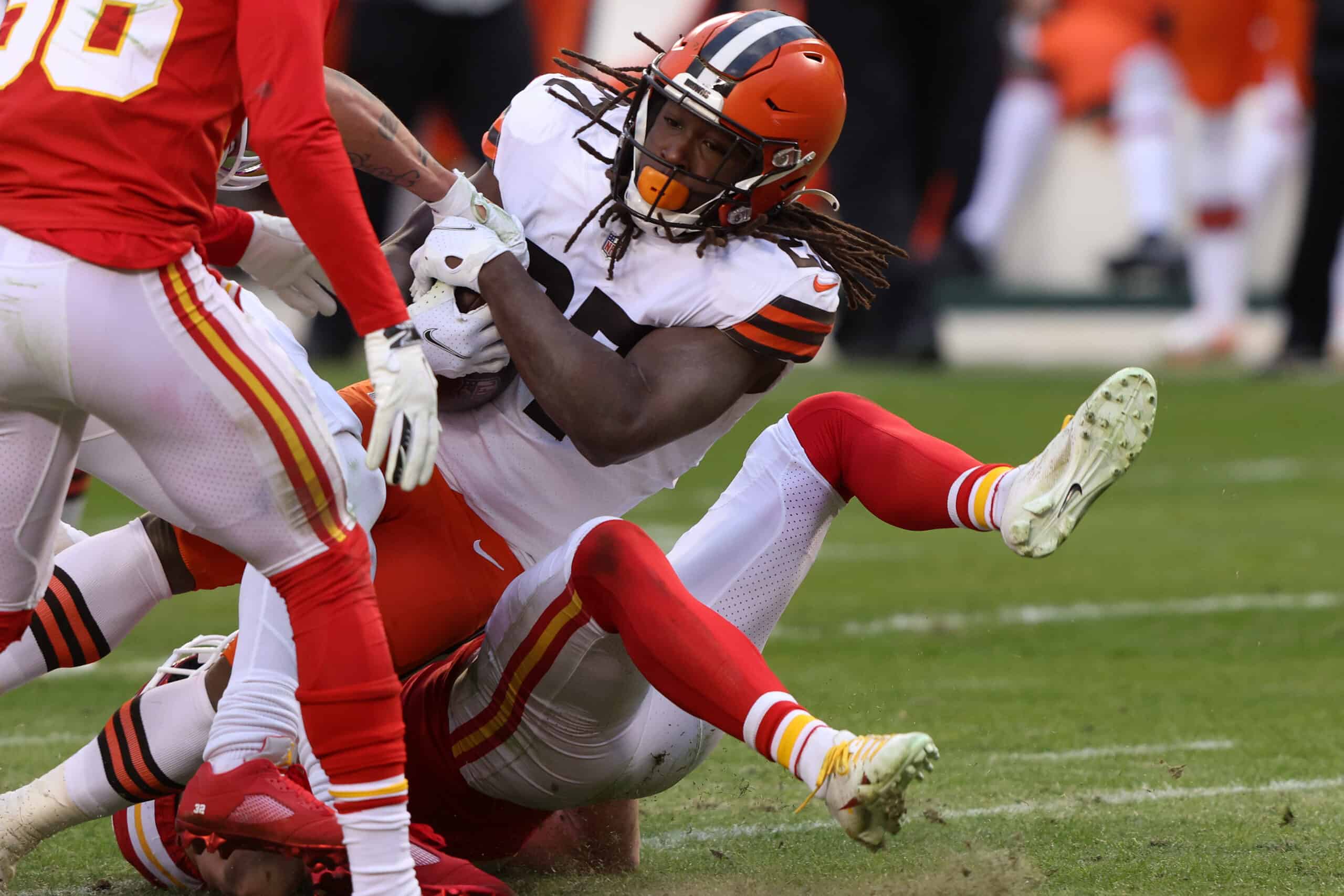 The trade rumors are already starting and the 2021 season has not even started.
Recently, Los Angeles Rams running back Cam Akers ruptured his Achilles and will miss the entire 2021 campaign.
That being said, there was some immediate speculation that possibly the Rams could pry Kareem Hunt away from the Cleveland Browns.
List of RBs that the Rams should trade for
James Robinson
Ronald Jones
Melvin Gordon
Kareem Hunt

— Young_JJCrossover (@CrosslinJaidyn) July 20, 2021
Cleveland has not said they plan on trading Hunt and it would likely take a significant haul to get a deal done.
The Browns have two starting-caliber running backs and should keep both of them.
Declining Calls For Hunt
Let it be known that organizations always want to try and improve their team any chance they get.
Cleveland should only consider trading Hunt if the offer absolutely blows them away.
However, it's highly unlikely the Rams or any other team would pay the hefty price tag on Hunt.
Organizations are better off using free agency, in-house options, or seeking a trade elsewhere because it sounds like Hunt is off-limits.
After last season, it would likely take a first-round pick to get the needle moving on a Hunt trade.
That seems like a ridiculous price to pay, but Hunt is certainly worth it.
Hunt was an important piece to the Browns roster last season and even made a splash in the postseason.
Don't look now but the #Browns are climbing back 👀👀👀

Kareem Hunt rumbles in the end zone for the touchdown!!!#Chiefs 22, #Browns 17 | 11:07 4Q

— 97.3 The Game (@TheGameMKE) January 17, 2021
The 25-year-old was impressive and didn't miss a beat after Nick Chubb went down last season.
Hunt stepped in and was a reliable option for Cleveland as the starter for four games.
Obviously, Nick Chubb is a better runner and the workhorse back, but Hunt is a threat on offense as well.
He is a dual-threat back that can really do significant damage in the receiving game.
The Browns might have the best one-two punch in the entire NFL with Chubb and Hunt.
Keeping An Open Mind
Right now, the Browns don't have much to gain from trading Hunt.
This roster appears to be a reliable all-around, so moving Hunt would only hurt their offense.
As already mentioned, a first-round pick for Hunt is probably the beginning to any potential trade decisions.
Cleveland views Hunt as an important piece to their roster and he has proven to be a starting caliber back.
That's ✌️ touchdowns for Kareem Hunt #Browns trouncing #HereWeGo 28-0 #SuperWildCard #PITvsCLE #Steelers pic.twitter.com/CH1cyX8i59

— Coolbet Canada 🇨🇦 (@CoolbetCanada) January 11, 2021
Last season, Hunt had 841 rushing yards with six touchdowns on the ground.
He also added 38 receptions, 304 yards, and five scores through the air.
Those are pretty impressive stats for someone who was playing behind Chubb for a majority of the season.
It's also worth noting that Hunt has two years left on his deal with a $1.3 million salary each year.
That is a steal for the type of production that Hunt provides the Browns offense.
Kareem Hunt 'happy to be home' after contract extension

📰 » https://t.co/HrdvRmembn pic.twitter.com/4xe3lKxrEl

— Cleveland Browns (@Browns) September 9, 2020
At the end of the day, Cleveland has no need to trade Hunt or listen to offers.
Both Chubb and Hunt worked well together under Kevin Stefanski's system last season.
The Browns have more to lose than to gain from trading Hunt right now.
Possibly, down the road trading Hunt would make sense, but right now Cleveland needs to hold onto both their star running backs.