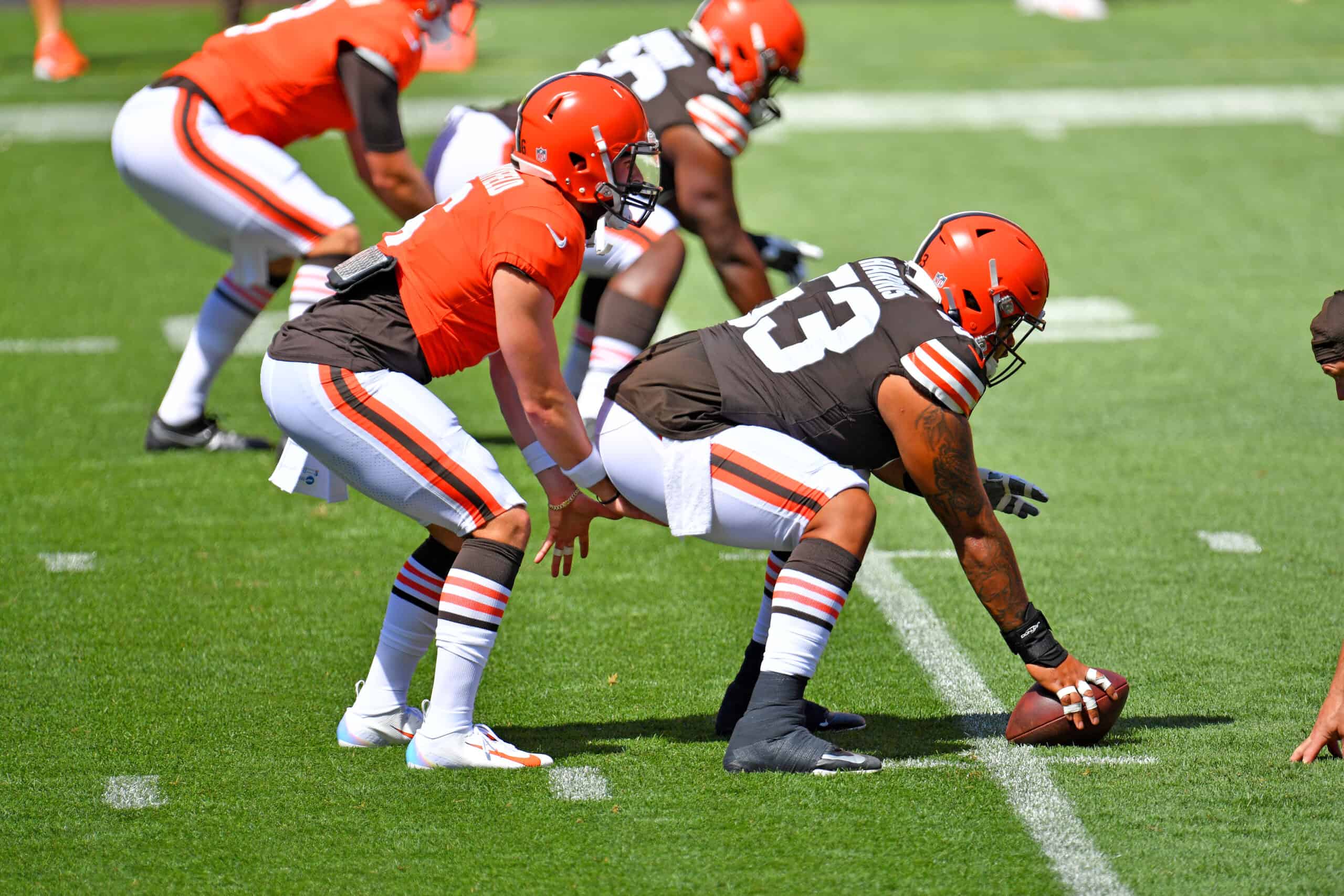 Though the 2021 season has not officially began, it is important to keep our eyes on the young Cleveland Browns players who could play a bigger role this year and eventually become starters in 2022.
One of those players is Nick Harris who has the ability to play at center or right guard.
Harris, 22, was the 5th round selection (160th overall) of the Browns in the 2020 NFL Draft.
With the 160th overall selection in the 2020 NFL Draft, the Cleveland Browns select…

Nick Harris, C, Washington pic.twitter.com/AgLU0iKDHt

— PFF (@PFF) April 25, 2020
He has long been rumored to be the heir apparent to the center position if and when JC Tretter departs the team.
The timeline for Tretter is murky.
While he is under contract through the end of the 2023 season, the Browns do have an out after 2021 from his three-year $32.5 million deal.
Would the Browns make the bold move of promoting Harris to starting center?
Obviously, we are a year away from this so anything could happen.
Here is what we know thus far.
Rumors
With the No. 160 overall pick in the 2020 NFL Draft, the Cleveland Browns select Nick Harris.

TDN Scouting Report: https://t.co/1IwIybOuUP#FrontOffice33 | #NFLDraft | #BrownsDraft pic.twitter.com/Plm40oOqNB

— The Draft Network (@TheDraftNetwork) April 25, 2020
Terry Pluto of cleveland.com has heard that Harris will get a lot of time at center during the 2021 training camp.
The same thing happened at OTAs so this is more of a continuation of the Browns giving Harris a more intense look.
Tretter has played well and is an experienced veteran so this would not be a decision the Browns make lightly.
There are definitely issues to consider.
The size comparison between the two players shows a considerable difference between the two; Tretter is three inches taller at 6'4″ whereas Harris is shorter measuring 6'1″.
Tretter at 307 pounds has five on Harris who is listed at 302.
Harris did step in when Tretter had knee issues last season, and he also filled in at right guard (a position he played for two years of his college career at Washington) when needed in 2020.
It will be interesting to see how much we see of Harris in the preseason games and if he sees playing time in both positions.
Last August when Tretter was injured, Coach Stefanski already had full confidence in the rookie Harris.
"Unfortunately, injuries are part of this game. It is the oldest cliché in the book, but next man up, and I think Nick is ready to roll."
Harris Is The Type Of Player The Browns Want
160. Cleveland Browns – Nick Harris – iOL – Washington

6-1, 302lbs
Age 21.4
5.10 40-yard
25 Starts Center
15 starts RG
2 starts LG
5 QB Pressures (2019)pic.twitter.com/zW8ZyaYJWn

— Matt Gajewski (@Matt_Gajewski) April 25, 2020
The Browns are building a roster of players who are younger, quicker, and capable of playing in multiple positions.
This is how the team is building depth which ironically saved them last year when injuries and COVID-19 decimated the roster.
Harris's Contract
From a financial standpoint, Harris, on his rookie contract, is naturally a more affordable player.
He is entering the second year of his four-year $3.6 million contract.
Harris has the right attitude; last August he said:
"I'm just trying to optimize whatever role I have and whatever that may be. I'm just trying to be a role player for this team and whenever my opportunity comes, I'm ready for it."
Watch Nick Harris and the rest of the Browns at training camp starting this week.