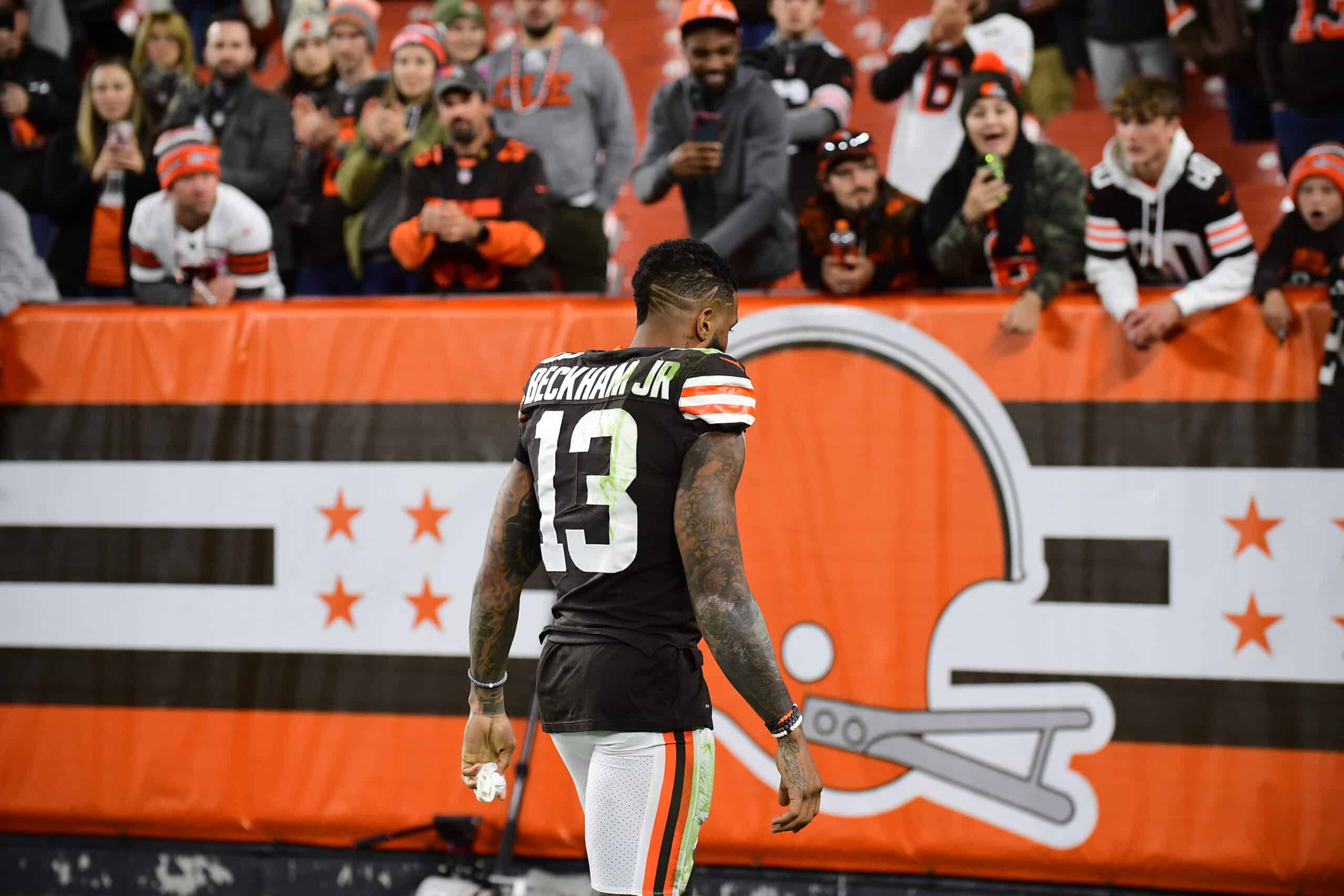 Considering no deals were made, the NFL Trade Deadline had a pretty big impact on the Cleveland Browns.
After a series of social media posts exposed a rift in the Berea locker room, it appears the club is at a crossroads.
Odell Beckham Jr may or may not have been behind efforts to force a trade of the wide receiver yesterday.
But he reportedly planned to attend practice today as scheduled to prepare for the Browns' next matchup.
I'm told #Browns WR Odell Beckham Jr. has been told he's excused from practice today, per league source. Additionally, it is my understanding that OBJ was ready to attend practice per usual.

— IG: JosinaAnderson (@JosinaAnderson) November 3, 2021
Before he left the house, however, the team told OBJ he is excused from practice today.
This will do nothing to temper speculation on how the team will react to yesterday's social media clash.
There were unconfirmed reports New Orleans came closest to making a deal for Beckham.
But they were just one of a handful of teams whose offers were deemed lacking by Browns management.
What Is Happening With Odell Beckham?
Beckham's father got the ball rolling yesterday with a lengthy video of Beckham running free, but untargeted.
To be fair, a good percentage of his examples stretched the issue a bit, with OBJ breaking free late or obviously not the first read.
But OBJ Senior flat out blamed Baker Mayfield for ignoring his son and effectively diminishing his impact.
Several NBA and MLB stars jumped on the bandwagon, using #FreeOBJ tags during the day.
Not the body language guru or anything but you can tell some on this #Browns offense are not having much fun. pic.twitter.com/bS4x9nt8kL

— OBR Film Breakdown (@TheOBRFilmBDN) November 1, 2021
And Rashard Higgins, probably the receiver most closely associated with Mayfield, reportedly "liked" the video post.
Rumors swirled that other receivers also liked the video, but by late afternoon, no Browns player could be found.
Beckham was the focus of much debate over whether he short-armed a long pass late in the Pittsburgh Steelers game.
More notably, it was only his second target in a vital game, raising debate as to what his role is with the Browns.
What It Means To The Browns 
So far this morning, Nick Chubb and Blake Hance spoke with the press.
Both claim the team's morning meeting was uneventful and the team is focused on the Cincinnati game.
Baker Mayfield normally meets with the press in the morning slot but was pushed back to later this afternoon.
Kevin Stefanski is also slated to speak later today.
The #Browns are 4-4 but the vibes today sure feel like 0-8.

— Camryn Justice (@camijustice) November 2, 2021
There were no related social media posts or comments from Cleveland Browns players as the trade deadline passed.
Jarvis Landry went live with a video game feed but did not weigh in on team matters.
Before the OBJ issue, questions began to pop up in social media and the press about the Browns locker room vibe.
And telling Beckham not to come in today indicates the team understands they have to do something quickly.