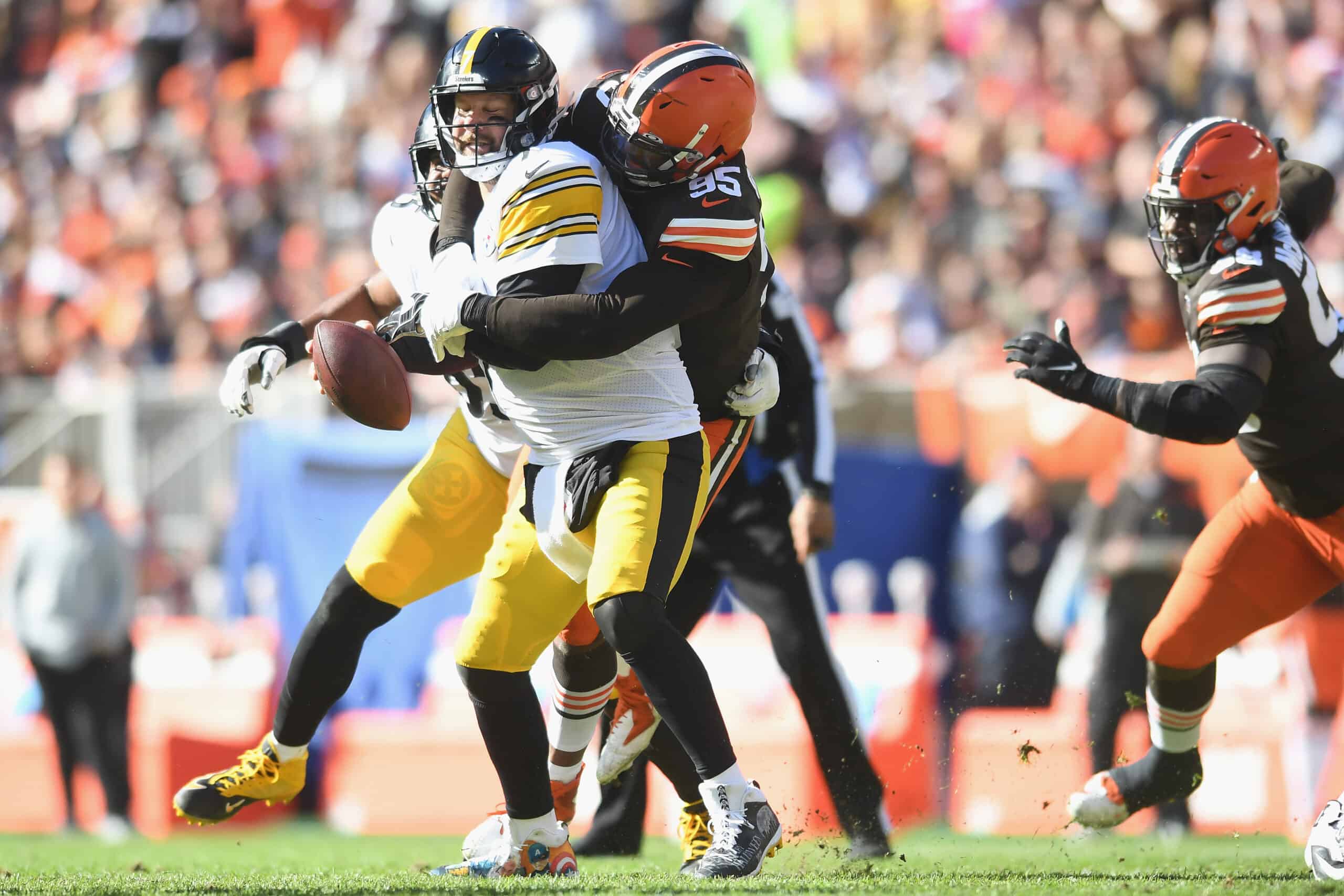 Amid all of the social media reckoning that occurred with the Cleveland Browns on Tuesday, November 2, there was a glimmer of good news that pertained to actual performance on the field.
Cleveland Browns defensive end Myles Garrett was named PFF's Defensive Player of the Week.
PFF's Defensive Player of Week 8

💪 Myles Garrett 💪 pic.twitter.com/uCXqJgPGVp

— PFF (@PFF) November 2, 2021
Garrett Against The Steelers
Garrett played in 74% of the defensive snaps in Week 8.
He had 4 solo tackles, 1 sack, 2 tackles for a loss, and 2 quarterback hits.
In short, he had a great game despite the losing outcome.
Knowing the competitor he is, he would trade the individual honor for a team win.
He continues to push himself to be even better evidenced by his social media post the day after the Steelers loss.
Great isn't good enough right now. I need to be better, will be better. Seasons not over, jobs not finished pic.twitter.com/i9afrukDMw

— Flash Garrett ⚡️ (@Flash_Garrett) November 1, 2021
Garrett In 2021
Garrett is having a terrific season.
For those of us, including me, who thought the defense would rise to Garrett's level if he had a great year, we were wrong.
But he continues to do everything in his power to lead this group of talented defensive superstars.
Through 8 games in 2021, he has 10.5 sacks, 20 solo tackles, 11 assisted tackles, 11 tackles for a loss, and 20 quarterback hits.
Current Browns Discord
Garrett has not publicly spoken about the social media mess that transpired yesterday with the Browns.
He certainly will be asked for his take on it which should be interesting.
It started with OBJ's father and trickled over to LeBron James and focused on OBJ not being utilized or thrown the ball by Baker Mayfield.
Garrett and perhaps Nick Chubb can be the guiding forces in this locker room to get everyone back on the same page.
The Browns saga resembles a soap opera immersed in professional sports.
Hopefully, Garrett's leadership can get this team back on track and involved in preparations for the Cincinnati Bengals game in Week 9.
This team is hardly out of contention, thanks in part to Garrett's stellar play this season, but they can be pushed to the fringes of relevancy if they continue to drop games they should win.