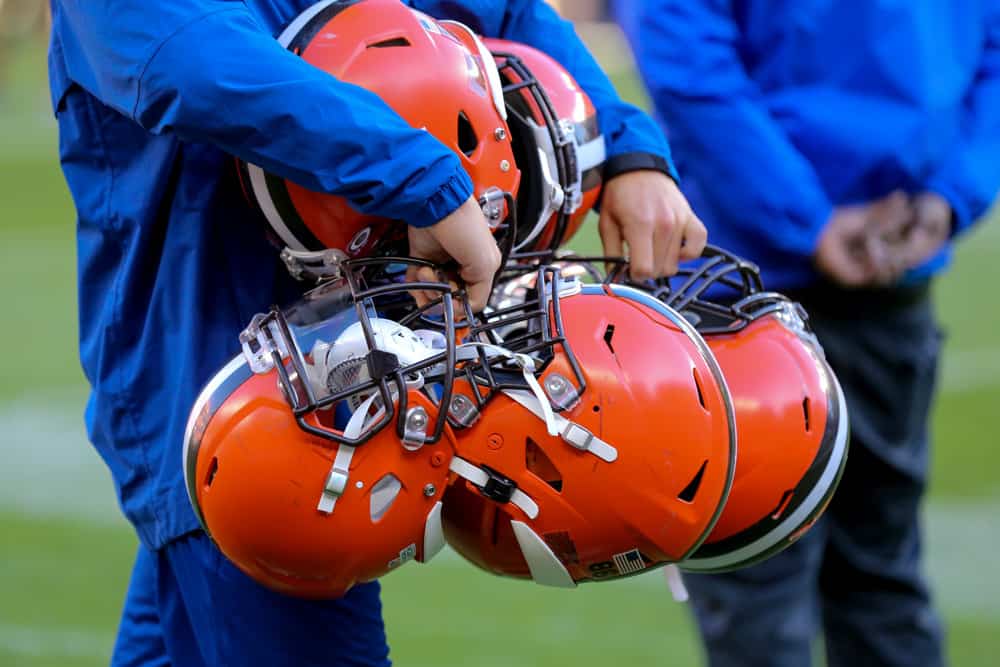 Green Bay will reportedly host the Cleveland Browns for two or three days of joint practice this preseason.
Packers head coach Matt Lafleur previously told the press that the team had an agreement to host joint practices.
But at that time, he said he was not allowed to announce who the visitors would be.
Jim Owczarski of Packersnews.com reports that barring any snafus, the Cleveland Browns are that team.
Barring unforeseen circumstances, Baker Mayfield and the Browns will be heading to Wisconsin for joint training-camp practices. https://t.co/8bbaInj2P5

— Packers News (@PGPackersNews) February 29, 2020
The Browns did not verify the report.
Final plans and official announcements might be delayed until the new collective bargaining agreement is set.
It is expected to add a regular-season game and lessen the approved amount of preseason practices and games.
Browns Had a Memorable Joint Practice Session Last Year
Cleveland is one year removed from a fight-scarred joint practice session with the Colts.
There were reports of "big punches thrown" toward the end of the first day.
That fracas, involving D´Onta Freeman and Browns international program safety Tigie Sankoh, set the tone for day two.
Cleveland came out full tilt for the whole practice and the Colts were not up for it.
Browns notebook: With Freddie Kitchens urging players not to back down, final joint practice with Colts turns into 'Fight Club' https://t.co/MhH5PUd0Y4 pic.twitter.com/s4IGyZbyBN

— Akron Beacon Journal (@beaconjournal) August 16, 2019
Indianapolis got flagged constantly for responding as there was pushing and shoving after almost every snap.
Some reporters thought the session might be cut short, but the teams finished the day as planned.
Odell Beckham Jr explained,
"We came here to impose our will the same way we would do in the regular season when it comes up."
Then-Cleveland head coach Freddie Kitchens instructed his players to show intensity at that practice.
He also defended his troops and defiantly told reporters his team will never get pushed around.
Packers Had a Little Fight in Them Last Year, too
Green Bay held practice sessions with the Houston Texans last year.
It was the first time since 2005 they worked alongside another team.
There was at least one significant fight during their sessions, too.
The #Packers and #Texans got into joint practice fight, but it got broken up pretty quickly.

It was rookie on rookie crime, Packers TE Jace Sternberger was hit hard by Texans CB Lonnie Johnson and then flexed over him.pic.twitter.com/iIXxfBzWzY

— Dov Kleiman (@NFL_DovKleiman) August 5, 2019
The teams went at each other after Texans safety Lonnie Johnson Jr took a cheap shot at rookie Jace Sternberger.
Still, Matt Lafleur and Packers general manager Brian Gutekunst felt it was a helpful event.
With the expected loss of a preseason game, Gutenkunst thinks joint sessions are even more important.
"It's one less opportunity, so I think we'll have to be a little bit more creative with how we stage things for evaluation purposes. Last year, we had some joint practices and I think those were really helpful. It was a way for our guys to get the reps that they needed against a quality opponent, taking some risk factors away."
Green Bay players' opinions were mixed.
But Aaron Rodgers, who doesn´t like the preseason much at all, left no doubt about his feelings.
"I wouldn't mind if they didn't do it for another 14 years," he said.
Lessons From Freddie´s Miscalculation
LaFleur and current Browns head coach Kevin Stefanski are likely to have a gentlemen´s agreement setting the session´s tone.
Freddie Kitchens surprised the Colts by telling his players to practice like they were in a game.
Especially since that session was followed by an actual preseason game two days later.
Kitchens thought the trip to Indianapolis helped the team bond.
He probably thought his tough-guy statements about not getting pushed around helped morale.
Said this before about the Browns and will say it again now: Freddie Kitchens has failed to instill discipline in that team from Day 1. Anyone who was at the joint practices with the Colts back on training camp saw it first hand. This issue didn't originate w last night's game.

— Stephen Holder (@HolderStephen) November 15, 2019
But there was never any indication of players bought into an aggressive mentality or identity.
Lafleur and Stefanski have plenty to learn about their teams.
Stefanski is still not sure who will call offensive plays in 2020.
Simulating game situations against Green Bay will give Alex Van Pelt more opportunity to win Stefanski´s trust.
That doesn't mean players fighting for a job won´t push or punch their way through a perceived cheap shot.
But the managers are likely to limit the risks.