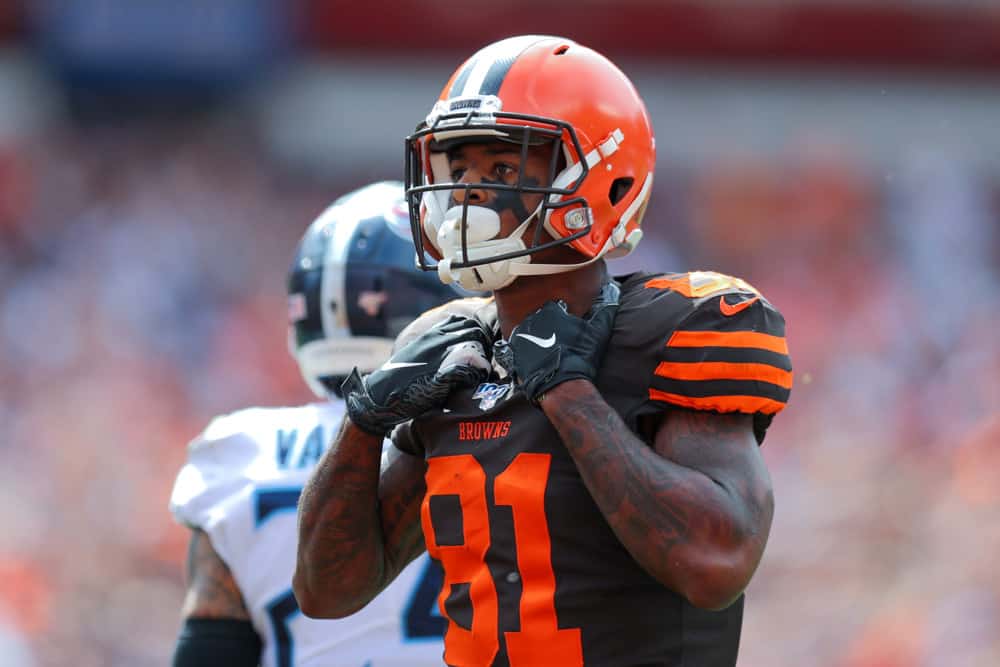 2019 was obviously a bizarre season for the Cleveland Browns.
Rashard Higgins was right in the mix of the oddities as he finished the season with only four receptions and one touchdown.
His lack of production was one of the many mysteries from the year.
He dealt with a knee injury early in the season, only to return to full health and be limited by Freddie Kitchens.
That meant being kept on the sidelines and even being listed as inactive when healthy.
Higgins is now a free agent and may want a fresh start somewhere else after being held back last season.
Mary Kay Cabot of Cleveland.com reported that the team met with Higgins' agent and wants to keep him around.
The receiver will still test the market to see what he can earn in free agency.
#Browns WR Rashard Higgins expects to test the free agent market, but the Browns want him back at the right price, source says https://t.co/OCfEuynP6T

— Mary Kay Cabot (@MaryKayCabot) March 1, 2020
Letting Higgins walk without a proper offer would be a mistake for a Browns team looking to keep some sort of consistency on offense.
Rashard Higgins' Career Numbers
Higgins was a fifth-round pick back in the infamous 2016 NFL Draft.
He was one of four receivers drafted by Sashi Brown and is the only one remaining on the team from that group.
Remember Jordan Payton?
Or Corey Coleman?
What about Ricardo Louis?
The receiver's career got off to a slow start in 2016 and 2017 as the team struggled mightily on offense.
Higgins had a combined total of 33 receptions and two touchdowns in that rough span under Hue Jackson.
2018 was when Higgins became "Hollywood" as he became a favorite target for Baker Mayfield.
The two connected for 39 receptions, 572 yards, and four touchdowns.
#Browns WR Rashard Higgins gets a 19-yard touchdown from Baker Mayfield.

Browns missed the extra pointpic.twitter.com/870xgeObo0

— Dov Kleiman (@NFL_DovKleiman) October 7, 2018
Fans expected the same in 2019 and the result was Higgins ending up on Kitchens' bad side.
He and David Njoku were limited due to the coach having both in his doghouse.
One actual season of success in four years may be enough to convince the receiver to sign with any other team than the Browns.
Rashard Higgins and the Browns
A new and seemingly competent front office and coaching staff may be enough to convince Higgins to stay.
The Browns expressing interest, as Cabot reported, shows Higgins remains in the plans for 2020.
"TOUCHDOWN! IT'S RASHARD HIGGINS!"

🗣 Jim Donovan's call of our game winner pic.twitter.com/dk2JOTagr2

— Cleveland Browns (@Browns) November 11, 2019
He has built what seems to be a good relationship with Mayfield and the team can reference 2018 to Higgins when pitching him a new deal.
All "Hollywood" needs to be is the third or fourth receiver on this Browns team.
There is a lack of pressure on his shoulders in that role.
Ending up with around 500 yards and 4-5 touchdowns would be considered a good year for such a receiver.
Kevin Stefanski can use Higgins properly and avoid the petty drama that derailed the team under Kitchens.
The key for the Browns is to convince Higgins that things will be different under the new leadership.
Is that entirely true?
No one knows for sure, but Higgins should be a part of the plans as he was one of the more reliable players on offense when he was actually allowed to play.
Continuing to work when the team was so bad showed a lot about the receiver.
It is just up to him if he wants to give it another shot after so much frustration.