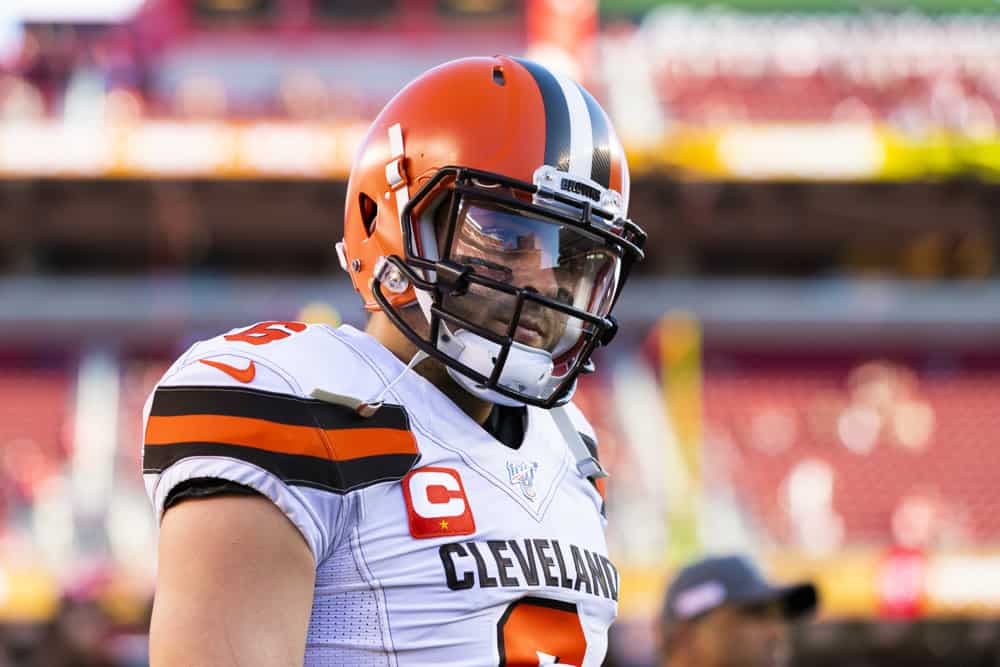 Not everyone is ragging on Baker Mayfield these days.
Two weeks ago, former Browns quarterback Jake Delhomme criticized the former No. 1 overall pick on the live airways.
"Don't be surprised if you see @CaseKeenum come November if @BakerMayfield struggles! I don't think they'll be afraid in the least bit to put in Case." -Jake Delhomme on the #Browns QB situation to @ZachGelb

Full Interview talking #Panthers, Baker & more https://t.co/qzpuVuOyIN pic.twitter.com/U4w2Kh1l1i

— CBS Sports Radio (@CBSSportsRadio) March 26, 2020

Fast forward to the present, and there are plenty of people that still have Mayfield's back.
That includes Browns veteran center J.C. Tretter, who had plenty of praise for his quarterback.
The Comments
Tretter joined The Ryen Russilo Podcast and discussed multiple topics like Mayfield's image in the locker room.
He referred to Mayfield as a "magnet" and "true leader."
His full comments and interview can be found below:
"He has greatly improved when it comes to demeanor and saying. This offseason he's done awesome. From the day he walked into that locker room — he's like a magnet," Tretter said. "People just flock to him. He is truly a leader and just has that personality that guys want to be around him, guys want to mix it up with him and try to get under his skin and he gets under theirs. That's just his personality all the time."
You can joke around about Baker Mayfield, but one thing is undeniable: When he steps into a locker room, that's his team.

More from @JCTretter and @ryenarussillo: https://t.co/CyZa9LSY9U pic.twitter.com/ZqWTIwg95A

— The Ringer (@ringer) April 8, 2020
Taking Heat
Even dating back to his college days, Mayfield is used to taking heat for what he says.
Last season, Mayfield criticized Duke Johnson Jr.'s contract dispute and how the medical staff handled Odell Beckham Jr.'s injury.
Former #Browns quarterback Bernie Kosar weighs in on Baker Mayfield's recent comments about the team's training staff handling of Odell Beckham Jr's injury.

👇AUDIO👇 pic.twitter.com/UoqGq0Krny

— SiriusXM NFL Radio (@SiriusXMNFL) December 12, 2019
What Tretter finds valuable is that Mayfield is consistent.
Tretter, who is the NFLPA president, said that consistency is "the most important aspect."
When it comes to Mayfield, you know what you are going to get.
"He truly is the leader of our team and he keeps us all going. He's the same guy, whether it's coming off a Tuesday off, and you're walking in early morning on a Wednesday, or it's a two-minute drive to win the game on Sunday," Tretter said, via the Podcast. "He is the same guy, the same personality, the same mentality all the time. And that's one thing football players love. Football players love consistency. We don't mind whatever it looks like as long as it's consistent and he truly is consistent."
Final Thoughts
Mayfield has quickly become one of the most polarizing figures in the NFL.
Either good or bad, there always seems to be a reaction when it comes to the Browns quarterback.
However, what is comforting is that he appears to have control of the locker room in terms of support.
According to one of the team's veterans, there's little question about the leadership he brings to the table.
That alone is a comforting statement.