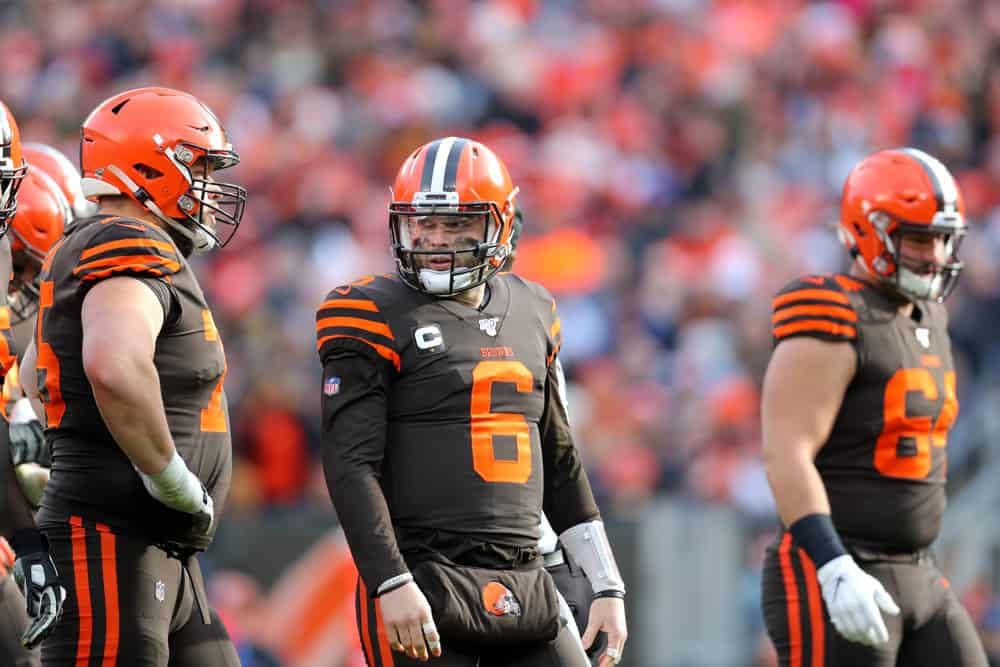 Just because Baker Mayfield is a former No. 1 overall pick does not mean he is going to keep his job according to this former Browns quarterback.
The Browns splurged in free agency, which included signing former Washington Redskins and Minnesota Vikings starter Case Keenum.
Keenum is expected to be the backup to Mayfield, which is something Keenum said he expected.
However, according to former Pro Bowl quarterback Jake Delhomme, Mayfield could lose his starting job if he is not careful.
Delhomme's Comments
For starters, Delhomme played in Cleveland in 2010 during an NFL career that stretched from 1999 to 2011.
Delhomme was the quarterback for the Carolina Panthers that made Super Bowl XXXVIII in 2004.
Appearing on "The Zach Gelb Show" on CBS Sports, Delhomme said the Browns "need better quarterback play in Cleveland."
He continued to say that if Mayfield struggles the way he did towards the end of the season, look for Keenum to take over in November.
"Don't be surprised if you see Case Keenum come November if Baker struggles," Delhomme said. "I don't think they'll be afraid in the least bit to put in Case. Baker wasn't drafted by this regime that has taken over. If he plays well, great, I'm happy for him. But if he struggles, don't be (surprised if Keenum) takes over."
You can listen to the full interview down below.
"Don't be surprised if you see @CaseKeenum come November if @BakerMayfield struggles! I don't think they'll be afraid in the least bit to put in Case." -Jake Delhomme on the #Browns QB situation to @ZachGelb

Full Interview talking #Panthers, Baker & more https://t.co/qzpuVuOyIN pic.twitter.com/U4w2Kh1l1i

— CBS Sports Radio (@CBSSportsRadio) March 26, 2020
Turning It Around
Delhomme said that he is "upbeat" about Mayfield turning 2020 into something better than last season.
After completing 63% of his passes for 3,725 yards passing, 27 touchdowns, and a passer rating of 93.7 in 2018, the numbers dipped last year.
Despite throwing for 3,827 yards, Mayfield completed just 59.4% of his passes for 22 touchdowns, 21 interceptions, and a passer rating of 78.8.
Mayfield has many reasons to improve next season, and Delhomme acknowledged that.
"Keenum is a pro who's going to be preparing and knows this system," Delhomme said. "So Baker is going to have every opportunity to work for it, and I'm anxious to see him succeed. I hope he does."
The Talent Around
The Browns have a phenomenal offense on paper.
Nick Chubb was second in the league in rushing yards last season, while Kareem Hunt (NFL rushing leader in 2017) was retained.
Along with two premier running backs, the Browns have two 1,000-yard receivers in Odell Beckham Jr. and Jarvis Landry.
Throw into the mix tight ends Austin Hooper, who signed a four-year deal, and a healthy David Njoku.
When Mayfield was the NFL's Offensive Rookie of the Year in 2018, Njoku was second on the team in receiving yards.
Receivers like Antonio Callaway and Rashard Higgins rounded out the top receiving group.
There's definitely plenty of optimism for Mayfield to rebound.
In case y'all forgot who Baker Mayfield was pic.twitter.com/e4wOx5Vz2n

— Tommy👾 (GET TRENT) (@PlayoffBake) March 25, 2020
However, if he isn't ready, Case Keenum will be waiting in the shadows.