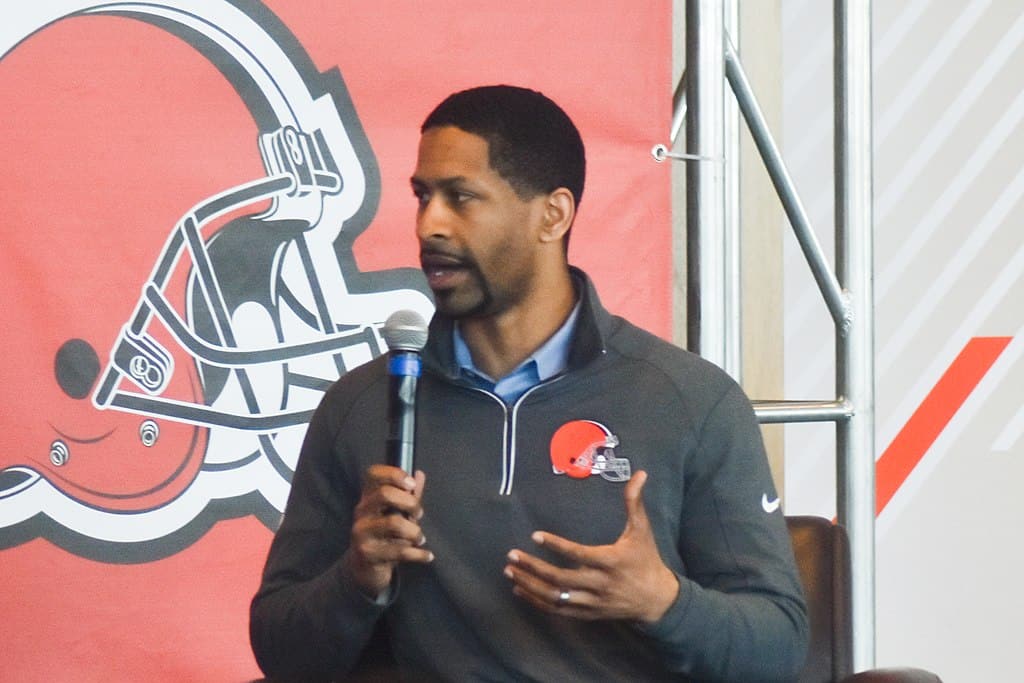 Andrew Berry took some time with the media Thursday to talk about the Cleveland Browns draft plans.
Reporters tried to clarify the team´s interest in Jadeveon Clowney, too.
But Berry wouldn´t take the bait.
Browns GM Andrew Berry on Jadeveon Clowney: "I'm not going to get into the habit of commenting on players that aren't on our roster. Jadeveon, he's a good football player… we're going to be aggressive and adding talent to the roster… we're actively always looking"

— Ben Axelrod (@BenAxelrod) April 10, 2020

Instead, he repeated his goal to aggressively add talent to the Browns by any means he can.
Berry´s deflection didn´t change the Clowney narrative.
But, he did clear up some questions about how the Browns will work the virtual NFL draft next week.
#Browns GM Andrew Berry graduated cum laude from Harvard with a bachelor's in econ and a master's in computer science — in 4 years. A virtual #NFLDraft is not going to freak him out, even if it's his 1st one

— Mary Kay Cabot (@MaryKayCabot) April 10, 2020
We learned that Andrew Berry will be in Cleveland next weekend.
Kevin Stefanski will be in Minnesota.
With team facilities ordered closed, it appears Berry will be in a hotel or conference room.
He also alluded to his youth as an advantage in setting up technology for the April 23-25 session.
With the Tenth Overall Pick…
Berry told reporters that his offensive line is a draft priority.
But not necessarily any more so this season than any other.
Berry said #Browns offensive line is always a priority, not just this year.

— Tom Withers (@twithersAP) April 10, 2020
Berry said not to count on a left tackle selection in the first round.
There are a couple of ways to interpret Berry´s comment, based on his subsequent remarks.
Berry claims the left and right tackle positions are interchangeable.
"I think the distinction between left and right tackles is really outdated. Tackles are tackles," he said.
Does that mean Berry isn´t locked into one of the big-name left tackles in the draft?
Berry went on to say rookies rarely contribute meaningfully, which is why they are contracted for multiple years.
Perhaps the Browns´ future left tackle will arrive in the later rounds with little expectations for 2020.
#Browns Andrew Berry said to not make any assumptions about the draft because the team has not addressed left tackle thus far in the off-season.

— Fred Greetham (@FredGreetham) April 10, 2020
Cleveland´s general manager reminded reporters he has three players with left tackle experience on the roster.
Jack Conklin, Chris Hubbard, and Kendall Lamm have all lined in the passer´s blind spot before.
Of course, few if any NFL general managers reveal plans or even good clues right before the draft.
So Andrew Berry said things that gave away nothing about the Browns intentions?

Good.

— BrownsDailyMockDraft (@BrownsMockDraft) April 10, 2020
It is possible Berry is doing a little bob and weave with Andrew Thomas or Mekti Becton in his sights.
How Will Cleveland Work the Virtual Room?
For the most part, Berry does not expect massive differences in how the draft works.
The Browns´ draft group will run a few trial selection rounds before the big weekend.
#Browns GM Andrew Berry said he thinks the team is pretty well prepared in terms of an "Armageddon" scenario in terms of Internet issues, etc., for draft

— Marla Ridenour (@MRidenourABJ) April 10, 2020
There is nothing new about draft day trades negotiated over the phone.
With NFL and team offices closed, the Browns already use Zoom and Microsoft Team meetings extensively.
Berry said it´s still a work in progress, but added,
"It's a different environment than any team has operated under, but all teams face the same challenges. We're going to be prepared and ready to go regardless of the circumstances and I feel confident that we're going to have a very high-quality draft."
When asked about pre-draft interviews and physicals, Berry said he got a lot of information from the Combines.
But he admitted players who did not attend present a challenge.
Cleveland has contacted several players via Facetime or other video call options.
He expects to be in a "really good place" with all the players the Browns are interested in next weekend.