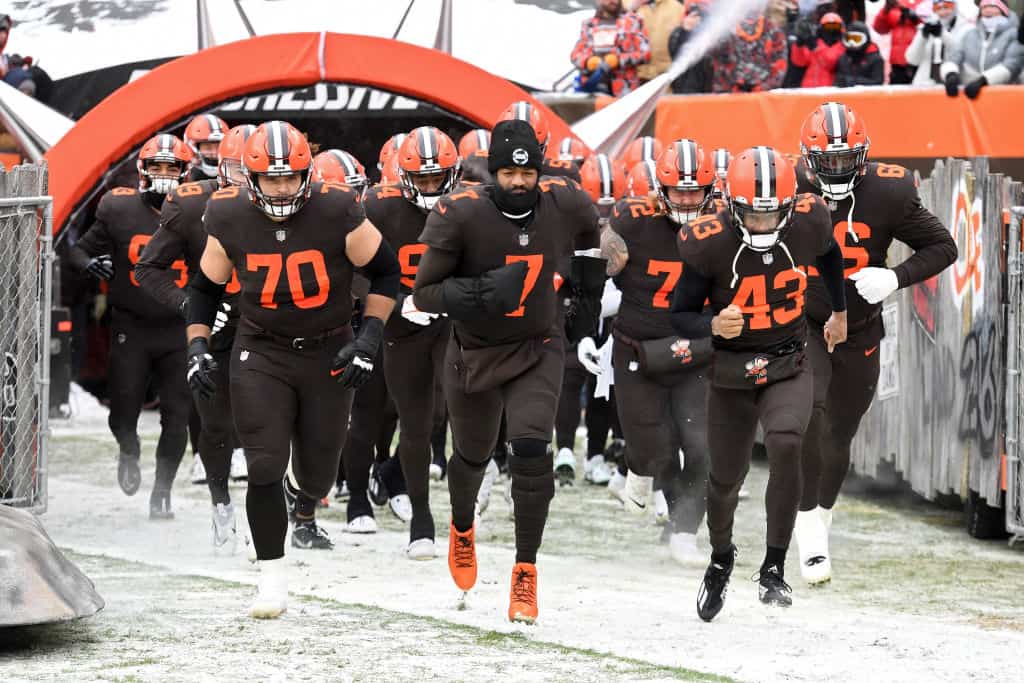 For those Cleveland Browns fans who believe this is another sleepy regular season finale game, that is simply not true.
Aside from the obvious benefits of the Browns knocking the Steelers out of the playoffs and dealing an under .500 record to Mike Tomlin for the first time, there are other matters at stake in this game.
🚨 SPOILER ALERT 🚨

IT'S GAME DAY.

GO BROWNS!#Browns #CLEvsPIT #GameDay #NFL pic.twitter.com/96MdHMKR8i

— Browns fan UK (@brownsfanuk) January 8, 2023
Here is your checklist of what to keep track of and cheer for.
1. Nick Chubb Is Chasing History
If Nick Chubb rushes for 52 yards, he will achieve 1,500 yards for the first time in his career.
The only other Browns player to do this is Jim Brown.
#Browns RB Nick Chubb is just 52 yards shy of 1,500 yards which would allow him to join Hall of Famer Jim Brown as the only running backs in franchise history to achieve the feat in a season.

— Daryl Ruiter (@RuiterWrongFAN) January 8, 2023
Nick Chubb is still in the race for NFL rushing leader, but he would need a monstrous day to wrangle the title from Josh Jacobs.
He needs 206 rushing yards to do it.
With 206 rushing yards today, Nick Chubb would win the rushing title btw

— Sad Nick Chubb Fan (@nickchubbfan) January 8, 2023
2. Myles Garrett Pursues History
With 1 sack against Pittsburgh, Myles Garrett can tie his own career-best single-season sack record of 16 which he achieved in 2021.
He is also in the thick of it for NFL sack leader but would need a big day.
NFL Sack Leaders

49ers Nick Bosa – 17.5
Eagles Hasson Reddick – 16
Patriots Matthew Judon – 15.5
Browns Myles Garrett – 15
Cowboys Micah Parsons – 13
Chiefs Chris Jones – 13 pic.twitter.com/AMcfn4EzJe

— NFL Rumors (@nflrums) January 3, 2023
3. Amari Cooper Seeks Career High Yardage
Amari Cooper needs 81 yards to surpass his own career high of 1,189 achieved when he was with the Dallas Cowboys in 2019.
Cooper already has achieved his career best in touchdowns with 9 in 2022, but if he reaches 10, he would be the first Browns wide receiver to have double-digit TD catches since Braylon Edwards had 16 in 2007.
#Browns WR Amari Cooper is 81 yards shy of passing his career high of 1,189 yards set 2019 with Dallas. Cooper also looks to add to his career-high TD reception total & become 1st Browns WR to catch 10 WR in a season since Braylon Edwards hauled in 16 in 2007 with a TD today

— Daryl Ruiter (@RuiterWrongFAN) January 8, 2023
4. The Loser Of This Game Finishes Last
And last, but not least, the loser of this game finishes last in the AFC North.
Though none of this is as satisfying as a trip to the playoffs, it does add weight to an already heated rivalry between the Browns and Steelers.