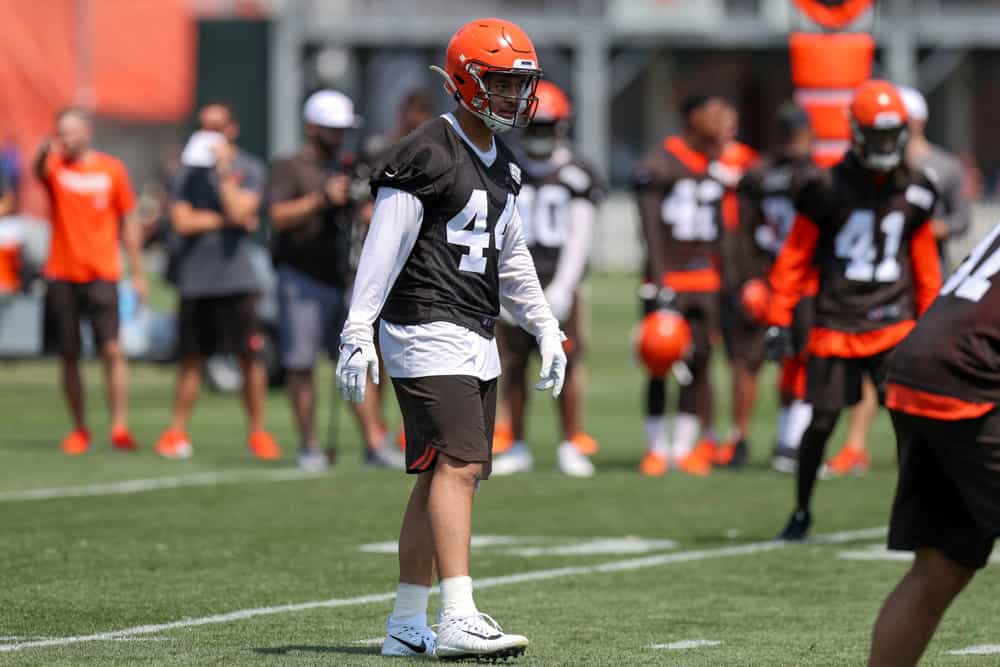 The Cleveland Browns have done a solid job developing talent over the last few seasons.
They've added two promising starters in Jedrick Wills Jr. and Grant Delpit during the 2020 NFL Draft.
However, those two rookies might not be the only first-year players seeing significant action this season.
Browns linebacker coach Jason Tarver believes that rookie Jacob Phillips has a good chance to start in 2020.
Via Mary Kay Cabot of Cleveland.com, linebackers coach Jason Tarver said the Browns will have an 'open competition,' at linebacker.
"Right now, it's an open competition," Tarver said.
Linebacker Competition
The Browns weakest area heading into the 2020 season is at the linebacker position.
They don't have reliable depth at any of the spots and the starters don't have much experience.
Former fifth-round pick Mack Wilson did a nice job filling in for the injured Christian Kirksey last season.
Wilson recorded 82 tackles, four tackles for loss, and one sack through 16 games (14 starts) in 2019.
His stats looked nice on paper, but Pro Football Focus gave Wilson a 41.7 overall grade last season.
The Browns also have former third-round pick Sione Takitaki battling for a starting linebacker spot.
Sione TakiTaki with a fantastic TFL here, he's unblocked, jet sweep hits quick & is difficult to see. Also 👀 the closing speed of Hanneman. pic.twitter.com/EdwU5WlPKQ

— Benjamin Criddle (@CriddleBenjamin) September 4, 2017
He only started one game for Cleveland last season, but appeared in 15 contests and recorded 21 tackles in 2019.
The Browns have high hopes that Takitaki can improve his game and become a reliable option.
"He's really competing in the workouts to cover the most ground, to break on throws and to control his body and space would be a few of the things he is doing well," says Tarver.
Lastly, the Browns have veteran linebacker B.J. Goodson fighting for starting spot in camp.
The 27-year-old has recorded 160 tackles, seven tackles for loss, and 0.5 sacks through four seasons in the league.
He collected 37 tackles through 15 games (nine starts) with the Green Bay Packers last season.
"We liked B.J.'s length and his ability to use his hands, and he's a run-and-tackle player who has shown the ability to do that,'' Tarver said.
It seems that the Browns are going to have a hard-fought battle for the starting linebacker jobs during training camp.
What Does This Mean For Rookie Jacob Phillips?
It means the rookie has a good chance to win a starting job.
Phillips became a full-time starter during his sophomore year at LSU.
He recorded 87 tackles, 5.5 tackles, and one sack through 12 games as a starter in 2018.
Phillips followed that up with 113 tackles, 7.5 tackles for loss, and one sack during 15 games in his final season in college.
"He was highly productive (at LSU),'' Tarver said. "Leading that team in tackles (with 113) is a big deal. His skillset really fits for any of the spots."
JACOB PHILLIPS PICK SIX!!! pic.twitter.com/5kdWoddGat

— LSU Football (@LSUfootball) September 3, 2018
Phillips is able to play inside and outside linebacker well, so the Browns can be creative with him on defense.
"We wanted football intelligence. We wanted length and speed. He has those," says Tarver.
It's surprising that Phillips fell into the third round, but his lack of experience as a starter might be part of the reason.
However, the Browns feel that Phillips has already begun making improvements on his technique during the offseason.
Will Phillips Win A Starting Spot?
It's tough to predict what is going to happen without seeing any of the linebackers play during training camp yet.
However, Phillips has a decent chance considering the Browns don't have much-proven talent at linebacker.
Both Wilson and Takitaki already know the system pretty well from playing with Cleveland last season.
That could give them an advantage, but it will really come down to who the Browns trust on the field.
It sounds like Cleveland is going to give everyone a fair chance to win the spots during camp.
No one should be surprised if Phillips lands a starting linebacker spot to begin the season.