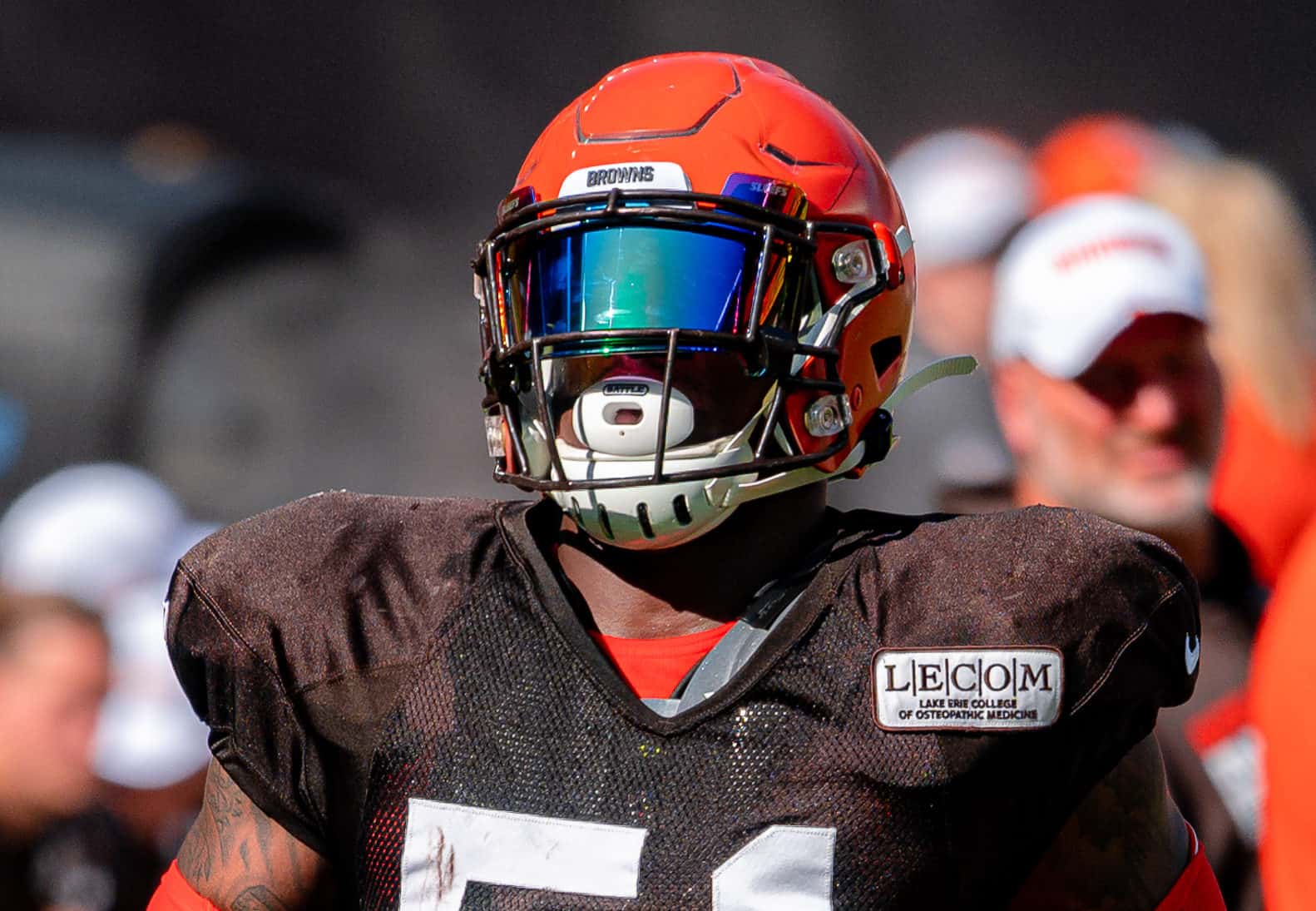 Fifth-round draft picks tend to carry less expectations than most. Football organizations hope for a solid developmental player, but not a future star.
The Cleveland Browns' 2019 fifth-round pick, Mack Wilson, looks like he may buck that trend and overshoot his expectations.
Due to a severe chest injury, team captain Christian Kirksey is out of the Browns' starting lineup. Wilson stepped up, starting five games thus far this year.
That's a big change from his zero snaps in the season opener.
Wilson recorded 31 tackles, 2 pass defenses, and 1 tackle for loss.
Halfway through his rookie season, Wilson is impressing Freddie Kitchens and company.
"Mack is doing a really good job right now," Browns' run game coordinator/linebackers coach Al Holcomb said Tuesday. "Obviously, it is on-the-job training being a young guy, so he is going to go through some growing pains. Every day, he learns more and more and more, and he is starting to feel a little more comfortable, not only with the system, but with the speed of the game at this level."
That on-the-job training is what coaches hope will keep Wilson on an upward trajectory. Fortunately for Wilson, he has good leaders and teammates at the linebacker position to work with and learn from.
Kirksey, though injured, has set the standard for playing LB for the Browns. Wilson readily admits he's holding himself to the same standard.
Joe Schobert is one of the best LBs the Browns have seen since their return to Cleveland. Schobert made the Pro Bowl in 2017, and like Wilson, was not a high draft pick.
He can show Wilson the way to success, even without pure athleticism, like most early-round picks have.
It shouldn't take long for Wilson to catch up. He was a five-star recruit out of high school and played in 33 games in three college seasons under Nick Saban at Alabama.
Wilson knows football, and as he gets more experience in the NFL, things will slow down, and he will read the game better.
"Mack, as every rookie is, you come in and your head is swimming and in the NFL for the first time," Schobert said. "As you get more experience, you start to settle down a bit more, you start to trust yourself, make some plays, and I think you definitely see that with Mack."
Not only will his game play improve, but so will his opportunity for leadership.
While at Alabama, Wilson lost just three games and won a National Championship. He isn't used to this much losing and isn't happy about it.
In back-to-back tweets after the loss to the New England Patriots, Wilson wrote, "It's time for a change as in we gotta do something different. The losing gotta change!"
It's time for a change as in we gotta do something different. The losing gotta change!

— Mack Wilson (@5mackwilson1) October 29, 2019
Immediately after that tweet, he sent out another saying, " We gotta change the culture."
We gotta change the culture. 🐶

— Mack Wilson (@5mackwilson1) October 29, 2019
What's encouraging about these tweets is their positivity. Wilson isn't blaming anyone specifically, and he's right; there is no winning culture in that locker room.
The Browns need a player who comes from a good winning culture, who doesn't accept losing.
Does his performance back up his statements? Holcomb says it does,
"Honestly, I am excited about Mack every time he steps on the field. I think he is a dynamic player. He is a young player that will continue to develop, but I feel like he has a knack for the ball. He will be around the football and he is going to be a big-time player for us."
The Browns got a bargain in the fifth round. Here's to hoping he can keep things going and lead the Browns to some wins and a push for the playoffs in the coming weeks.