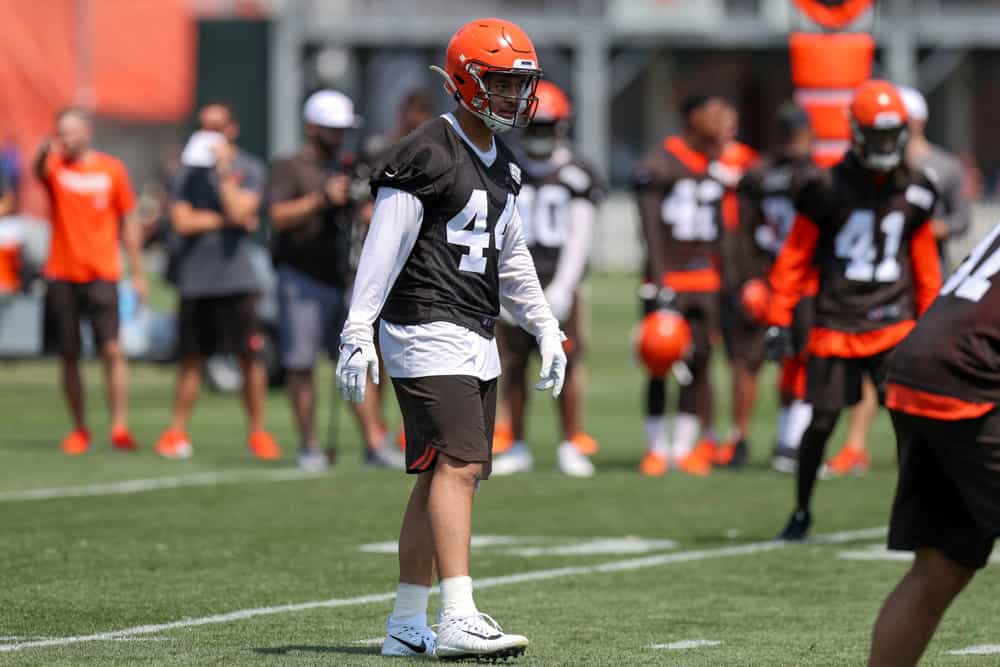 There was a lot to like about Andrew Berry's first draft with the Cleveland Browns. The rookie GM handled last weekend like a pro, avoiding the typical over-thinking seen from previous Browns regimes and instead displaying patience which often paid off in a big way.
Berry watched as his top-rated tackle — Jedrick Wills Jr. — fell right into his lap at tenth overall. He knew he could trade back a few picks on Day 2 and still grab a first-round talent in safety Grant Delpit.
Essentially, instead of panicking or trying to outsmart the room, Berry simply let the draft unfold around him in a way which allowed him to make solid roster additions at a great value.
All that said, there's one notable misstep Berry made over the weekend.
Along with tackle and safety, one of the bigger holes on Cleveland's roster was at linebacker. It's an issue Berry did little to address at the draft. Now that the dust from last weekend has settled, he's likely realizing his options to fix this are now more limited than ever.
Admittedly, the lack of attention paid to linebacker this offseason creates more question marks around Berry's decision to move on from Joe Schobert and Christian Kirksey. While he had his reasons for letting both vets move on, their departures created voids which needed to be filled.
Berry's third round selection of LSU's Jacob Phillips did add another member to the linebacker depth chart. Likewise, Berry also made a small addition in free agency, signing former Green Bay Packer B.J. Goodson to a one year, $2.4 million deal.
That said, neither move represents a significant upgrade.
While Phillips led the SEC in tackles last season, he's mostly seen as a developmental player who likely won't start right away. Zac Jackson of The Athletic flagged both his age (21) and his need to bulk up as reasons to believe Phillips' defensive snap counts might be low this year.
As for Goodson, while he boasted a low missed tackle percentage in Green Bay last season (5.1%), the rest of his numbers were mostly average. PFF graded him at 62.2 overall in 2019, while Pro Football Reference gave him an approximate value of just five.
Overall, while Berry has made a couple moves to address one of the roster's biggest question marks, there's still room for improvement. How he goes about fixing this is anyone's guess.
Looking at the available free agents at both inside and outside linebacker, you'll find it's mostly slim pickings.
There are younger players who wouldn't bring a ton of value (Alec Ogletree, Darron Lee, D.J. Alexander). There are older players whose best days are behind them (Terrell Suggs, Brooks Reed). And there are players the Browns shouldn't touch with a ten-foot pole (Vontaze Burfict).
Sure, Cleveland could go with a legacy option and sign Clay Matthews to a low-cost deal. Still, considering he's heading into his age-34 season, you're forced to wonder how much he could offer beyond fan nostalgia.
Bottom line — there's not much Cleveland could do to upgrade linebacker from a free agency standpoint.
With little going on in the trade rumor mill, it appears the route the Browns may take is to just move forward with the current group, led by 2019 draft picks Mack Wilson and Sione Takitaki. For reasons obvious, it's fair to question this thinking, as well.
Wilson showed promise in his rookie season, starting 14 games for Cleveland and finishing second only to Schobert in total tackles. He does have a few things to work on, though, especially in pass coverage.
Wilson allowed a passer rating of 93.3 when targeted last season, as opposing quarterbacks completed 71.0% of the 69 passes thrown his way. Only Denzel Ward was targeted more frequently by Cleveland opponents in 2019.
As for Takitaki, if the Browns saw enough in the 105 defensive snaps he logged last year to view him as a starting linebacker, more power to them. On the surface, though, it sure looks like he needs more time to develop before being given a starter's role.
This isn't to say neither player can make a big leap forward in 2020. Still, the current setup indicates Cleveland is counting on this taking place, an approach which is risky to say the least.
Unfortunately, with the free agency well running dry and the draft now behind them, the Browns no longer appear to have any better options available.