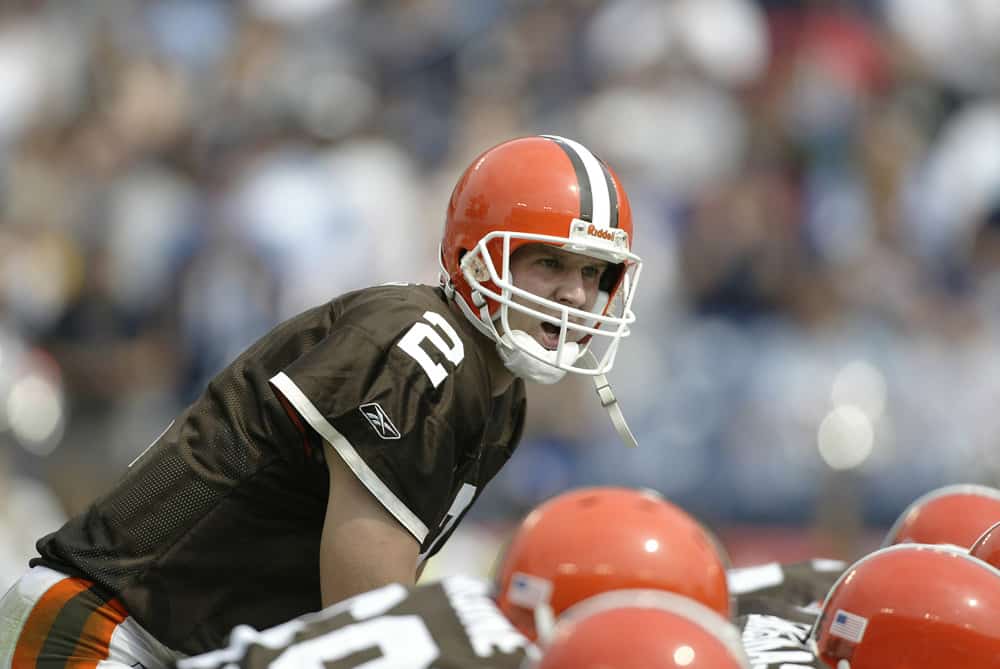 The Cleveland Browns have seemingly gone through a revolving door of quarterbacks during the 21st century.
The organization has somehow gone through 30 total starting quarterbacks over the last 20 years.
Finding a reliable quarterback has been almost impossible for Cleveland throughout their history.
No team has burned through more QBs in the 21st century than the Browns.
The modern day Browns quarterback jersey pic.twitter.com/CytZA0Zvll

— Bill Riccette (@Bill_Riccette) February 26, 2020

However, the Browns are surprisingly not the worst team in terms of quarterback success during the Super Bowl era.
ESPN did a breakdown of all 32 teams and the Browns somehow managed to land 30th on the list.
The Tampa Bay Buccaneers and Chicago Bears were ranked below the Browns on the ESPN ranking.
Tim Couch earned the title of worst Browns QB of the Super Bowl era, though that seems based more on his longevity as the starter.
Much of the success dates back to the 1975-1990 era, when Brian Sipe earned an NFL MVP award (1980) and Bernie Kosar proved one of the most effective passers of his time.
Can Mayfield Be The Answer?
The Browns selected Mayfield with the No. 1 overall pick during the 2018 NFL Draft.
He put together a rookie record-setting campaign during his first year in Cleveland.
Mayfield threw for 3,725 passing yards with 27 touchdowns and 14 interceptions through 14 games in 2018.
It was a great start to his career, but things came to a crashing halt in 2019.
Passer rating out of empty, 2019

Top five:
Lamar Jackson (123.8)
Philip Rivers (118.6)
Drew Brees (117.4)
Ryan Fitzpatrick (105.6)
Matt Stafford (105.4)

Bottom five:
Kirk Cousins (79.9)
Andy Dalton (74.1)
Joe Flacco (71.4)
Baker Mayfield (70.8)
Carson Wentz (66.9)

— Bill Barnwell (@billbarnwell) June 20, 2020
Mayfield was unable to find the same success under then-coach Freddie Kitchens.
He threw for 3,827 passing yards with 22 touchdowns and 21 interceptions through 16 games last season.
Those 21 interceptions were the second-most in the entire league.
The organization is hopeful that Mayfield can turn it around under new head coach Kevin Stefanski.
His offensive scheme helped turn around Minnesota Vikings quarterback Kirk Cousins last season.
Stefanski should be able to help Mayfield tweak a few things to become a more successful quarterback.
One thing I was told through process of Browns hiring Kevin Stefanski: Baker Mayfield is excited to have continuity with his new head coach. Mayfield is going on his fourth OC since joining team in 2018. They can build on Stefanski's offensive vision together.

— Jeremy Fowler (@JFowlerESPN) January 14, 2020
Mayfield still has areas that he needs to improve upon, but he's the most talented quarterback the Browns have had in quite some time.
The potential to be a star is there, but it's about being able to put everything together.
The Bucs and Bears might be ranked lower on the quarterback success ranking, but at least those teams have Super Bowl rings.
Hopefully, Mayfield will be able to break the streak and get the Browns a Super Bowl victory that the organization and fans desperately need.
Maybe after everything is said and done, Mayfield will be known as the best quarterback in Browns history.
However, he is still young and there are still areas in which he needs to improve his game, but hopefully, the 2020 season will be a bounce-back year for Mayfield.