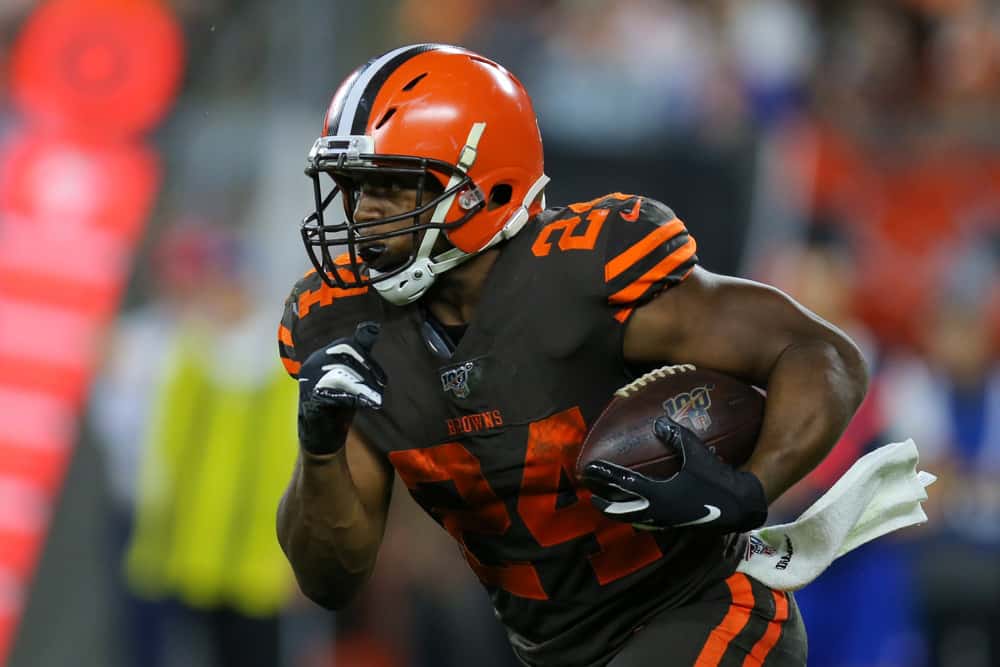 Nick Chubb is back, and in a BIG way.
And man, this offense missed him.
.@NickChubb21 IS BACK❗️

📺: @NFLonFOX pic.twitter.com/elXd6QbFMk

— Cleveland Browns (@Browns) November 15, 2020
Chubb came ready to play in his first game back from injury, running 19 times for 126 yards and a TD.
He could've had two, but he put his team first, after ripping off a 59 yard run to ice the game.
Nick Chubb, true teammate 💯 @NickChubb21 @Browns

(h/t @ProFootballTalk) pic.twitter.com/DQz8zKN1r2

— The Checkdown (@thecheckdown) November 16, 2020
Kareem Hunt had a good game as well, with 104 yards on 19 carries.
Chubb and Hunt became the first Browns teammates to run for over 100 yards in a single game gave Browns fans this amazing stat, provided by ESPN:
Nick Chubb and Kareem Hunt are the 1st Browns duo with 100 Rush yards in the same game since 1966.

They are the 5th duo in Browns history to do that overall – each of the previous 4 duos featured at least 1 Hall of Famer. pic.twitter.com/KfVA7L0sgw

— ESPN Stats & Info (@ESPNStatsInfo) November 15, 2020
Can Chubb and Hunt do it again against the Eagles?
Buy: They Will Do It Again
Why will they do it again?
Coach Kevin Stefanski leans on the running game, and he's got his one-two punch back.
Getting Wyatt Teller back from a calf injury only made the running game that much better, and this offensive line unit excels in the run game.
These aren't the main reasons why they could do it.
The main reason is that the Eagles rush defense is atrocious.
The Eagles defense ranks 26th in the league against the run, and it has only gotten worse as the season has progressed.
According to Teamrankings.com, Philly is giving up 133 yards per game. That isn't good.
Over their last three games, the Eagles have given up 148 YPG on the ground.
Outside of Fletcher Cox, there isn't a real "stud" on this defense.
In a 27-17 loss to the Giants on Sunday, the Eagles gave up 151 yards on the ground.
Giants quarterback Daniel Jones led the team with 64 yards.
This is a game where the Browns could get early points on the board, and stick to the ground game, giving Chubb and Hunt the carries they need to break the century mark.
With all this taken into consideration, there is reason to believe that this could be another 100 yard game for Chubb and Hunt.
Sell: Why Chubb And Hunt Won't 
I can only really foresee a few situations where the Dynamic Duo don't break 100 yards each.
Fletcher Cox is the primary reason why on this defense.
While he isn't having his best season, he is still a game changer.
Just look at this clip from ProFootballFocus.
Fletcher Cox 😳pic.twitter.com/kXgDvfPOIC

— PFF (@PFF) January 5, 2020
While this is a pass play, Cox is known for blowing up plays.
While he may not make the tackle, his ability to draw multiple linemen allows his teammates to make plays.
While the Browns offensive line is a strength, it also is a fairly young unit and still can make those mistakes against a cagey vet like Cox.
The only other thing I see is the Browns getting out to a fairly big lead, and sitting their two star running backs.
This would give D'Ernest Johnson and Dontrell Hilliard a chance to get on the field, giving Chubb and Hunt a chance to catch a breather.
Cleveland hosts the Eagles on Sunday, with kickoff at 1:00 pm.