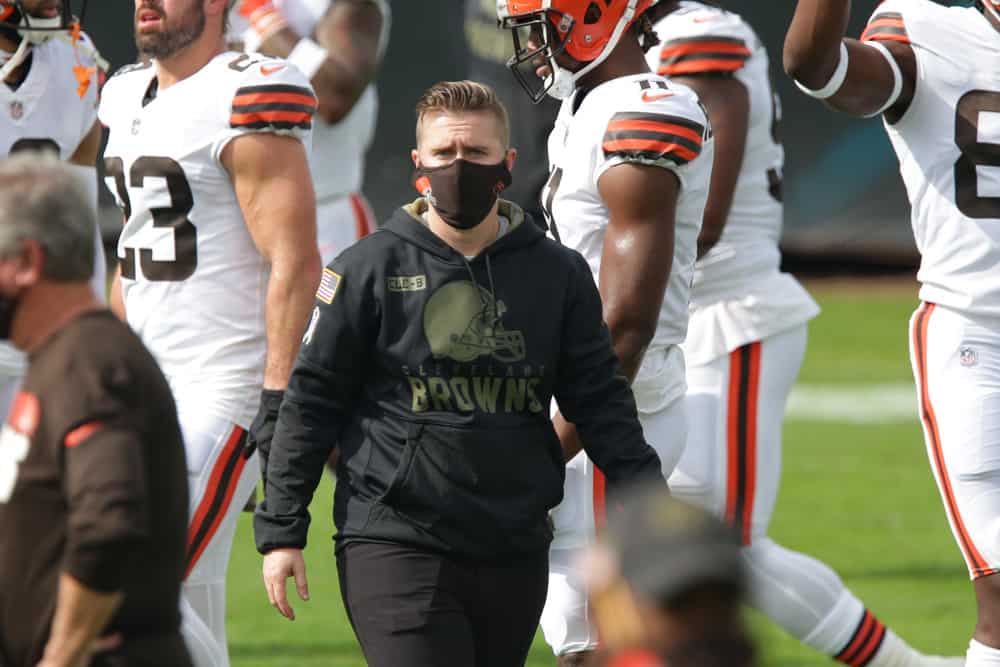 One of the offseason hires for the Cleveland Browns was Callie Brownson who became Coach Stefanski's Chief of Staff.
In addition to that high profile post, Brownson made other news recently during the November 29 Jacksonville game.
Interim Tight Ends Coach
Brownson served as the interim tight ends coach on November 29.
That made her the first woman to coach a position group in the NFL.
To commemorate the event, the Pro Football Hall of Fame created a display in her honor.
The @ProFootballHOF now has an autographed game ball and sideline jacket worn by Callie Brownson from the #Browns game when Brownson became the first woman to serve as a position coach during a regular-season NFL game. pic.twitter.com/TYV1OGkUjx

— Jake Trotter (@Jake_Trotter) December 14, 2020
The tight ends had a good day under Brownson's leadership.
They had 4 catches for 37 yards and scored 1 TD.
Baker delivers this time in the red zone with a 9-yd TD strike to Austin Hooper 🤫pic.twitter.com/G75ixg3EpA

— Yahoo Sports (@YahooSports) November 29, 2020
A One Week Gig…For Now
Brownson's tenure was one short week.
She filled in for tight ends coach Drew Petzing.
His wife Louisa gave birth to the couple's first child on Saturday, November 28.
Brownson's Resume
Callie Brownson, 31, has both played and worked in professional football.
WFA
As a 19 year old George Mason University student, Brownson tried out for the D.C. Divas, a team in the Women's Football Alliance (WFA), a professional full-contact league started in 2009.
Brownson ended up playing for the D.C. Divas from 2010-2017; the team won the championship in 2015 and 2016.
She played the positions of safety, running back, and slot receiver.
Brownson was also a member of the 2013 and 2017 gold medal winning teams in Team USA Women's Football.
NFL
She broke into the NFL as a scouting intern for the New York Jets in 2017.
Brownson briefly joined the college ranks, working at Dartmouth as the offensive quality control coach in 2018-2019.
As an intern at training camp for the Buffalo Bills in 2019, Brownson's role grew into a full-time role on Coach Sean McDermott's staff last season.
Working With Coach Stefanski
Brownson jumped at the opportunity to work with Stefanski.
"I'm excited because Coach Stefanski is one of these up-and-coming coaches who has a lot of great ideas. He's a progressive coach and he loves the game of football. He understands that football is ever-evolving, which is cool to be a part of on a staff like this.  We talked through it and he had this very specific vision for how he wanted this role to work out and how involved he wanted it to be, and to me it sounded like a phenomenal opportunity and I was very impressed with him and impressed with everyone in this building and I'm excited to be here."
Coach Stefanski envisioned the role to be similar to one he occupied with Minnesota Vikings Coach Brad Childress in 2006.
"It's very involved in every aspect of a football operation.  Callie is uniquely situated where she can go interact with football ops or PR or the locker room or the equipment room. She's really the liaison to the rest of the building for me. I'm going to lean on her heavily and already have. I think she's a go-getter. She's self-motivated. She's going to put all of her energy into this gig. What's exciting for me is ultimately I want to develop young coaches. She's someone that has worked on the offensive side of the ball, worked on special teams, has a great knowledge of the game and I want to let her expand that knowledge and develop her as a head coach."