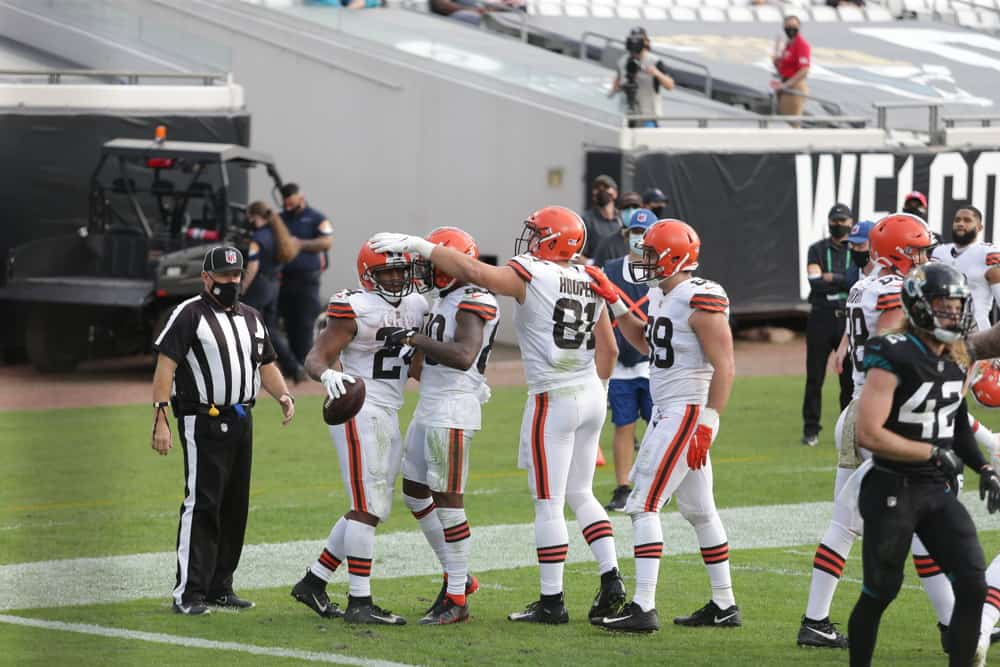 The Cleveland Browns obviously didn't get the result they were looking for against the Baltimore Ravens on Monday night.
Cleveland lost a close 47-42 battle with Baltimore in an exciting game that came down to the wire.
Obviously, you'd like to win every game, but this isn't the end of the world for the Browns.
The team still sits at 9-4 and in prime playoff position with three weeks left in the regular season.
Sadly, the Ravens came away with the victory, but Browns fans should still feel confident about their team.
3. Signs Of Improvement
The Browns kicked off the 2020 season with a matchup against the Ravens.
It was a big test for this Browns roster and they failed to capitalize.
In fact, they showed little signs of life at all during the 38-6 blowout loss.
Since then, the Browns have looked much improved as a whole unit.
No, they weren't able to beat the Ravens the second time around, but that doesn't mean they failed.
This Browns team looked much better here and almost came away with the victory.
During their first matchup, quarterback Baker Mayfield didn't even surpass 200 passing yards.
This time, Mayfield threw all over the Ravens defense and finished with almost 350 total passing yards in this one.
The result was a loss, but it was one that you can live with at the end of the day.
It was a battle throughout and the Browns showed that they can compete with a Super Bowl caliber team like the Ravens.
2. Winning Without Starters
It's never easy to win in the NFL, but doing it without a handful of starters makes it incredibly difficult.
The Browns are sitting at 9-4 without Greedy Williams or Grant Delpit stepping on the field during the regular season.
This secondary has been banged up all season and they were missing elite defensive back Denzel Ward for Monday's contest.
#Browns Inactives
KhaDarel Hodge, Marvin Hall, Denzel Ward, Tedric Thompson, Austin Hooper, Joe Jackson

Austin Hooper has been ruled out with a neck injury. KhaDarel Hodge (hamstring) and Denzel Ward (calf) were ruled out earlier in the week. #Ravens #RavensFlock

— LRJ (@NeosBlizzard) December 15, 2020
Ward missed his third straight game, but is expected to be back in time for the playoffs.
The Browns are also without star wide receiver Odell Beckham Jr. who suffered a season-ending injury mid-way through the year.
Both tight end Austin Hooper and wide receiver KhaDarel Hodge have been banged up lately, which obviously doesn't help.
This team is sitting in great playoff position without many of their key starters being able to bring much to the table.
Cleveland should be feeling great, assuming they can get a few of these players healthy in time for the postseason.
1. Mayfield Looks Like A Franchise QB
Finally, Browns fans are getting to see what having a reliable quarterback actually looks like for once.
Mayfield has looked like a different quarterback since his five-touchdown performance versus the Cincinnati Bengals in Week 7.
Since then, Mayfield has thrown 13 touchdowns and two interceptions, so it's difficult to not buy into the hype right now.
Mayfield has quietly put together his best season since entering the league in 2018.
Baker Mayfield is BALLING right now!! He also quietly has 23 TD's to only 8 INT's on the season. It's time to put some respect on his name! #DawgPound

— Emmanuel Acho (@EmmanuelAcho) December 15, 2020
Mayfield is doing what is asked of him and leading this team to victories.
Browns fans should feel confident with Mayfield under center heading into the postseason.
Who knows, maybe Mayfield will be able to get Cleveland a playoff victory!