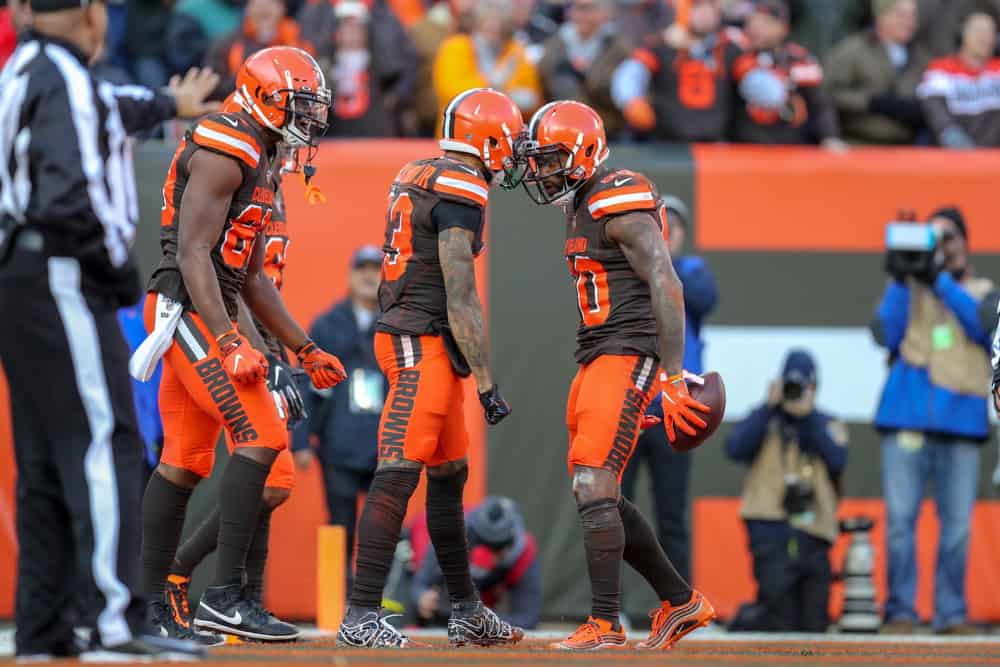 Does anybody believe the Cleveland Browns can beat the Cowboys in Dallas for their third straight win?
Well, not many of the experts think so.
A quick review of ten betting sites found a couple of folks willing to take the 4.5 points, like Jason Logan of Covers.
The Cleveland #Browns officially have a winning record for the first time in 2,114 days.

Love. To. See. It.

— Camryn Justice (@camijustice) September 27, 2020
Logan thinks Baker Mayfield will play more than a game manager's role against Dallas' flawed pass defense.
With Myles Garrett impeding Dak Prescott's passing attack just enough, Logan thinks the Browns can cover.
Likewise, Frank Schwab of Yahoo Sports thinks Cleveland will score over 30 points and cover the spread.
But Logan and Schwab joined the rest of the field in predicting a Dallas victory straight up.
Bill Bender of The Sporting News disagrees.
Bender went big in his prediction for Sunday's matchup in his weekly column:
"Cleveland has taken care of business in two games since an embarrassing Week 1 loss, and that Nick Chubb-Kareem Hunt tandem should work against Dallas' run defense. Dak Prescott and Ezekiel Elliott will keep the Cowboys going, but Baker Mayfield and Myles Garrett — both Texas natives — will match those big plays in a turning-point game for both teams."
The veteran NFL pundit predicts a final score of 34-31 in favor of the Browns.
Can The Browns Upset the Cowboys?
Browns doubters expect Dak Prescott to dominate over the Browns passing defense.
The Cowboys' quarterback boasts an average of 380 passing yards per game so far.
And if the receiving trio of Amari Cooper, Michael Gallup, and CeeDee Lamb wasn't enough to worry about, the team introduced a fourth wide receiver last week.
Cedric Wilson broke out for 107 yards and 2 touchdowns on 5 catches against the Seahawks.
Cleveland's battered secondary might get some reinforcements in Greedy Williams and a healthier Denzel Ward.
But they hold another key to slowing down Prescott, as mentioned by Logan.
Browns DE Myles Garrett has 3 sacks, 2 forced fumbles, 5 QBH through 3 games. Beyond size, Cowboys coach Mike McCarthy lauds Garrett's motor.

"He's a force," McCarthy said. "His number is on our objective board and that's probably the highest compliment we can give to a player."

— Jori Epstein (@JoriEpstein) September 30, 2020
Myles Garrett and company have to be salivating about the Cowboys game.
Dallas enters with at least two projected starters out and a third, left tackle Tryon Smith, questionable with a neck injury.
Garrett already leads the league in quarterback pressures.
His presence has helped his linemates make some hay, too.
What About the Browns Offense? 
Cleveland has to believe they can run the ball on anybody.
That includes the Cowboys and their 7th-best, 3.8 yards-per-rush defense.
But while pundits and fans point to Cleveland's uneven pass defense, they are slow to mention Dallas' pathetic unit.
Cleveland ranks 23rd in passing yards per game given up, while Dallas ranks 29th.
But if the real measure is quarterback rating, Cleveland's 14th best 94.3 rating against blows the 31st-ranked Cowboys and their 114.1 QBR allowed out of the water.
#Browns QB Baker Mayfield: "When it comes down to it, we're playing the Cowboys' defense. We have to do whatever it takes to win and if that is a shootout, then great. And if it's another game where we have to control the clock, then we'll do that. Whatever it takes to win."

— Keith Britton (@KeithBritton86) September 30, 2020
Baker Mayfield was an effective game manager over the past two weeks.
But his effectiveness was is much a part of Kevin Stefanski's use of motion and play-action as it is the success of the Browns' running attack.
Those plays were missing in Week 1 against the Ravens.
There is no reason Mayfield can't be just as successful with that type of play-calling for 32-35 passes.
And that is why a 34-31 Browns victory is as possible as any other outcome.