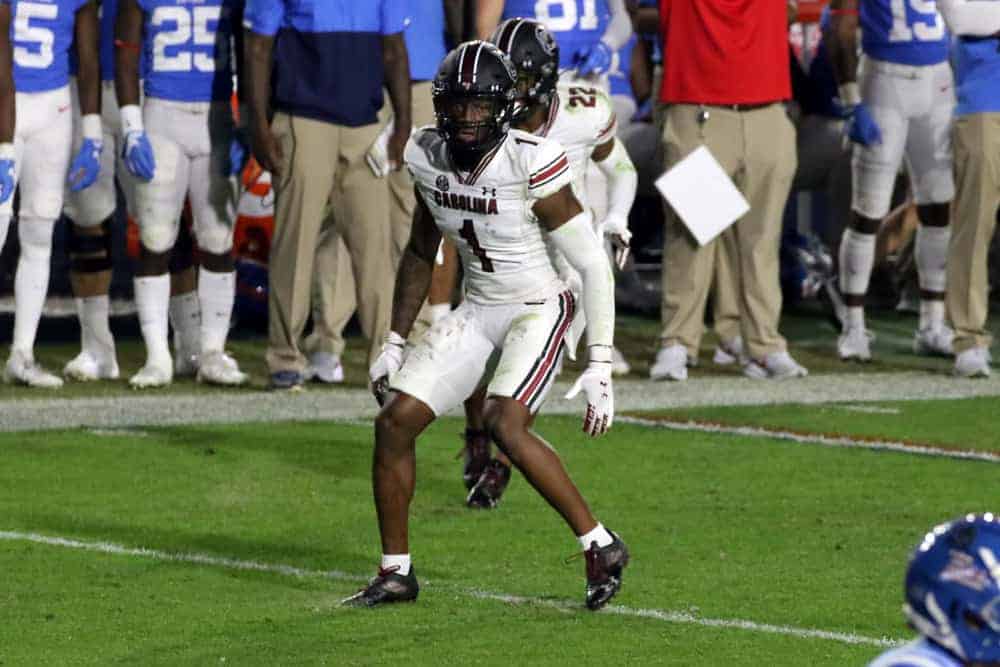 With the free agency wave in the rearview mirror, it is time to focus on the 2021 NFL Draft to be held in Cleveland from April 29 – May 1, 2021.
The Cleveland Browns, like all other NFL teams, are attending pro days and doing their due diligence.
As with free agency, shoring up the defense remains a priority.
Yesterday, we learned that the Browns have met several times with University of South Carolina cornerback Jaycee Horn.
University of South Carolina cornerback Jaycee Horn said on Zoom he's had a couple of pre-draft meetings with #Browns and it would be a blessing to play for them

— Nate Ulrich (@ByNateUlrich) March 23, 2021
Jaycee Horn Is A Hot Commodity
Before Browns fans get too excited about Horn's comment that it would be a "blessing" to be a Cleveland Brown, let's consider that at least four other teams have shown overt interest in drafting Horn.
Those teams also have higher picks in the first round; Horn is projected to go in the top end of the first round in most mock drafts.
Among those teams are the New York Giants with the 11th overall pick, the San Francisco 49ers with the 12th pick, the Los Angeles Chargers with the 13th pick, and the Arizona Cardinals with the 16th pick.
The Cleveland Browns have the 26th overall pick.
Also yesterday when asked about potentially playing for the 49ers, Horn said:
"It'd be a blessing to play for the 49ers. We played a lot of man, a lot of cover 3, a lot of single-high man here, so I feel like it wouldn't be that hard of a transition."
Who Is Jaycee Horn?
Horn is 6'1″ tall and weighs 200 pounds.
He is a junior at the University of South Carolina.
Jaycee Horn opted out of the 2020 season after only 7 games to prepare for the 2021 NFL Draft.
Horn is a gifted athlete and a good self-marketer.
"I'm versatile. I got the size. (I) got the speed — athletic. I face every receiver body type, from (Florida tight end) Kyle Pitts to (Ole Miss slot receiver) Elijah Moore, (Heisman Trophy winner) DeVonta Smith (Alabama), and feel like I'm the best defensive player in the draft."
Pro Football Focus ranks him as the third best cornerback in the 2021 draft class behind  Alabama's Patrick Surtain II and Virginia Tech's Caleb Farley.
Horn comes from solid NFL roots.
He is the son of legendary wide receiver Joe Horn whose name is synonymous with this touchdown celebration.
Barring trading draft picks to move up, it seems unlikely that cornerback Jaycee Horn will be available when the Browns 26th pick rolls around.
Most mock drafts have the Browns focusing on defensive lineman Jaelan Phillips of Miami with that 26th pick.