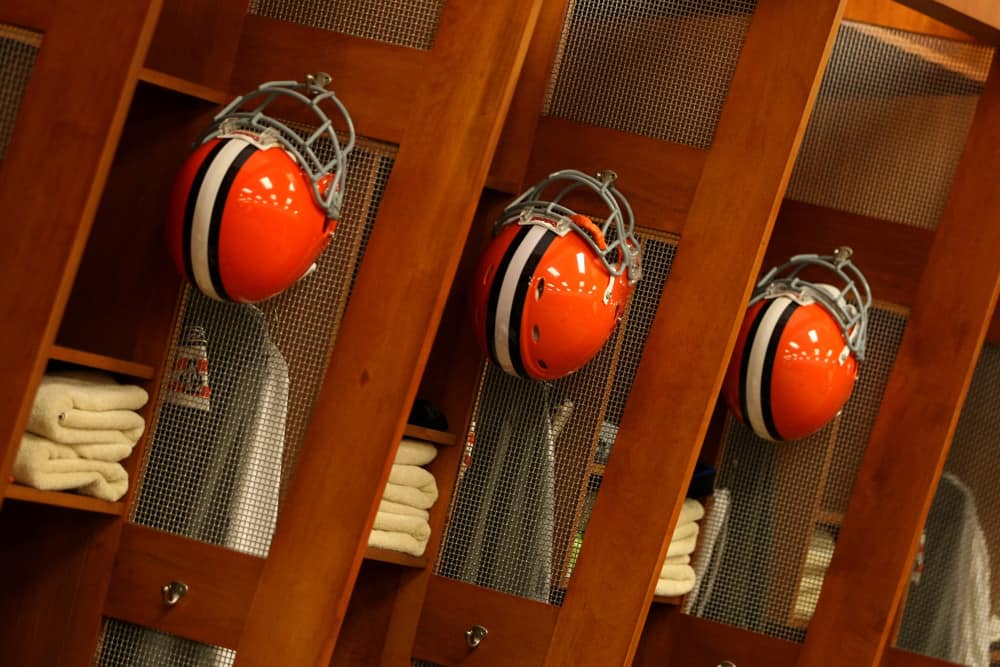 The Cleveland Browns front office has done an incredible job building this roster over the last few seasons.
They came into the offseason with one of the most well-rounded rosters in the entire league.
However, they still needed to upgrade their defensive unit and had plenty of cap space to make it happen.
Although, the Browns might've found two of the biggest steals of the entire offseason.
In fact, Pro Football Focus has two of the Browns signings as some of the most underrated during free agency.
John Johnson III
It's no secret that the Browns needed to upgrade in the secondary this offseason.
The return of Grant Delpit and Greedy Williams should give their secondary an immediate boost.
However, the Browns didn't stop there and added even more help through free agency.
They signed four-year safety John Johnson III to a three-year deal worth $33 million.
Contract terms: #Browns are getting former #Rams safety John Johnson to a 3-year deal worth $33M with $24M in guarantees, per @MikeGarafolo. His impact on LA's defense was even greater than what the box score shows. Will make an immediate impact to Cleveland's secondary.

— NFL Update (@MySportsUpdate) March 15, 2021
He finished last season as one of the five most valuable defenders, according to Pro Football Focus.
The former third-round pick has played well above expectations during his four years with the Los Angeles Rams.
Johnson has played both the strong and free safety spot, which means he is a versatile option.
He also has recorded PFF grades above 80.0 during three of his four seasons with the Rams.
All of the signs are pointing to this being an incredible move by the Browns.
In 2020, Johnson recorded 105 tackles, eight passes defended, and one interception in 16 games.
To be honest, Johnson is one of the most underrated safeties in the league right now.
Browns fans should be very excited about the future of this defensive unit.
"Johnson has proven to be capable of playing any role in any scheme. He has recorded PFF grades above 80.0 in three of his four seasons — all of which ranked 11th or higher at the position — and the one season he didn't was in 2019, when he was limited to only six games due to injury.

This was a home run for the Browns and might be the best signing of the week."
Troy Hill
The Browns surprisingly didn't go all out and sign a "superstar" defensive back to a massive deal this offseason.
They've been desperately attempting to find a reliable defensive back to play alongside Denzel Ward.
Hopefully, getting Williams back should help, but the Browns added more reinforcements as well.
They signed veteran defensive back Troy Hill to a two-year deal worth $9 million.
Troy Hill's Contract
– $4.5M g'teed, all in 2021
– 2 void years
– practical 1 yr, $4.5M#Browns Cap Hits:
2021: $1.875M
2022: $5.425M

CLE adds Hill & John Johnson to their secondary at a combined $7.1M of cap.

Full Breakdown:https://t.co/y4drt86nxz

— Spotrac (@spotrac) March 22, 2021
Over the last two seasons, Hill has ranked 14th in coverage grade and 20th in WAR generated among all those at the position.
The Browns landed Hill for a steal because of the fact that he is a slot corner.
Many organizations don't value slot defensive backs the same, but the Browns could certainly use his help.
Hill is ranked as the No. 1 player in coverage grade when filtering in just slot snaps, according to Pro Football Focus.
Cleveland has landed two of the most underappreciated free agents on the market
"Cleveland got him on this dirt-cheap deal for one reason only: Hill is a slot corner. It's the most undervalued position in the game, and the Browns recognized this and seized the opportunity. When filtering to only slot snaps, Hill jumps to No. 1 in PFF coverage grade.

With the signings of two of the top and most underappreciated defensive backs on the market, Cleveland might have won free agency."
It was only two signings, but the Browns are certainly starting this offseason in great position.