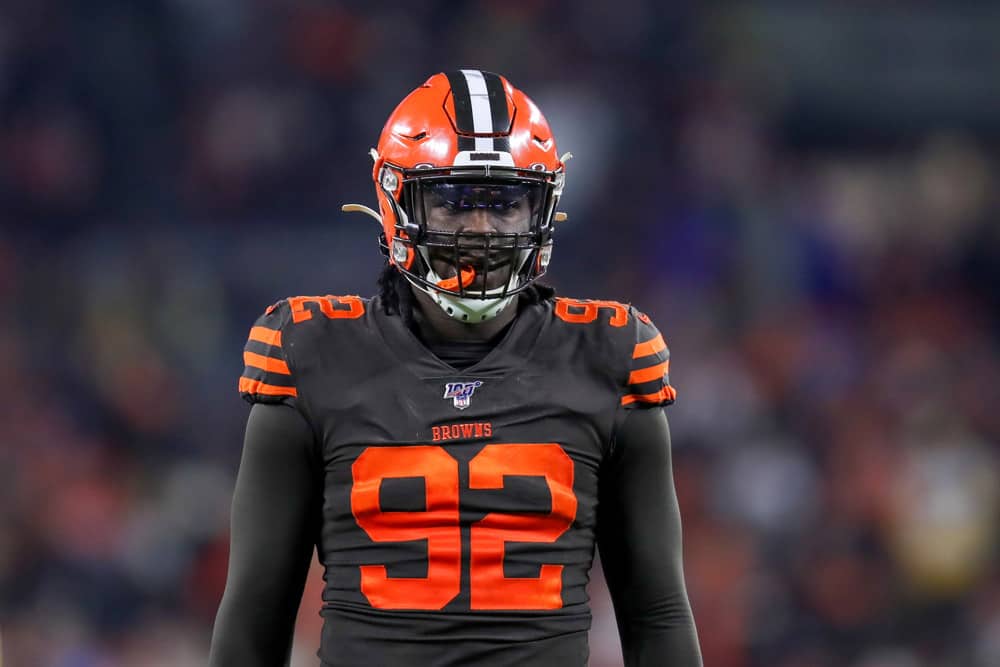 Chad Thomas was an elite pass rusher during his college career with the Miami Hurricanes.
In limited opportunities during his two seasons with the Browns, he has shown flashes of potential.
In comparison to Thomas's rookie season, he has already made incredible improvements to his game.
These improvements led to Thomas seeing more snaps in 2019.
With the Browns likely releasing edge rusher Oliver Vernon in the offseason, it is likely that Chad Thomas will be receiving more snaps and become the team's second-best edge rusher.
College Achievements
During his recruiting process, ESPN ranked Chad Thomas 65th on their top 300 players list.
He received offers from powerhouses like Alabama, Florida State, and LSU.
However, Thomas signed with his hometown team, the Miami Hurricanes.
With Miami, he went from playing in only half of the teams games his freshman year, to playing in all of the Hurricanes thirteen games in his senior season.
It was during this season that Thomas peaked collegiately.
He totaled 41 total tackles, 12.5 tackles for loss, and 4.5 sacks in his senior season.
On top of his elite game on the field, Thomas was also making moves in the music industry.
He went on to produce the hit song "Apple of My Eye" for Florida rapper Rick Ross.
Thomas is still involved in music today, going by the stage name "MajorNine".
Chad Thomas lays out QBs for Miami by day and lays down tracks for Rick Ross by night pic.twitter.com/JycECm2QqC

— Bleacher Report (@BleacherReport) August 29, 2017
Combine and Draft
Thomas was critiqued harshly at the combine.
His strengths were said to be almost purely his athletic ability.
Scouts said that Thomas "lacked technique" and went as far as to say that he only "gets by on his athleticism".
These observations caused analysts to give him a combined score of 6.1 which is described as "Good backup who could become starter".
He was deemed a fourth to fifth-round pick.
However, the Browns took a chance and selected Chad Thomas with the 67th overall pick.
"With the 67th pick in the 2018 NFL Draft, the Cleveland Browns select … Chad Thomas, DE, Miami"

📺: NFL Network/FOX pic.twitter.com/GWPbe8hal9

— Cleveland Browns (@Browns) April 28, 2018
Accomplishments With Browns
His achievements have been somewhat limited with the Browns.
The main reason for that is the team has been playing him mostly at left end.
This is the same position as arguably the best player on the Browns, Myles Garrett.
However, in light of Garrett being suspended, Thomas got the chance he had been waiting for.
With the added snaps, he had 26 combined tackles, 6 tackles for loss, 4 sacks, and a fumble recovery.
The improvement from his rookie to 2nd season has been astonishing.
It should give Browns fans everywhere hope that soon Thomas and Garrett could become one of the best pass-rushing duos in the league.
Jermaine Whitehead with the forced fumble and Chad Thomas with the recovery! 👏#CLEvsBAL pic.twitter.com/XOIPRdDNnJ

— Cleveland Browns (@Browns) September 29, 2019
Looking Forward
During this offseason, the Browns are likely to release right end, Oliver Vernon.
It is not inconceivable to think that Thomas could slide to that position and play on the opposite side of Myles Garrett.
This will allow the spark that we got from Thomas in half a season last year to extend into possibly an entire year this coming season.
It is safe to assume that with the increased number of snaps that he will have next year, Thomas will be more than ready to further improve his game and prove his combine grade wrong.
Chad Thomas with a huge sack on 3rd down.

— Everything Cleveland (@EverythingCLE_) November 15, 2019